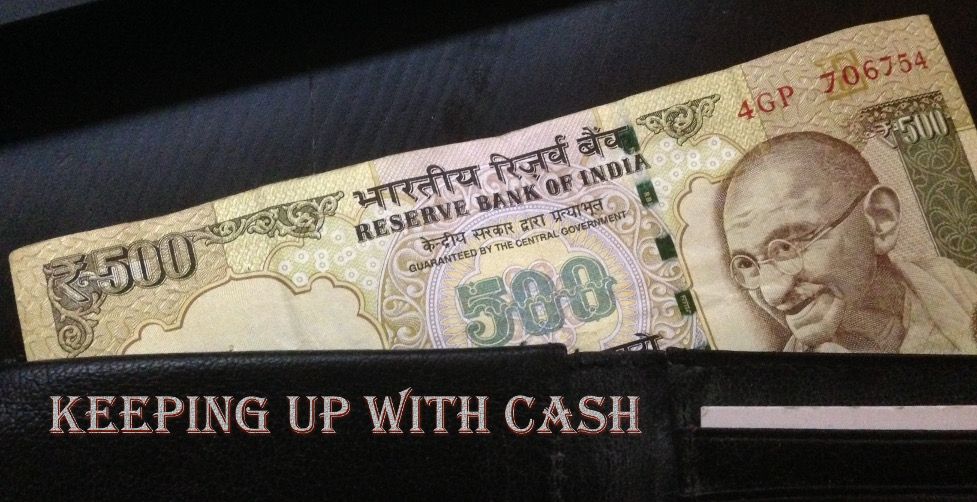 India has been a cash society, small farmers, businesses, households everyone have been living on cash, and its ideal for our unique situation of local economics. Rural areas have access to state owned banking systems providing basic facilities and governments are trying to get people in through various schemes through awareness and consent basis. Still in local economies there is a big interdependence on cash. Readily available and evolved banking systems need certain amount of money in the local economy and that's the reason a cluster of villages have a single bank. Imposing such a hasty and drastic measure has made lives really difficult for everyone.
Visit any PNB or government run bank's branch in India, people still use old format passbooks and go to the teller to get their cash. They need help even with smaller things like stamping their passbooks. There are a lot of daily wage workers, pensioners in line who need a lot of hand holding.
ATMs are a bit tough for them to operate even after around a decade of their existence, leave alone any other sophisticated modes. Fear of technology is another factor in using these systems. They like cash, it gives everyone in India security, and our opinion financial freedom too.
Small businesses with all their backward and forward linkages including their work force mostly un-organized are mostly adept to cash. They earn small amounts and utilize them in this system of cash, credit, cash based system.
Housewives – India is a unique country, we call our homemakers or fairer halves "Ghar ki Laxmi" or "Goddess of Wealth" for a reason. See I grew up in a very moderate income family, I have seen the panic in family when anything out of budget comes. Have seen mom taking out (after much negotiations) a small amount from her secret stash to sail the family over the tide. This money and habit of keeping a small amount somewhere hidden is evolved in India as a unique practice, based on our unique situation.
In a low-income society as ours, leave alone a drunkard husband, or out of hand son, the concept of STREE DHAN which works in family and health emergencies can vanish, there are so many consumer pulls that if money is in plain sight of the whole family. There will always be something to do, something shiny, something the children would want to do just once, the tired husband might like asmall luxury may be occasionally. The lady in the house has always made sure things are in control, and it has kept our family systems alive for so long.
Today this system is in danger, effects in future can be immensely devastating for our societal fabric.
Today everyone who is not getting paid in the organized services and manufacturing sector of India (about 98% of the population, as per 2014 Taxation data) is in immense pain, waiting in line still hoping they might get some justice and vengeance as promised - against a painted monster of terrorist, mafia, money hoarding business owner, corrupt politician.
Cost of this exercise
Rs. 15,000-20,000 Crore of printing cost.
200,000 ATM re-calibrated across India.
Immense loss to productive man-power standing in line. India's GDP (2013) was 1.877 Trillion USD which comes to Rs. 344.14 Billion per day as a crude estimate.
Loss to the economy, due to spiraling down of the local and small businesses, immense.
"Unaccounted" money leaving local economies, moving into the hands of middlemen and may be politicians.
Loss of faith, irreparable.
Proponents use the argument of a multiplier effect of 3-4 in Indian economy. Counter is – There is no such calculation on the multiplier effect of our local cash based economy. Considering the NPAs our banks hold on their books and crony businessmen getting away so easy.
Will keep adding as we go, including cost to political fights, parliament time wastage etc.
Who gains?
PAYTM and similar systems. Pushing consumerism to new heights using advance marketing techniques, and hastening India's sustainability problems out of control. Working on the principal of profit maximization, most of the time for foreign investors, at India's cost.
Political Gains, new alliances, middlemen.
Marketing agencies, Cyber Cells, Old and New Media lord's sitting in India or abroad- paid to firefight and fight from both the political sides.
Another very important point is even if tax bounty increases need to understand how the tax money is used. Based on our experiences researching around systemic issues plaguing India we have found a very disturbing trend. Below are a few examples.
1. Transparency Laws
 – As per 
BallotboxIndia's
 latest research on 
Right to Information Act in India
. Even after more than a decade India doesn't have a coherent, seamless, transparency system implemented. The system is mostly manual and plagued with in-efficiencies, more catering towards deflecting information than providing in a timely manner. Its huge problem considering the way political campaigns and money is used for power. We have plenty of examples including the expensive and disastrous 
Gomti Riverfront project
 in Lucknow, and similar popping up all around India.
 Lucknow High Court case
, where to protect builders encroaching over a pond land, a new mega high court building is now being built over another pond, with nothing in public domain.
2. Environment and Natural Resources – India is facing tremendous crisis be it 
So, while excesses of Green revolution dried our underground water reserves. All around encroachments on water bodies, and flood plains has dried up rivers. Most of the drainages and rivers in India are either polluted or heavily polluted with receding and unpredictable flood behavior. 
Instead of working on holistic solutions and waking up to the situation, current central government and now many state governments are wasting money in cosmetic but costly projects ranging from massively concretized river fronts and lake fronts, to disastrous river linking projects with impunity. 
We are yet to find an expert or scientist who approved of such actions but huge tax payer money is allocated. Leading to self-propelling cycle of water related woes across the country. Its tough to believe, instead of taking over simple eco friendly projects on drainage systems in India like 
Kukrail
 example, authorities all over India are spending tremendous amount of money on breaking the natural systems, covering and patching over and then running expensive infra systems to contain the outcome.
3. India signed agreement in Paris to cut down emissions and reduce pollution
– Well what is happening on ground, let's talk about smog. 
Farmers burning stubble 
is sighted as a main reason, but another major reason is 
India's smoldering waste dump yards
. COP22 or Global Goals preach less consumerism to ward off sustainability problems India and the world faces. There is a massive institutional push in India towards tremendous commercialization. Be it supporting platforms like PAYTM which are marketing funnels of low life cycle cheap Chinese produce in India, building a system of big e-commerce Industry which is portrayed as face of prosperity in India. 
4. 
Health 
and 
Education systems
 are getting more and more privatized by every passing year, with measly budget allocations followed by inefficiencies in the system leading to the wastage of any hope of revival.
5. 100 smart cities are launched in remote corridors but existing cities are facing existential crises. Starting with non-existent piped water, to urban floods, top soil erosion, faulty drainage designs, poor quality roads. Horribly slow pace of development even after taking every penny of external development charges and taxes.
All this aided by minimal transparency amazes, why government needs more money?