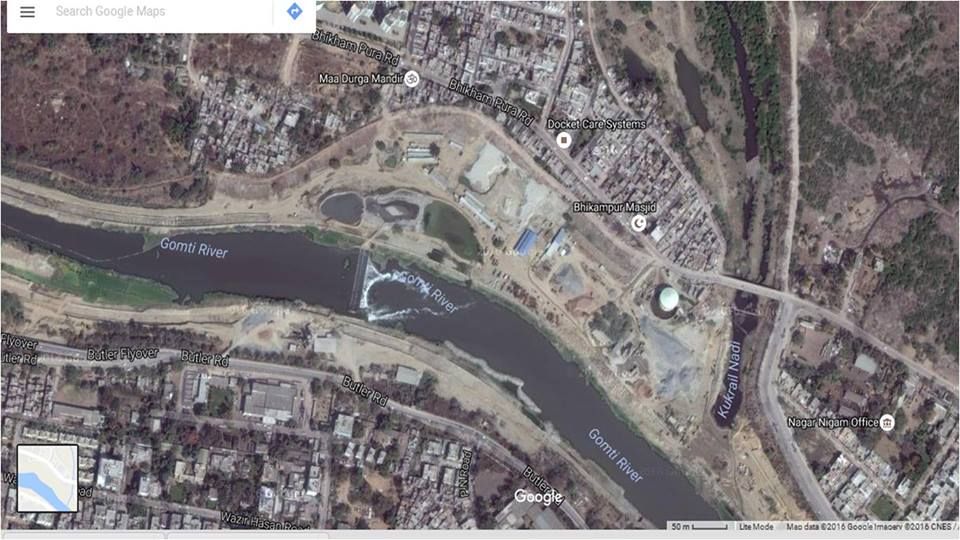 What is Kukrail Nala?
Kukrail nala, a fourth order (medium stream) tributary of river Gomti. It Kukrail nala is a left bank tributary of the Gomti River originating from Kukrail reserved forest . It is a ground water fed rivulet, with the total length of about 26 km (as per government records) from its origin to confluence point.Kukrail has a 200 meters wide flood plain and is situated in the interfluve region of Gomati- Ghaghara river under the Central Ganga Plain. 
How has it been over the years?
Over the years, because of negligence, this rivulet has suffered a lot and is now finally cut from the river Gomti. As represented through satellite images, Kukrail nala once was a running rivulet meeting gomti near gomti barrage, is now a dead stream ,no more connected to its river Gomti. 
Observation through satellite imaging over the Years
- In November 2013 Kukrail meeting Gomti.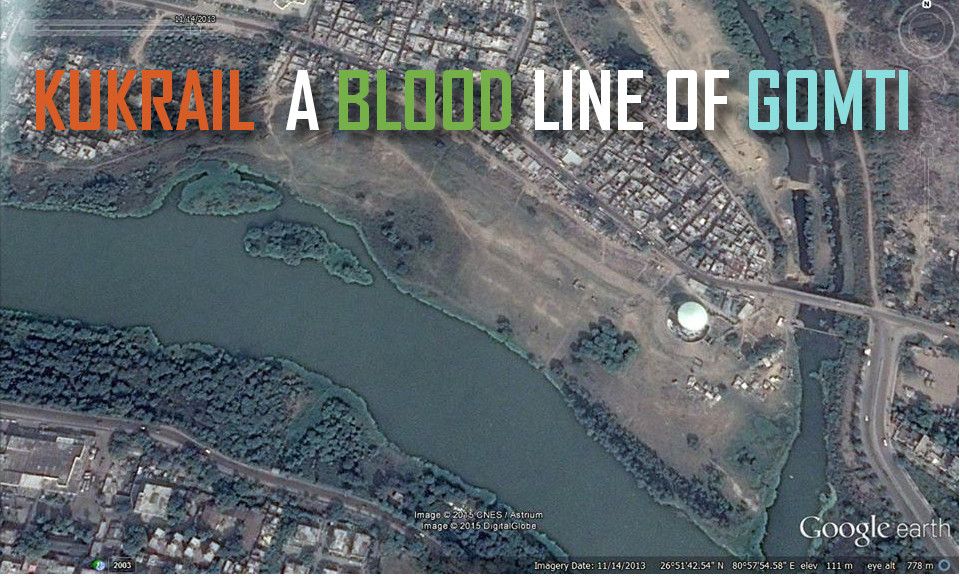 In the satellite image of 2013, it is clearly visible that the rivulet is meeting the river Gomti. It may have narrowed near the confluence point but was still fluent and connected.but as the years progressed, condition deteriorated.  
In October 2011 Kukrail meeting Gomti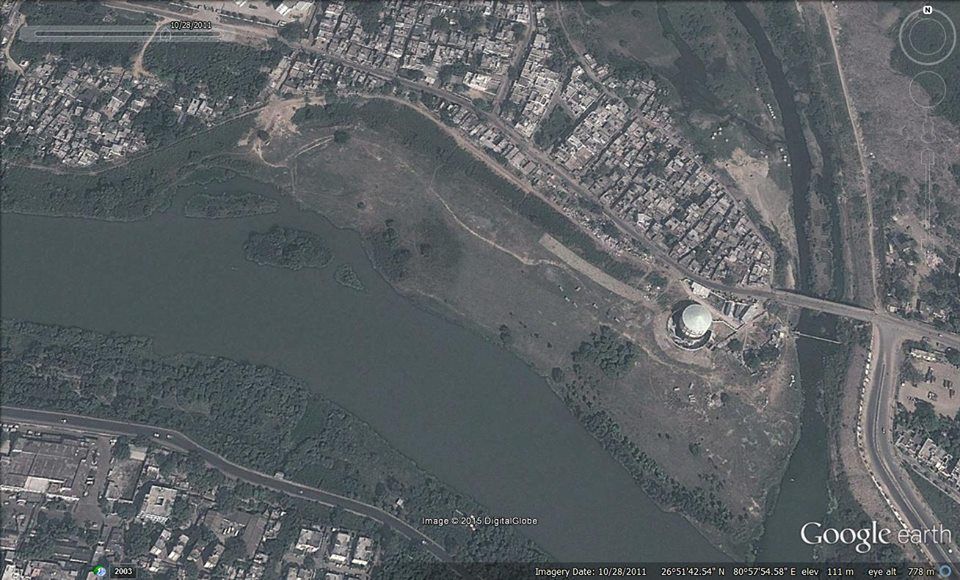 In the satellite image of 2011, couple of years earlier than the previous image, the stream looks broader and healthy. It still looks as if the stream has bifurcated just before the railway crossing due to less water or some obstruction. 
In April 2016 - Kukrail river is closed, channel capacity of Gomti is reduced, and floodplain vegetation destroyed, image taken in April 2016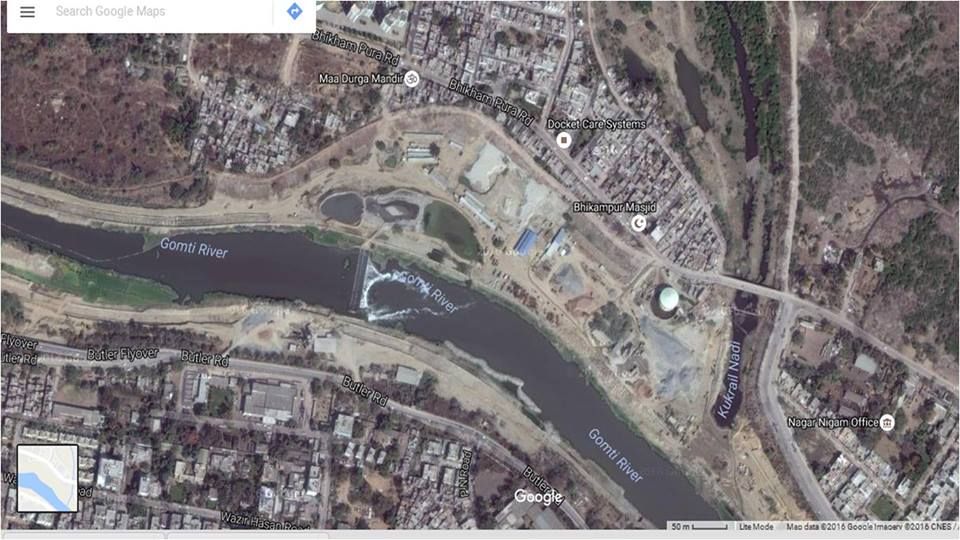 This satellite image taken in 2013 exhibit the miserable condition of Kukrail nala. The rivulet stream is dead and the nala is no more meeting the Gomti river. As the river front development project is underway at this time, to block the sewerage water to fall in the river, kukrail nala has been detached from the river. 
These tributaries  are like blood lines and detaching it from the river has destroyed the flood plain vegetation and has reduced the Gomti River's channel capacity.
Images of Kukrail nala and Gomti River Confluence taken by the BBI's photographer in June 2016 (below) show: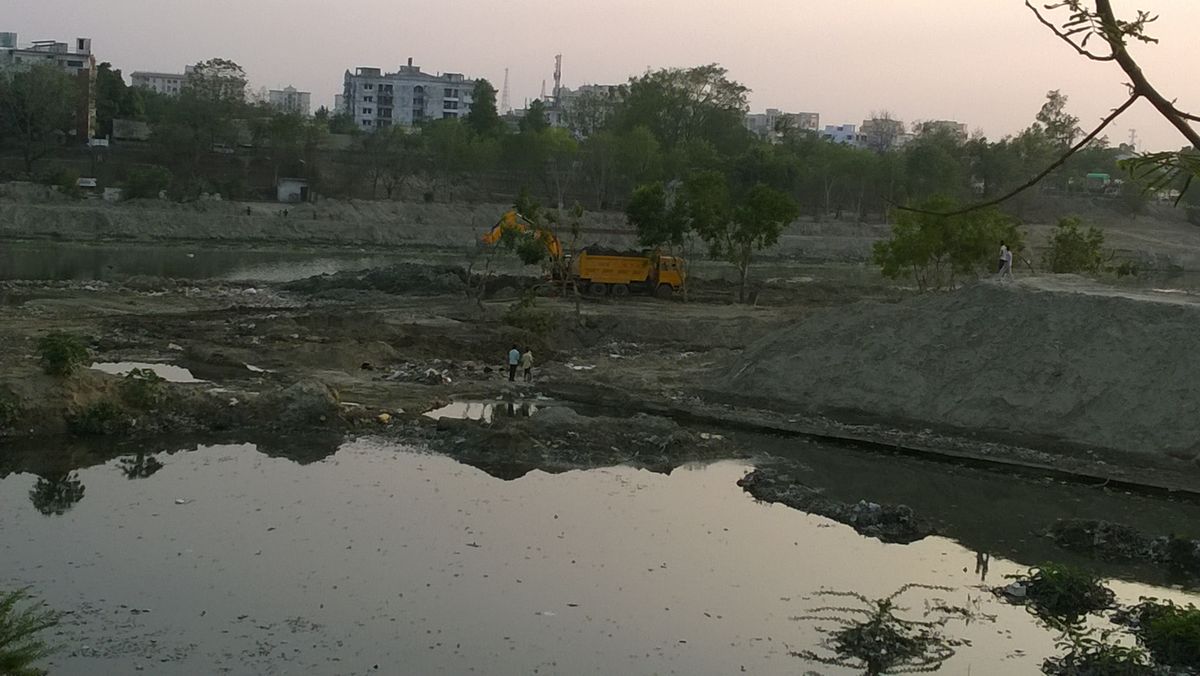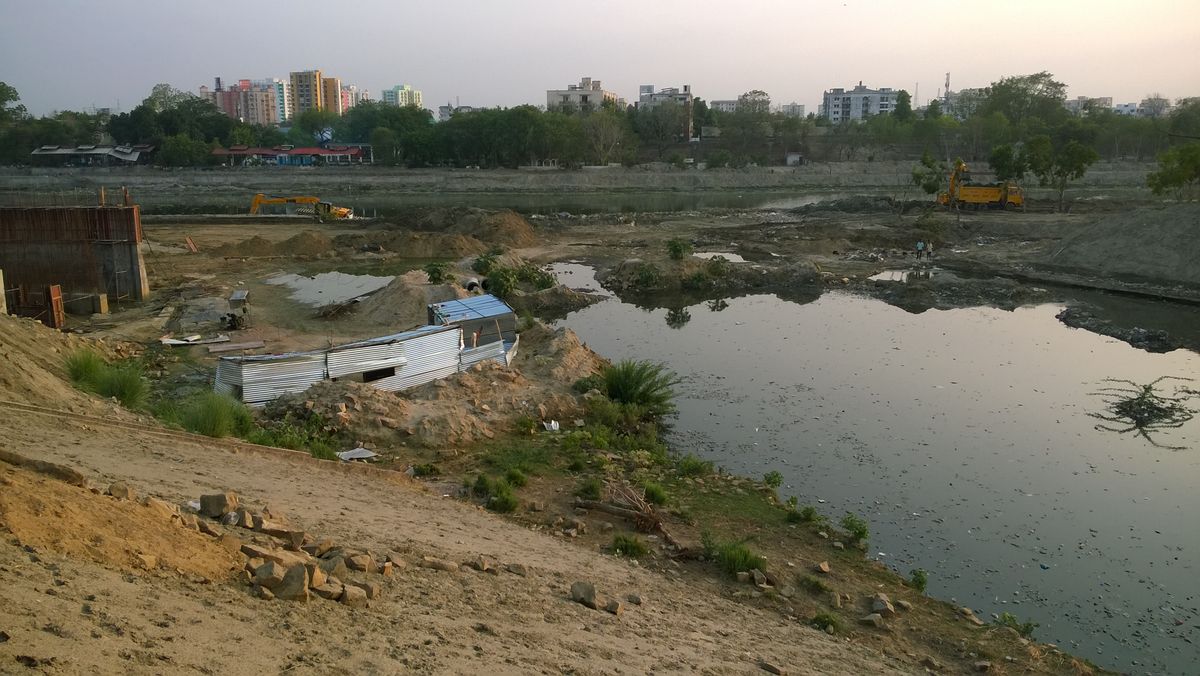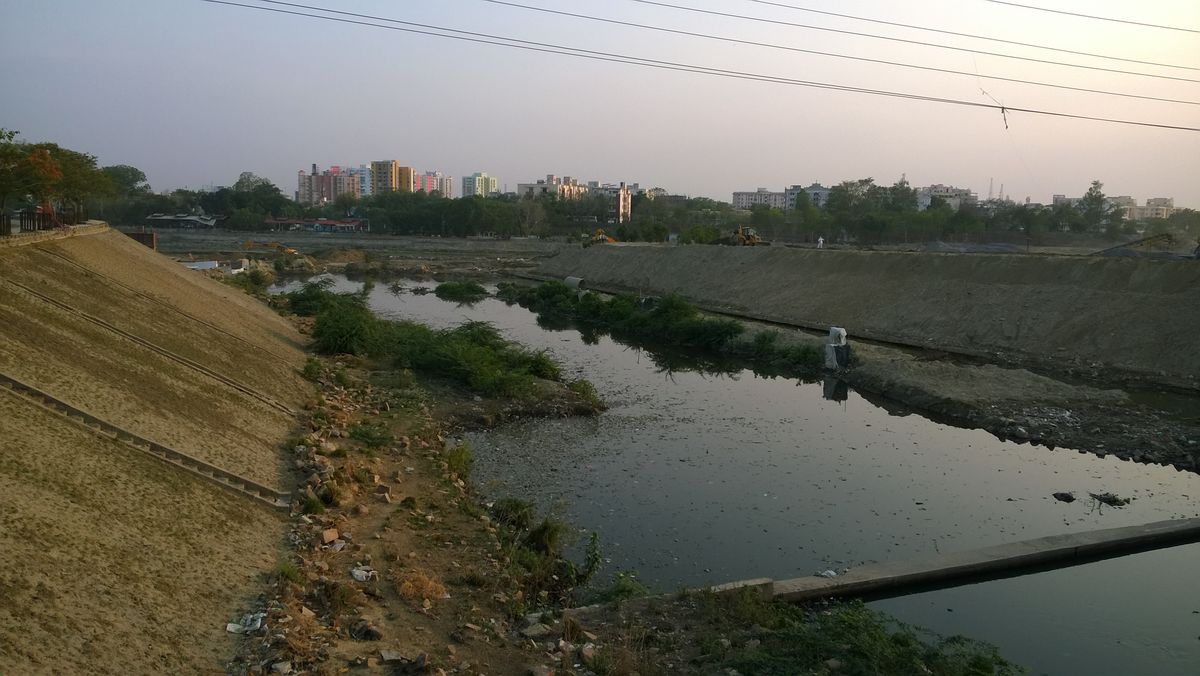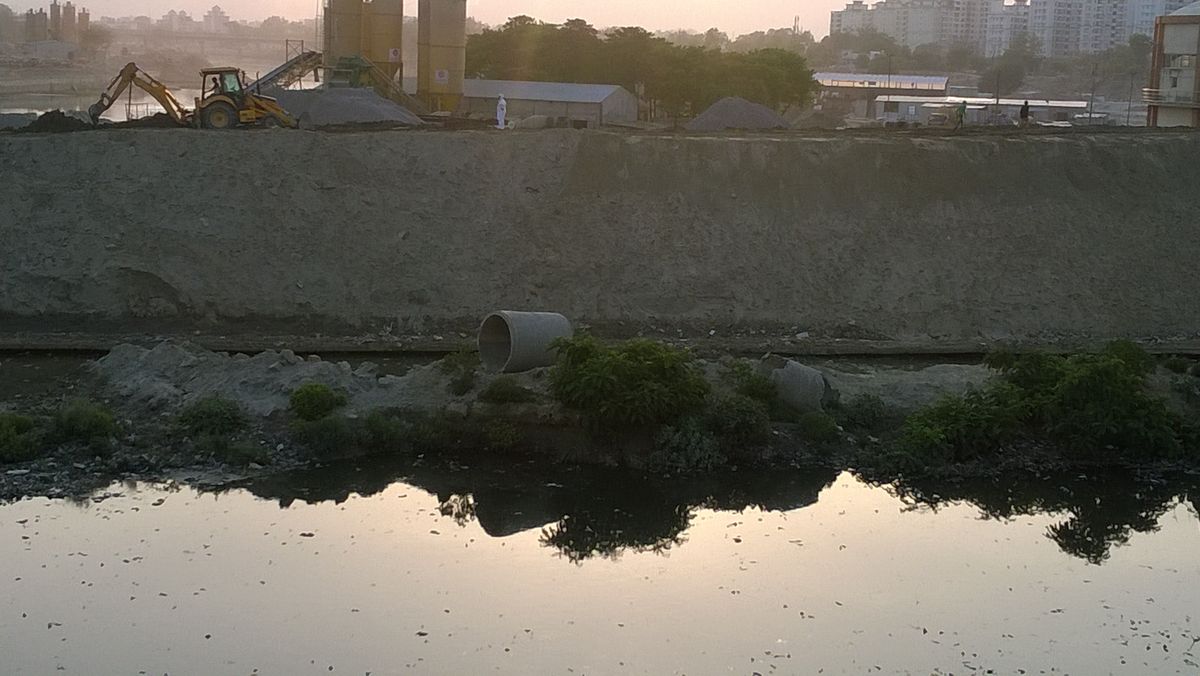 As apparent in the ground images taken, the condition of kukrail nala is miserable near its confluence point. The water stream is almost dry and is filled with the earthy matter to choke its flow.  
The vegetation is almost destroyed. The nala carries untreated sewerage and drainage. Open dirt and filth is a breeding ground for several diseases. To refurbish the city with the Gomti River Front, the government is destroying an important tributary.
Want to contribute in the research -
To carry this effort with good momentum we are looking for coordinators in Lucknow, who can work towards representing the river and its drainage systems, work with local experts to raise awareness and intervene as required. Kindly contact us at: Coordinators@ballotboxindia.com
Who can be the coordinator -
Any one with a zeal to improve communities using a non confrontational approach, ready to collaborate with multiple entities and is systematic and patient. A working professional, an activist, a politician, a researcher, a housewife, a student. All he/she needs is an inclination for scientific ways, curiosity, respect and honor, and of course a few hours a week.
Are Coordinators Funded for their efforts?
YES. BallotboxIndia is about bringing back the culture of detailed deliberations and research. We follow a tedious systematic approach and our actions are output based. To sustain such efforts, the time and efforts spent has to be valued and incentivized.
I can't add value for this particular effort but been active for common good or want to work for better communities ?
Send in your details to innovators@ballotboxindia.com and we will get back to you as soon as possible.
Thanks 
Team @BallotboxIndia
Source - Gomti Riverkeeper Dr. Venkatesh Dutta's facebook page.