Haider canal gets an eco park, a good step, but what was Gomti's fault?
Water bodies in India should be surrounded with eco park and natural water barriers, never paved, and with minimal artificial construction. Here is an eco park planned around Hyder Canal and it looks good at announcement level. Only trouble points are artificial mountains and fountains, hope its a small part only. India loves selfies, so be it, hope we get over it soon.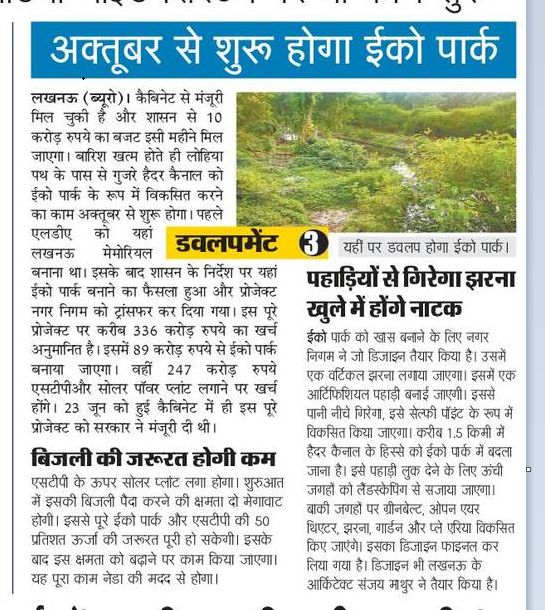 Lucknow City's Haider canal final gets a heed. An eco park has been granted around the canal for which Rs 10 crores have been granted in the first phase.
The work of Eco park is proposed to start after monsoon season, around october. Total budget has been estimated to Rs 336 Crores, out of which 89 crores would be allocated for eco park and from remaining 247 crores a STP and Solar power plant will be installed. Earlier that spot was reserved for Lucknow memorial but later is was decided it would be better to develop it as a eco park.   
The installed solar plant would generate sufficient energy to feed installed STP and eco park. Earlier it is proposed to expand its energy generation efficiency.
The 1.5 km stretch of eco park will have gardens, artificial mountains, artificial fountains, cascades, green belts to make it look attractive. For amusement, the park would have selfie points, open theatre, stroll space, play area, etc as entailed in the plan of Nagar Nigam.
It is a good a move by the government to improve the rivulet which was un attended for years and to develop eco parks around it. 
What is Eco park ?
Eco Parks are the public areas which generally have abundance of trees, plants, vegetation and various facilities such as amusement facilities(swings, benches, running tracks, fountains, playground, etc) to enjoy the leisure and rest. Importance of Eco Parks:
1)Economic Value
2)Benefits for children and young people.
3)Positive impact on mental and physical health.
4)contributes towards reducing anti social behavior
5)encouraging social, cultural and community cohesion
6)Significant environmental benefits.
It is good to see that govt.has now shifted focus to balanced development and is has now considering less visited sites. Haider canal is of great importance to the city with eco-park being developed around it, it will help to shape its future and better functionality. All we want is that expenditures on cosmetic beautifying should be in limit and focus should stay on making it environment friendly. 

  What are we looking for?
Based on empirical evidences and experiences in recent past we are looking at a water catastrophe in India. The country faces drought or deluge, millions moving out of agriculture and then into urban systems without any transition or training. This will not only give to loss of life and land but can be a reason of major unrest in India.
At this point of time we are aiming to build a strong representation to protect water and natural systems at the local level. We want policy interventions and strong implementation at states level to keep natural resources untouched and free to take their own form for generations to come.
If you are someone who knows about local water systems

 in your community and want to actually work on making them better, send the details on 
coordinators@ballotboxindia.com
If you know someone who can make a difference

, make an introduction with this effort, you can also write to 
coordinators@ballotboxindia.com
, or fill "Contact a coordinator" form by clicking the buttons on this page.
If you have a few hours to work in your community for common good

, let us know and join as a coordinator.
Would my efforts be funded? Yes if you have some time, skill and aptitude to make a difference, ballotboxindia is the right platform. Get in touch with 
coordinators@ballotboxindia.com
 with your details.
coordinators@ballotboxindia.com
Reference sited from Amar Ujala - 6 August 2016.