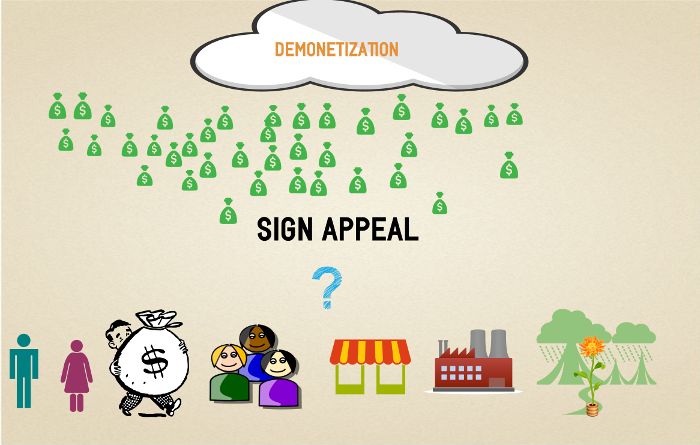 Dear Sir,
At the onset, I agree with the fact that un-accounted money in any economic system is a cause of concern. It does increase in-equality building barriers which are tough to break, leaving a big part of our population at a disadvantageous position. I also believe that its a prime duty of your office to take actions in this regard, finding the best possible route to do so, keeping citizen's larger interest at the top of priority list.
I have been watching and participating in the Demonetization exercise very keenly and after doing a lot of research have a few questions.
1. There is no official research report, discussion or white paper released yet by any of the concerned departments on why the decision is taken, and what are the deliberations done by your offices including the meeting minutes, parliamentary debates to reach the conclusion to take such a decision.
2. I understand your stand on digital and cashless economy in India, but fail to find any research report, or debate done on it to reach such a conclusion in our unique situation.
Why your offices think cashless economy run via Digital modes of operations is best suited way to handle all monetary ills in the unique situations in India. Does India has related ecosystem and infrastructure including privacy laws, personal data security and usage laws, and strong banking and compliance laws in place, and related research on it.
3. During the first 50 days of this exercise and beyond, what is your calculation on the economic cost to this exercise, including opportunity cost lost to the citizens and industries.
4. What was the reason behind sudden announcement, and why it was different than a similar exercise done in 2014 phasing out all currency notes from before 2005. And if in 2014 an exercise of such effect was already taken what was your reason for the current demonetization exercise in 2016.
5. While making the announcement did you know a few foreign investor run virtual wallet companies will make huge profits? These wallet companies are not regulated like banks and were found in a very advantageous situation to reap the maximum benefit from the problem. Did your office think of it? why banks were so ill-prepared for the exercise?
6. Is your office preparing a post Demonetization research report on the findings, learning and cost/benefits post this exercise, which is accessible to civil society as soon as its ready.
We are with India and with you on any efforts to eradicate poverty, inequality, in-justice, corruption in India and ready to help in any ways possible.
But a transparent detailed report and response released from official channel would go a long way building trust based on deliberations.
Thanking you,
A Citizen of India.
Please sign the appeal on this page below to build a strong representation. In these times of conflicting un-trustworthy bombardment  of information from all around in media and social media, which are high on emotions than facts and deliberations, a detailed research on above points can ward off any speculation and can protect from a larger harm to Indian economy and would build trust among citizens.