What is a definition of beauty, a selfie is a selfie after all!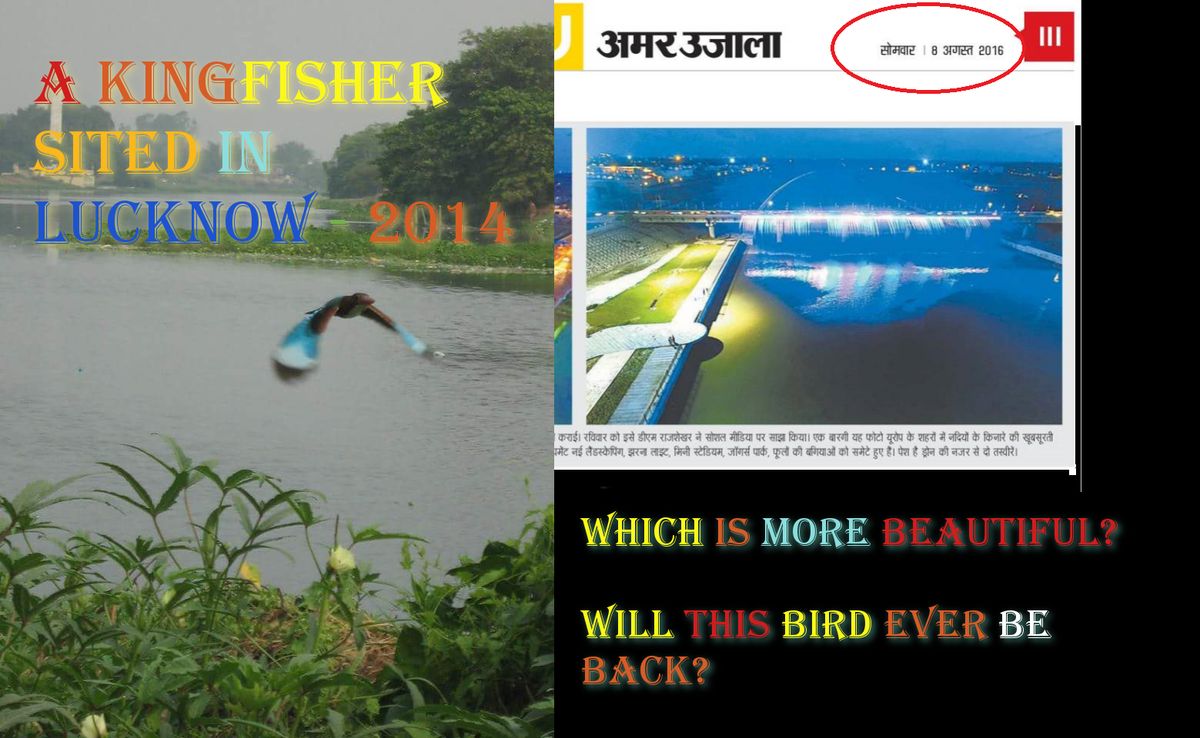 Does a bird have right to live in your city Lucknow? or her place is in a zoo? Since we want lots of neon lights to forget the lack of basics in our urban designs?
Growing in lucknow has given me a pleasure to see and feel this beautiful city closely. City is famous for its history, food, multi cultural themes, festivals, and its affinity for nature. Every thing that brings together and unite people can easily be found in Lucknow. 
City has traversed a long way, from city of cultures, foods, colors,garden etc to the city of high rise buildings, broad roads with no trees at the roadsides, less birds chirping, more traffic on roads, lost sounds of routine prayers.
India, as a country high risen in the world economy and earned its name on the world map. So its cities. But has failed to maintain balance in the growth. Agricultural driven economy has now reached Mars and is one of the world's strongest powers of medicine, engineering, technologies,etc . Country that once had few cities, now has ample urban destinations.
In last few decades, with the rise of several cities, there have been slapdash deforestation and construction to allocate land for construction. Population of Lucknow  in last couple of decades has risen exponentially, so its area.
Several govt. axed lucknow green belt to prepare their desired structures. City has several parks, which are less managed now. Govt. is making constructions on the flood plains of the river Gomti. Gomti river is a life line of the city, that has been a deponent of city's refinement, changing heirs and air, changed environment and landscapes.
Over the years, city in the hands of different governments has suffered tottering and it has dented the city's natural face. Lessened trees, dried water bodies, scarce fauna and flora, etc. Kukrail forest has grown less densed and kukrail nala is facing worst time. Kukrail nala, tributory of Gomti has been detached because of the ongoing Gomti River Front Project, has led to the drying of the tributory.
In the Ongoing Gomti River front project, the govt. in now paving the flood plains in order to build running tracks and selfie points. Govt wants to pave every possible land owned by the nature and put to pecuniary use. In the game of benefiting themselves , it is putting nature at stake.
We ask, what is the need of so many selfie points?? After all they are same. Beautiful Birds that were once a frequent sighting in the city, are rare now. Its time that we value our nature and not interfere in its zone. Its beauty is divine, if once damaged we may never get this beauty back.
Based on empirical evidences and experiences in recent past we are looking at a water catastrophe in India. The country faces drought or deluge, millions moving out of agriculture and then into urban systems without any transition or training. This will not only give to loss of life and land but can be a reason of major unrest in India.
At this point of time we are aiming to build a strong representation to protect water and natural systems at the local level. We want policy interventions and strong implementation at states level to keep natural resources untouched and free to take their own form for generations to come.
If you are someone who knows about local water systems

 in your community and want to actually work on making them better, send the details on 
coordinators@ballotboxindia.com
If you know someone who can make a difference

, make an introduction with this effort, you can also write to 
coordinators@ballotboxindia.com
, or fill "Contact a coordinator" form by clicking the buttons on this page.
If you have a few hours to work in your community for common good

, let us know and join as a coordinator.
Would my efforts be funded? Yes if you have some time, skill and aptitude to make a difference, ballotboxindia is the right platform. Get in touch with 
coordinators@ballotboxindia.com
 with your details.
coordinators@ballotboxindia.com