No response from Irrigation Department on Gomti River Front Development Report seeking DPR and EIA after more than 1.5 monthsThe Main functions of Irr

Anamika Das 512 {{descmodel.currdesc.readstats }}
No response from Irrigation Department on Gomti River Front Development Report seeking DPR and EIA after more than 1.5 months
The Main functions of Irrigation Department, in short, is to deal with:
Utilisation of  water resources of state for the propose of irrigation by mean of Canals tube wells, dams, bundhies etc.

Utilisation of water resources of state for Power Development.

Flood control in river, improvement of damage, removal of water logging and training of rivers for protection of towns.

Assessment of  Irrigation revenue and collection of miscellaneous revenue occurring from Canals.

In 1954 Building and Roads branch was named as P.W.D and Irrigation Deptt.

Technical Audit Cell for Irrigation at Secretariat was setup in Sep. 1964

State Water Policy and its objectives

The state is endowed with bountiful water resources which were considered abundant but because of increasing demand for various purposes namely irrigation, drinking and domestic, power (thermal and hydro), industrial and other uses, its scarcity is becoming apparent which shall get more pronounced with increasing population. Water is a prime natural resource, a basic human need and a precious asset. Planning and development of water resources of the state need to be governed by the development perceptions of the state.

Water for drinking and domestic use has the highest priority while allocating the water resource of the state. The state has to provide adequate drinking water facilities (both for people and livestock) to the entire population in both urban and rural areas. Sanitation facilities for entire population in urban areas and most of the rural areas should also be provided.

Hence from water allocation priorities and other specific needs, the need for a "State Water Policy" for Uttar Pradesh arised. Its objectives are: 

a.  Ensure preservation of the scarce water resources and to optimise the utilization of the available resources.

b.  Bring about qualitative improvement in water resource management which should include user's participation and decentralization of authority.

c.   Maintain water quality, both surface and underground, to established norms and standards.

d.  Promote formulation of projects as far as and whenever possible on the concept of basin or sub-basin, treating both surface and the ground water as a unitary resource, ensuring multipurpose use of the water resource. This would inter alia consist of the following main uses:

       i.       Provide adequate water for drinking and domestic use.

      ii.       Providing water for irrigation.

     iii.       Maximize hydro power generation with in the constraints imposed by other users.

     iv.       Provide water for industries including Agro industries.

      v.       Provide water for navigation, recreation, health and for other uses.

e.  Ensure ecological and environmental balance while developing water resources.

f.   Promote equity and social justice among individuals and groups of users in water resource allocation and management.

g.  Ensure self-sustainability in water resource development.

h.  Ensure Flood Management and drainage as integral part of water resource development.

i.    Provide a substantive legal framework for management.

j.   Provide a Management Information System (M.I.S.) for effective monitoring of policy implementation.

k.  Promote research and training facilities in the water resource sector.

l.    Provide mechanism for the resolution of conflicts between various users. 
We tried to contact executive engineer of Irrigation Department Lucknow officially seeking the DPR(detailed Project Report) and EIA(Enviroment Impact Assessment) of Gomti River Front Project to continue our research. But we didn't receive any response. We will keep downgrading every month till a response is received.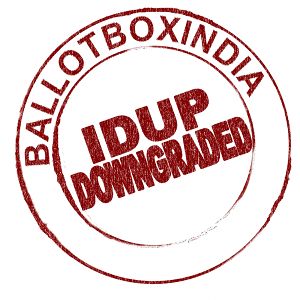 Show
Edit
Publish
Un-Publish
Alt Title
User Tip: Click for a full screen editor, To insert an image.
Connect & Join.
With more and more connecting, the research starts attracting best of the coordinators and experts.
Build a Team
Coordinators build a team with experts to pick up the execution. Start building a plan.
Fix the issue.
The team works transparently and systematically fixing the issue, building the leaders of tomorrow.
जुड़ें और फॉलो करें
ज्यादा से ज्यादा जुड़े लोग, प्रतिभाशाली समन्वयकों एवं विशेषज्ञों को आकर्षित करेंगे , इस मुद्दे को एक पकड़ मिलेगी और तेज़ी से आगे बढ़ने में मदद ।
संगठित हों
हमारे समन्वयक अपने साथ विशेषज्ञों को ले कर एक कार्य समूह का गठन करेंगे, और एक योज़नाबद्ध तरीके से काम करना सुरु करेंगे
समाधान पायें
कार्य समूह पारदर्शिता एवं कुशलता के साथ समाधान की ओर क़दम बढ़ाएगा, साथ में ही समाज में से ही कुछ भविष्य के अधिनायकों को उभरने में सहायता करेगा।
How can you make a difference?
Do you
care

about this

issue

? Do You think a

concrete action

should be taken?Then

Follow

and

Support

this Research Action Group.Following will not only keep you

updated

on the latest, help voicing your

opinions,

and

inspire

our

Coordinators & Experts.

But will get you

priority

on our

study tours, events, seminars, panels, courses

and a lot more on the subject and beyond.
आप कैसे एक बेहतर समाज के निर्माण में अपना योगदान दे सकते हैं ?
क्या आप इस या इसी जैसे दूसरे
मुद्दे

से जुड़े हुए हैं, या प्रभावित हैं?

क्या

आपको लगता है

इसपर कुछ

कारगर कदम उठाने चाहिए ?तो नीचे

फॉलो

का बटन दबा कर

समर्थन

व्यक्त करें।इससे हम आपको समय पर

अपडेट

कर पाएंगे, और आपके

विचार

जान पाएंगे।

ज्यादा से ज्यादा

लोगों द्वारा फॉलो होने पर

इस मुद्दे पर कार्यरत विशेषज्ञों एवं समन्वयकों का ना सिर्फ़ मनोबल बढ़ेगा,

बल्कि हम आपको, अपने समय समय पर होने वाले शोध यात्राएं, सर्वे, सेमिनार्स, कार्यक्रम, तथा विषय एक्सपर्ट्स कोर्स इत्यादि में सम्मिलित कर पाएंगे।
Communities and Nations where citizens spend time exploring and nurturing their culture, processes, civil liberties and responsibilities. Have a well-researched voice on issues of systemic importance, are the one which flourish to become beacon of light for the world.
समाज एवं राष्ट्र, जहाँ लोग कुछ समय अपनी संस्कृति, सभ्यता, अधिकारों और जिम्मेदारियों को समझने एवं सँवारने में लगाते हैं। एक सोची समझी, जानी बूझी आवाज़ और समझ रखते हैं। वही देश संसार में विशिष्टता और प्रभुत्व स्थापित कर पाते हैं।