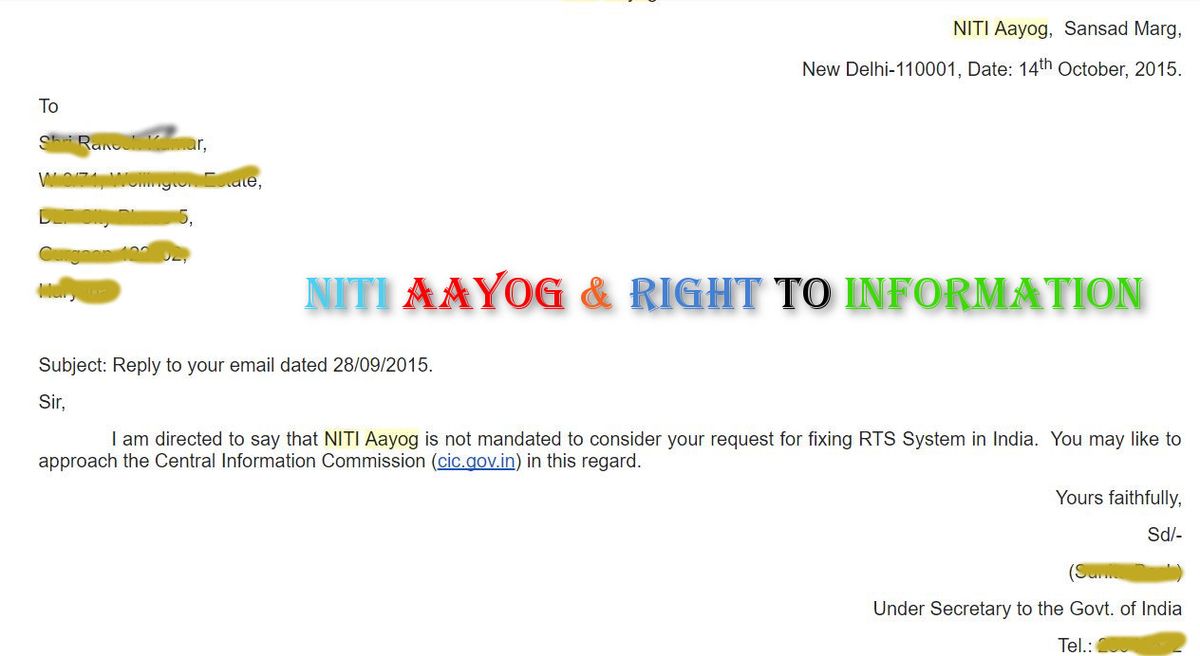 NITI Ayog responded. Well we were expecting a bit more compassion on the issue not the typical "bureaucratic response".
Dear NITI Ayog - Of course you have responsibility and are mandated to intervene or least forward the request to concerned authority, make a note and then follow up.
Are we mandated to spend months on this issue? We can easily slide into our own professional lives not giving a rats tail on where India is going, how the laws remain just on paper never making the impact they should be making. Leaving billions under poverty, scrambling to just survive by the day. Rampant corruption, misuse of public money.
We can also sit in our drawing rooms cribbing about politicians, babus, roads, pollution over a drink and then go to sleep, and then go back to work, showing off the wisdom we gained from Arnub Goswami's banter on TV last night.
But we chose to act, out of curiosity and then as an act of Duty, we don't have any authority, not more than a common citizen whose freedom is in line.  
But officials sitting in high offices of NITI Aayog do have authority, clout (official and un-official) access to right circles to raise the voice or mention the research. 
Such a blunt refusal is not just sad but tells a lot about the exact problem India is facing, and will keep facing. Where no-one simply cares, and who can act are simply sitting on their own high chairs refusing to act siting technicalities.
Cheers to our democracy and Babus sitting on high chairs of NITI Aayog.
We are taking it as another data point on systemic problems India is facing, were looking at NITI Aayog with hopes but looks like they are going in for a downgrade now.
No.38/40/2015-OM&C
Government of India
NITI Aayog
NITI Aayog,  Sansad Marg,
New Delhi-110001, Date: 14th October, 2015.
To
Dear <Name Hidden>
<Address hidden>
Subject: Reply to your email dated 28/09/2015.
Sir,
            I am directed to say that NITI Aayog is not mandated to consider your request for fixing RTS System in India.  You may like to approach the Central Information Commission (cic.gov.in) in this regard.
                                                                                                        Yours faithfully,
 Sd/-
(<hidden>)
Under Secretary to the Govt. of India
Tel.: <Hidden>