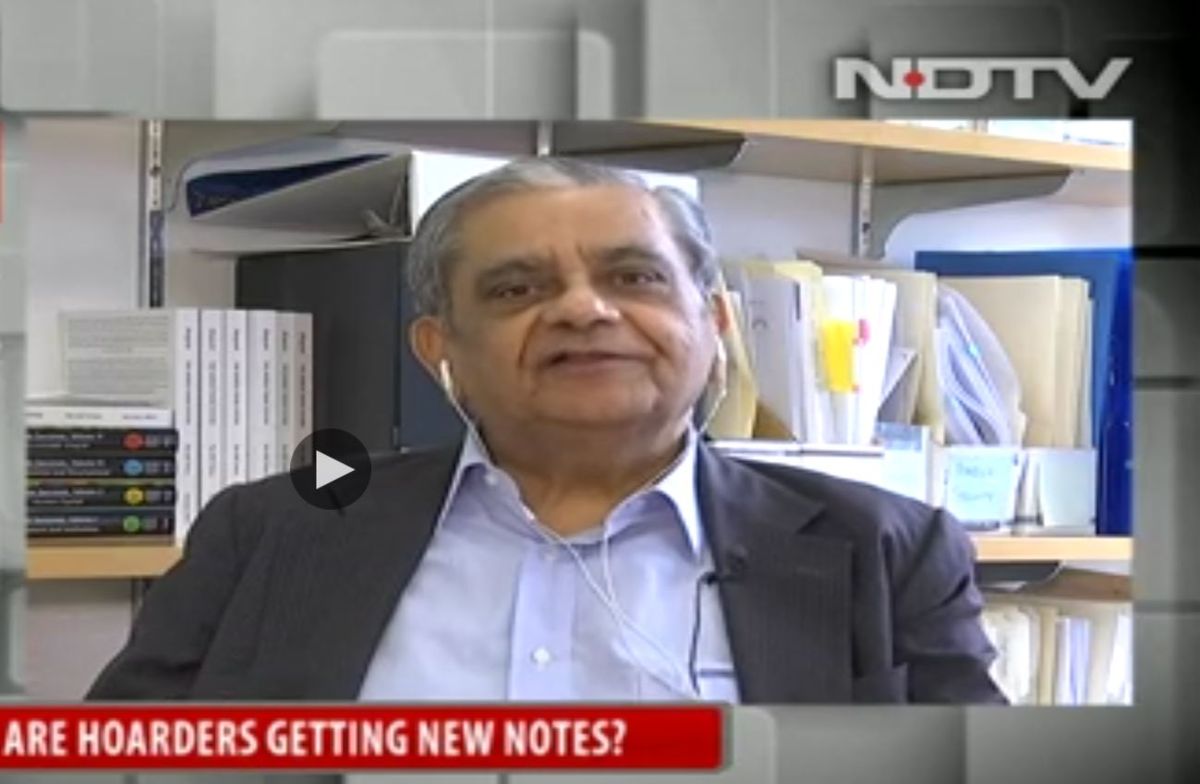 Screen Grab from the interview on NDTV Dated Dec-13-2016
It was tough to watch the whole 21 minutes, never been a big fan of Mr. Bhagwati, have read him mostly with Mr. Panagaria. Still had some illusions which are now broken, shattered. 
Lets break down the interview and see if we can make any sense.
Transitional Loss
Yes we all agree 87% of cash value in the economy getting defunct and new set of notes printed is a loss. What was the point of coining a new term smugly. Does it take out the whole printing, circulating, logistics and opportunity cost loss. You failed to put any number to this transitional loss, which is very unworthy of an economist of any repute.  It all sounded like
Well when you drop a huge rock on a goat, and as you know goats bleat and rocks are really heavy, and by the way stones falling on your head can really hurt, and this is not any ordinary stone its an Indian rock. So I will call it a "Brain Bowl Mushification".
Whats the point Mr. Bhagwati?
Abrogation to the obligation to pay argument.
None, You return the old currency note and get a new one back- Wow its wrong at so many levels and so tough to believe that even after a month you didn't care to actually look at whats going on, but smugly made this statement.
Sir, ask the people in line who are not getting their own money, note or no note. There is a limit imposed on how much money one can take out it ranges arbitrary with bank to bank based on the amount of cash there.
Its even after depositing your own money, you are NOT getting your own money back. And I consider the obligation to pay applies to all the money in bank or in my pocket. 
This is a violation and a grave one since its coming from a sovereign nations government.
The value of the note is bound by those few words written on it, people perceive their own worth based on those notes, make plans, budget their months. If you bend or break those rules for whatever reasons there goes the trust, and when there is no trust on the words from the Reserve Bank of India's Governor himself whats the whole point of wasting money holding elections, making laws at first place.
Why parliaments sit every few months and why these documents are printed, whats the point of anything called rule of law and validity of contracts?
I know something about Indian Constitution and Amendment 1, I have taught it for 2 years.
You didn't just say that did you? did you just invoke emergency laws into this argument. Of course sir, Government has army it can take everything if it wants.
The country where you are sitting after a huge level of deliberation created a second amendment, simply to counter such an incursion. I think NRA should listen to your buffoonery on constitution for a fitting reply.
Yes there are laws and clauses and yes constitutional "experts" like you (pun intended) will try to find their own definition off the disparate pieces taken out of context. But its so wrong at so many level to see the rot, when an economist is using emergency argument to justify demonetization.
Cash in Almirah, and Real estate transactions with Black Money.
Sir, looks like you have lost any connect with reality. Do you really think people in 2016 have cash lying around in their Almirah, or is it too much of movies off 70s. You failed to give any numbers here again, and promptly equated cash with black money, or non tax paying money.
Which is wrong and troubling, specially making it tough to keep watching this interview is the way you are smugly saying it.
Sir black money in Real estate is such a hammered and beaten to death argument that no one even buys it in India. In 2012 yes, in 2016 ? Can you provide figures, real estate deals are few most closely watched deals in India by tax department.
Not sure if you were talking about India or Jackson Heights? or still living in a notion of India of 70s. 
If Almirah money and Real estate is your argument for burning 87% of Indian currency in circulation.
God bless us, your university and students.
I'm not rushing in with some sort of pronouncements and have studied it deeply.
No Sir, You have no idea what you are talking about. You might want to show me your PHD and Commendation, my argument - Sir that's nothing, anyone with basic intelligence can grind through it and sit where you are at the age of 82 making buffoonery of every constitutional or economic principal.
Cash was lying around, now it will come into circulation -
What? people were transacting in cash and its lying useless non-transaction at the same time. Isn't it like cake and eat it too argument. And as per your own argument people are just exchanging money, so money is going back into the same system, or you have plans to hold off the money by government muscle in banks?
Again no real figures of cash under mattress or in almirah.
Sir one massive factor, economists like yourself fail to mention or include into this whole multiplier theory of yours - Cash transactions too have a multiplier effect. It might be the best system available for India which deals in low value transactions. Transactions with such lower denominations that building a secure, efficient cashless system might not even be feasible. 
And if you can't do something end to end, why do it at all. And isn't it India's biggest problem? Doing something which might sound right, half heatedly and the failing monumentally.
I will end it at this. Will see if I can meet you in person and get a confirmation in person that it was you and you really meant it.
See you around sir, you keep the mint in the arguments alive.
Rookie Economist, Tinker, Founder BallotboxIndia.com