Gomti Riverfront - Lucknow Development Authority (LDA) officially forwarded the request to the Irrigation Department Uttar Pradesh

Rakesh Prasad 888 {{descmodel.currdesc.readstats }}
After a lot of follow ups and wait, finally Lucknow Development authority has forwarded the application of request to Irrigation Department Uttar Pradesh,
It now might push the authorities to work on this matter with a bit more urgency. Gomti river is a tremendously important water system and very important part of Ganga Basin. A riverfront of 12.8 km Jacketing the river into a channel would be disastrous to the river's health. Right now the riverfront project is taken as a flagship project of Uttar Pradesh Government to counter similar projects across India done by various other political rivals, there is a rush to cut the ribbon before 2017 Uttar Pradesh elections, but wouldn't this selfie model of development all across India come back to bite the same politicians?
In the end people would need water or be saved from the deluge, with such massive encroachment on river bed and flood plain of river Gomti, altering the behavior of the river without taking into cognizance the repercussions is not the kind of development model India needs.
If we take IIT Roorkee report, or talk to any subject expert there is an unanimous view on huge negative impacts of this project, with so many thumbs down from experts and intellectuals and no data, research transparency by the government departments, this project doesn't give the happy feel which is now projected by promoting pictures of people taking Selfies, or shiny neon lights all around the river with paved river bed and jacketed channel. 
A recent report by ABP (https://www.youtube.com/watch?v=7z5Kra3cKGk) summarized the political nature of this project. But politics at the cost of such a massive river system?
There is nowhere in world any responsible government does such a massive interference with natural systems in such a quick span of time, chasing some votes in an election, and that's why we are looking for a government's explanation... why?
An Appeal
Gomti river is an integral part of Ganga basin, and if you have any tangible, evidence based  data points or arguments to help this particular research. Please contact coordinators@ballotboxindia.com.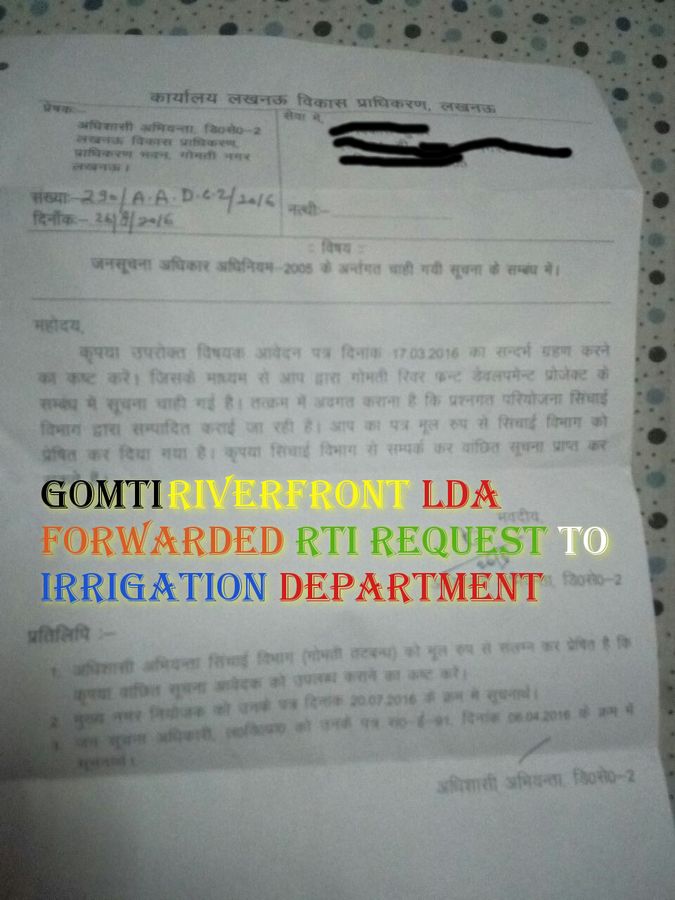 Show
Edit
Publish
Un-Publish
Alt Title
User Tip: Click for a full screen editor, To insert an image.
Connect & Join.
With more and more connecting, the research starts attracting best of the coordinators and experts.
Build a Team
Coordinators build a team with experts to pick up the execution. Start building a plan.
Fix the issue.
The team works transparently and systematically fixing the issue, building the leaders of tomorrow.
जुड़ें और फॉलो करें
ज्यादा से ज्यादा जुड़े लोग, प्रतिभाशाली समन्वयकों एवं विशेषज्ञों को आकर्षित करेंगे , इस मुद्दे को एक पकड़ मिलेगी और तेज़ी से आगे बढ़ने में मदद ।
संगठित हों
हमारे समन्वयक अपने साथ विशेषज्ञों को ले कर एक कार्य समूह का गठन करेंगे, और एक योज़नाबद्ध तरीके से काम करना सुरु करेंगे
समाधान पायें
कार्य समूह पारदर्शिता एवं कुशलता के साथ समाधान की ओर क़दम बढ़ाएगा, साथ में ही समाज में से ही कुछ भविष्य के अधिनायकों को उभरने में सहायता करेगा।
How can you make a difference?
Do you
care

about this

issue

? Do You think a

concrete action

should be taken?Then

Follow

and

Support

this Research Action Group.Following will not only keep you

updated

on the latest, help voicing your

opinions,

and

inspire

our

Coordinators & Experts.

But will get you

priority

on our

study tours, events, seminars, panels, courses

and a lot more on the subject and beyond.
आप कैसे एक बेहतर समाज के निर्माण में अपना योगदान दे सकते हैं ?
क्या आप इस या इसी जैसे दूसरे
मुद्दे

से जुड़े हुए हैं, या प्रभावित हैं?

क्या

आपको लगता है

इसपर कुछ

कारगर कदम उठाने चाहिए ?तो नीचे

फॉलो

का बटन दबा कर

समर्थन

व्यक्त करें।इससे हम आपको समय पर

अपडेट

कर पाएंगे, और आपके

विचार

जान पाएंगे।

ज्यादा से ज्यादा

लोगों द्वारा फॉलो होने पर

इस मुद्दे पर कार्यरत विशेषज्ञों एवं समन्वयकों का ना सिर्फ़ मनोबल बढ़ेगा,

बल्कि हम आपको, अपने समय समय पर होने वाले शोध यात्राएं, सर्वे, सेमिनार्स, कार्यक्रम, तथा विषय एक्सपर्ट्स कोर्स इत्यादि में सम्मिलित कर पाएंगे।
Communities and Nations where citizens spend time exploring and nurturing their culture, processes, civil liberties and responsibilities. Have a well-researched voice on issues of systemic importance, are the one which flourish to become beacon of light for the world.
समाज एवं राष्ट्र, जहाँ लोग कुछ समय अपनी संस्कृति, सभ्यता, अधिकारों और जिम्मेदारियों को समझने एवं सँवारने में लगाते हैं। एक सोची समझी, जानी बूझी आवाज़ और समझ रखते हैं। वही देश संसार में विशिष्टता और प्रभुत्व स्थापित कर पाते हैं।