A paved flood plain is now sited as example of European development.
At least let us know which river, so can we do a side by side scientific comparison. How long India will live and die by a selfie?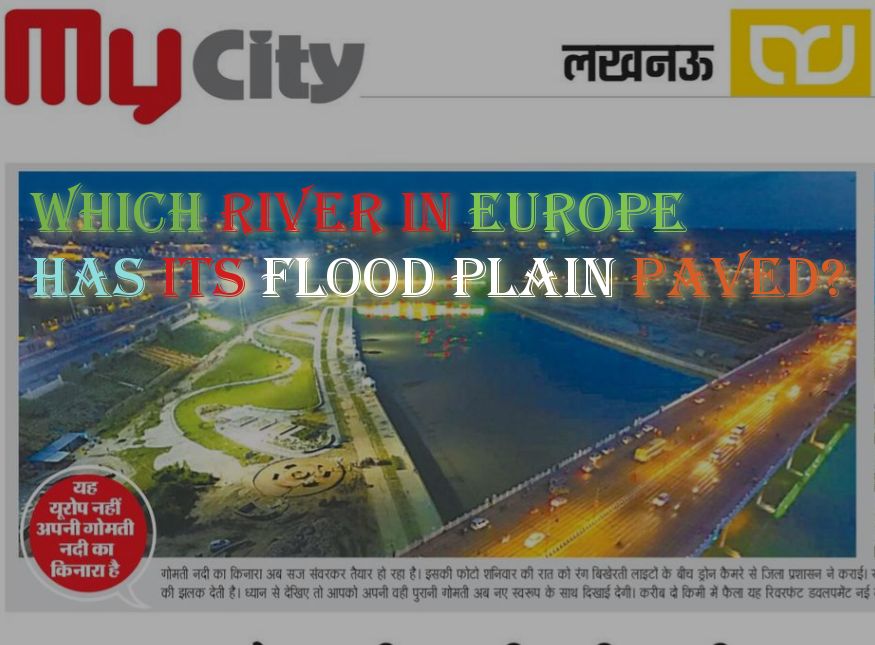 Unplanned and un-assessed urban developments can unravel the ecological system. Such developments on the flood plains of water bodies can obstruct the water rise and disturb the natural mechanism, causing flood. Paving over wetlands and flood plains removes some of the natural overflow capacity of the water system, forcing the excess water through the drains and open lands to spillover into cities and towns. 
Encroaching flood plains doesn't gives a river space to spread the risen water, it results in massive floods, causing destruction to lives and property. Whenever heavy rains occur in an area whose soil and flood plains are wrongly prepared to handle the deluge, flooding can occur. Urban flooding, in maximum cases, is a reason of faulty developments and plannings and other ill human activities like encroachment, illegal sand mining, deforestation, un-assessed and unnatural beautification around water bodies.
Plants make up an ever-present natural defense against flooding. Grasses, shrubs and trees help keep healthy topsoil in place to absorb excess rainfall, and extensive root systems can absorb some excess water before it overflows a region. Naturally occurring waterways, flood plains, wetlands, tributaries, drains,etc  all serve as safety valves for floods, drawing high waters away and dispersing them safely. Unfortunately, human activities like paving flood plains can disrupt these systems, increasing the likelihood and severity of floods.
Natural pavements don't need concrete makeover. If we will enter in the space of nature, nature would enter in ours. Nature's wrath is hard to bear. Tax payers' money should be invested in an organised and fruitful way than for digging concrete graves.

 
Based on empirical evidences and experiences in recent past we are looking at a water catastrophe in India. The country faces drought or deluge, millions moving out of agriculture and then into urban systems without any transition or training. This will not only give to loss of life and land but can be a reason of major unrest in India.
At this point of time we are aiming to build a strong representation to protect water and natural systems at the local level. We want policy interventions and strong implementation at states level to keep natural resources untouched and free to take their own form for generations to come.
If you are someone who knows about local water systems

 in your community and want to actually work on making them better, send the details on 
coordinators@ballotboxindia.com
If you know someone who can make a difference

, make an introduction with this effort, you can also write to 
coordinators@ballotboxindia.com
, or fill "Contact a coordinator" form by clicking the buttons on this page.
If you have a few hours to work in your community for common good

, let us know and join as a coordinator.
Would my efforts be funded? Yes if you have some time, skill and aptitude to make a difference, ballotboxindia is the right platform. Get in touch with 
coordinators@ballotboxindia.com
 with your details.
coordinators@ballotboxindia.com
Evidence published in Amar  Ujala -  8th August 2016.