ABOUT –
Ghaziabad, which is also known as GATEWAY OF UP because it acts as the main entrance of Uttar- Pradesh.  The district Ghaziabad was founded in 1740 by the emperor, Ghazi-ud-din. He named this district on his own name Ghaziuddinnagar.
After opening the railway line in this district, Ghaziuddinnagar has become Ghaziabad. This district is main way to UP. This is not only the part of UP but it is also a part of National capital. It is a large and planned industrial district, which is also industrial and educational center of Western Uttar-Pradesh.
The district is situated in upper Gangetic plain, the district is separated by the Hindon river namely trans-hindon and cis-hindon on east and west side of district respectively. In a survey which is conducted by Mayors Foundation where they tell that in development Ghaziabad is at second fastest growing district in world.
HISTORY -
The district of Ghaziabad was founded in AD 1740 by Wazir Ghazi-ud-din, who named it Ghaziuddinnagar after himself. During the Mughal period, Ghaziabad and especially on the banks of the Hindon in Ghaziabad, remained a picnic spot for the Mughal royal family. An encounter between the freedom fighters and a small British force also took place here in May, 1857, in which the former were defeated while trying to hold the Hindon.
The name "Ghaziuddinnagar" was shortened to its present form, i.e. "Ghaziabad" with the opening of the Railways in 1864 Ghaziabad became the junction of the East Indian Railway and Sind, Punjab and Delhi Railway. Ghaziabad was associated with the Indian independence movement from the Indian rebellion of 1857.  On 14 November 1976 Ghaziabad is carved out of Meerut district, Ghaziabad, along with Meerut and Bulandsahar, remained one of the three Munsifis of the District, under the Meerut Civil Judgeship during most periods of the British raj. 
In AD 1313, the entire region including present day Ghaziabad became a huge battlefield, when Taimur laid siege on the area during Mohammad Bin Tuglaq's reign. Before November 14,1976 district was the tehsil of Meerut. On the birth anniversary of first of PM of India Pt. Jawaharlal Nehru, CM Mr. N.D Tiwari declared Ghaziabad as a District.  On 31 August 1994 Ghaziabad became Municipal Corporation.
HISTORICAL IMPORTANCE OF GHAZIABAD -
Mohan nagar shows that civilization was developed here in 2500 B.C
There is a war between Sir General Lake and the Royal Maratha army were fought in bank of river Hindon in 1803. Seven war are fought in this region and the most important war is fought on 30 &31 may 1857 with British this was the first war for independence and it brought Ghaziabad much of its glory.
There is a small Pooth village in Garh Mukteshwar block, which is associated with Mahabharat period and near this there is Ahar region which was supposed to be Pandava's Nag yagya site. There is a Loni fort which is from Ramayana period and is associated with Lavanasura.
GEOGRAPHICAL STRUCTURE OF GHAZIABAD -
Each and every place has some difference in their geography. Total area of the district is 133.3 km2 (51.5 sq mi) Ghaziabad lies on the GT road about a mile east of the Hindon river in Lat. 280 40'North and Long 770 25'East, 19 km. east of Delhi and 46 km. south-west of Meerut with which it is connected by a metalled road. District is bounded by four side on Northwest by Baghpat district, on North by Meerut district on East by Hapur district on southwest and Southeast by Gautam Buddha nagar district, Bulandshahar district.
Bulandshahar and Gautambudh nagar, on the south-west by Delhi and on the east by the newly formed district of Hapur. The timezone of the Ghaziabad is IST (UTC+5:30). It is situated in the middle of Ganga-Jamuna doab. Hindon is the main river flowing through the district. Apart from this rain fed river Kali flows here. As well as Ganga canal also flows through the district, helps in irrigation and serves drinking water to the people of Ghaziabad.
POPULATION AND LITERACY RATE OF GHAZIABAD -
Ghaziabad is second largest industrial district in Uttar- Pradesh after Kanpur. There are mainly Brahmin, Jatt, Tyagi, Gurjjar, Thakur, Yadav etc. The total area Ghaziabad (according to CENSUS 1991) was 2590.0 sq. kms, but after the formation of the new district Gautam budh Nagar, it becomes 1933.3 sq. kms. The provisional data derived from the 2011 census shows that Ghaziabad urban agglomeration had a population of 2,358,525, of which males were 1,256,783 and females were 1,101,742. The literacy rate was 93.81%.

There was change of 42.27 percent in the population compared to population as per 2001. In the previous census of India 2001, Ghaziabad District recorded increase of 46.89 percent to its population compared to 1991. According to the census of 1991 the population of the district is 22,47434. There were 15,30,081 males and 12,05,397 females and there were 9,80,938 literate people in the district out of which 6,62,402 were males and 3,18,536 females. Sex ratio of this district is 881 females per 1000 males.
Ghaziabad District population constituted 2.34 percent of total Maharashtra population. In 2001 census, this figure for Ghaziabad District was at 1.98 percent of Maharashtra population.
LITERACY RATE-
Average literacy rate of Ghaziabad District is 78.07%
                          -Male literate 85.42%
                          - Female literate 69.79%
As for as the political scenario of this district is concerned it contains 5 assembly and 1 loksabha seat.
CLIMATE –
Mainly Summer, winter, rainy seasons prevail in this district and sometimes its weather is affected by the severe snowfall in Himalayas and Kumaon hills. Climatic condition of Ghaziabad district are quite similar to Delhi as it is directly connected to the national capital. The monsoon arrives in Ghaziabad during the end of the June or the first week of July and normally it rains till october. From November to mid March, winter season lies in this district.
DRAINAGE  SYSTEM OF DISTRICT -
Originally established on the eastern side of river hindon, present sprawling development of Ghaziabad can be observed on both sides of river hindon. Hindon River is an important tributary of Yamuna River. Flowing north south, Hindon river passes through middle of the city and meets Yamuna about 35 KM south of Ghaziabad.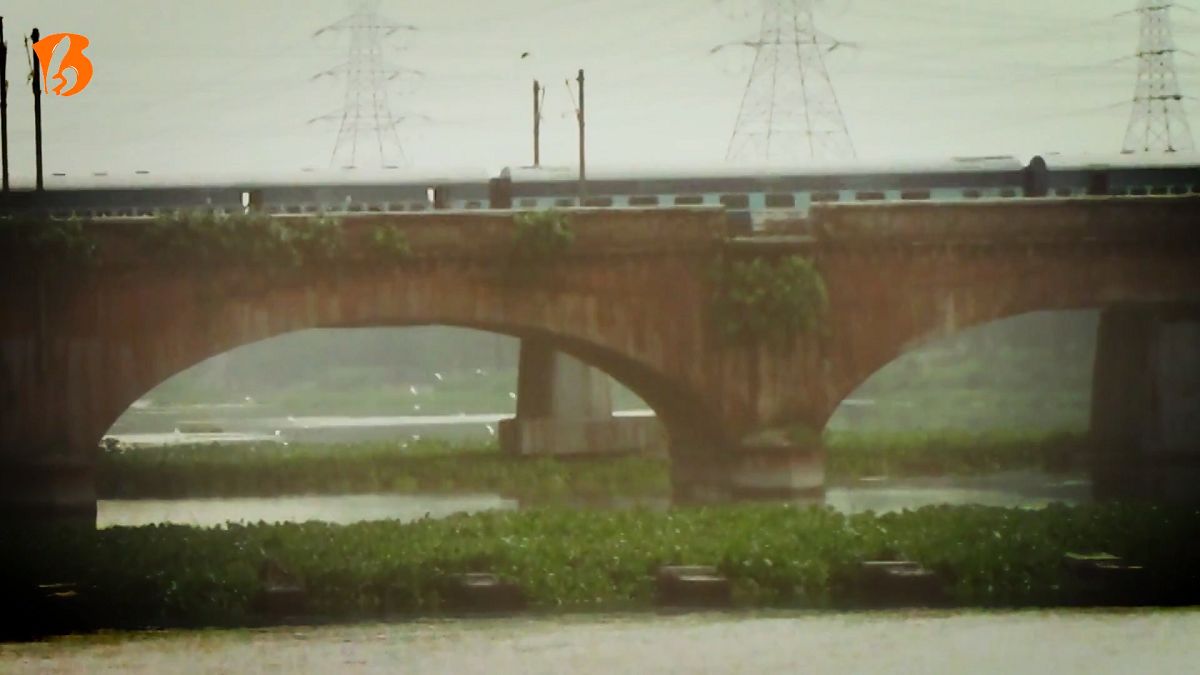 Apart from Hindon there is one Ganga canal, which is basically used for irrigation and drinking water purposes. Also rain fed river Kali flows in this district.
ECONOMY OF GHAZIABAD -
The Ghaziabad economy is heavily dependent on the industries, More than 500 steel organizations in the place employs more than 25,000 people. In Ghaziabad there the manufacturing segment employs 53% of the non-agricultural jobs in Ghaziabad. The manufacturing industry is alone to be credited for an income, which is eight times the income of other industries taken together. 
There are other companies except steel plant include apparel, transportation equipments, dairy products, tobacco production, ceramics, pottery, Industrial machinery, equipments and all sorts of electrical and electronic goods. Other important constituents of the Ghaziabad economy include bicycles, picture tubes, electroplating, glassware, vegetable oil, tapestry, paint and varnish products Ghaziabad is important in terms of the railway junction. Over a hundred long distance trains traverse the Ghaziabad junction. Hence the railway industry too constitutes an important part of Ghaziabad economic development.
EDUCATION SYSTEM OF GHAZIABAD –
Ghaziabad Basic Education Department is an integral district of Meerut division. There are total 4 blocks and one urban area under Ghaziabad district. Education Officer of Ghaziabad District is Mr. Rajesh Kumar Shrivas, who has been taking charge of this district since 2018.
Under the basic education in the state, approximately 2,65,000 government/ non-government schools are operated in which almost all children have access to school within a radius of 1-3 km. The basic education department has the resolution that all children "read well, go ahead". Every student must get eduction from first to eight class. In view of this challenge, the Basic Education Department has developed 265 schools as Ideal Vidyalayas and are to be completed till the remaining March, so that quality education can be provided in resource-free schools.
TRANSPORT SYSTEM OF GHAZIABAD -
AIR ROUTE -  
Hindon air force station in Ghaziabad will become the second airport for Delhi as all flights operating on Delhi routes under the government's regional connectivity scheme (RCS) will land and depart from the air force station. 
RAILWAY ROUTE -
The station of the district is named as GHAZIABAD and its station code is GZB. The station takes care of all the basic amenities of the passengers.
The station is well-connected to a number of Indian cities. Some of the major routes include to the places of Kanpur Central, Allahabad Jn, and New Delhi. There are 74 weekly trains connecting Kanpur Central to Ghaziabad, 6 weekly trains connecting Allahabad Jn to Ghaziabad, and 16 weekly trains connecting New Delhi to Ghaziabad.
METRO ROUTE-
Delhi extends its metro services towards Ghaziyabad. Another metro stations presents at Vaishali, which serves that area as well as Vasundhara and Indirapuram, and there is also a station at Kaushambi.
HEALTH FACILITY OF GHAZIABAD -
Government has done so much in providing health facility to the people of Ghaziabad make so many government hospitals.
MMG DISTRICT HOSPITAL (Biharipura, jassipura Dasna gate, Ghaziabad)
RAILWAY HOSPITAL (Kotwali, Madhopura, 482, Railway Station Rd, Bazaria, Madhopura, Ghaziabad)
ESI HOSPITAL (Medical Supdt, Block-2, Sector 2, Rajendra Nagar, Ghaziabad)
Not only government there are so many private hospitals like Narinder Mohan Hospital and health center, Vasundhra Hospital etc with a good facility.
IMPORTANT PERSONS OF DISTRICT -
MAYOR- ASHA SHARMA
DM- RITU MAHESHWARI

REFRENCES :
http://districts.nic.in/districtsdetails.php?sid=UP&disid=UP028
https://indiarailinfo.com/station/map/ghaziabad-junction-gzb/348
https://www.mapsofindia.com/ghaziabad/hospitals.html
https://www.mapsofindia.com/ghaziabad/economy/
http://dcmsme.gov.in/dips/final%20Report%20Ghaziabad.pdf
http://www.census2011.co.in/city.php