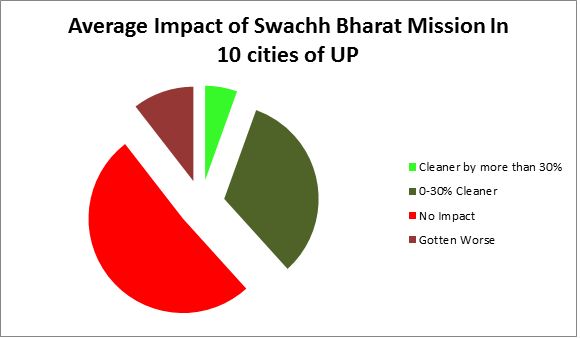 When on Sunday, on the eve of Gandhi jayanti,India observed Swachh Bharat Day, Uttar Pradesh seemed unrelentless in understanding the importance of cleaniness. A survey reveals that average of 51.2% people from 10 different cities of Uttar Pradesh believe that swachh bharat mission has not impacted in the state. From the provided indexes, On an average people responded: 51.2% (No impact), 5.5%(Cleaner by more than 30%), 32.8%(0-30% Cleaner), 10.5%(Gotten Worse)
Survey was done in 10 cities of uttar pradesh namely Lucknow, kanpur, Noida, Ghaziabad, Allahabad, Agra, Jhansi, Varansi, Meerut and Moradabad, Over 2.5 Lacs people participated in the survey and depending on their responses it was evident that there is a gap between People and the civic bodies. Local Municipal corporations need to match up fast to keep up with the ongoing cleaning campaigns.
Survey of swachh sarvekshan reveals  that the states apart from Uttar pradesh that felt no impact of swachh bharat mission were Delhi, Punjab and Bihar. Lucknow that stands 28th in the rankings by Swachh sarvekshan 2016 voted maximum for 'No impact felt' index. According to poll 83% people felt no impact of Swachh Bharat Mission in Lucknow. This is the obvious reason for the struggle of the capital against epidemics like Dengue.

The city people are found majorly responsible for the unkempt condition of the city and failing of the Swachh Bharat Mission. In the survey in was found that people lack basic civic sense which in addition to weak municipal implementation causes filth. Though on asking 'whether they have basic civic sense', more than 40% responded 'yes'. This poll can be considered hopeful of bettering conditions in the city.
Looking at the data of Lucknow of www.ballotboxindia.com, the capital has 35.2% sewerage connections and 34.7% covered drains. With population of #4,871,918 and rising, city is immense pressure proper waste management. Open defecation in rural areas of the city and improper drainage facilities in the form kukrail nala and Haider Canal, has put pressure on the ecological balance of the city. Untreated drainage because of the STP failures is delivered in the river Gomti and percolation of such water brings impure silt and unfit groundwater.
Lucknow city is the facilitated city of the Uttar Pradesh. With the metro project and gomti river front development project, city is now regarded as one of the most enabled city of India. With 22% poll, Lucknow still lacks end-to-end Sewerage and drainage system. 12% Dustbin availability states that Waste management is still not practiced to good effect. Different wastes are not segregated. And acting unaware of these critical situation, above basic sewerage and drainage facilities, State government is investing immensely on outer beautification and ecologically fatal projects like Gomti Riverfront development Project.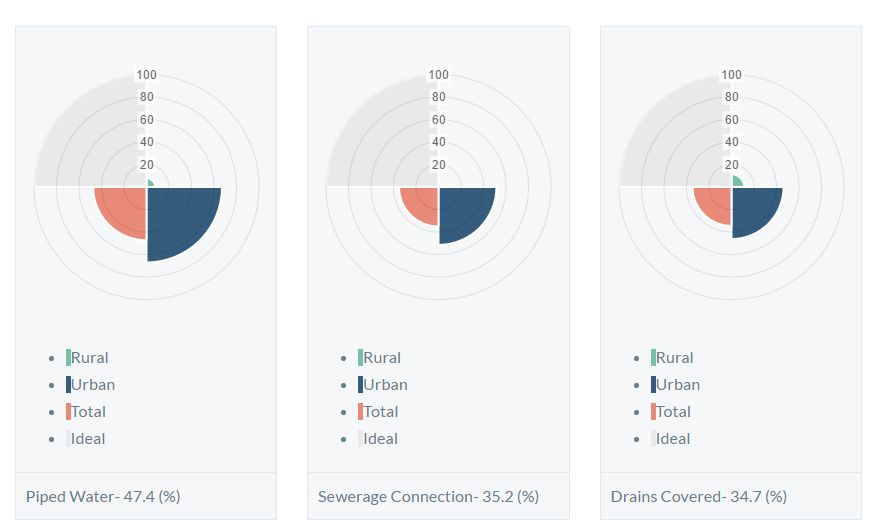 The government authority in response to this survey said that these results would help them strategizing for better conditions. 
Swachh bharat Mission was launched by Prime Minister Narendra Modi on Gandhi Jayanti in 2014. The urban component of Swachch Bharat Mission includes construction of individual household toilets, community and public toilet seats and 100% door-to-door collection of solid waste and its transportation and disposal.
Hope this Gandhi jayanti can sensitise people to become more responsible towards their society.