Swachh Bharat Mission couldn't swachh Uttar Pradesh

Anant Srivastava 369 {{descmodel.currdesc.readstats }}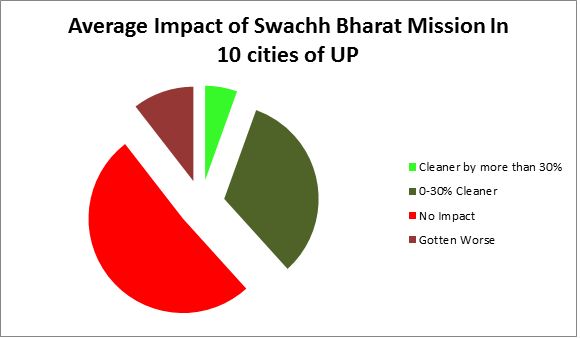 When on Sunday, on the eve of Gandhi jayanti,India observed Swachh Bharat Day, Uttar Pradesh seemed unrelentless in understanding the importance of cleaniness. A survey reveals that average of 51.2% people from 10 different cities of Uttar Pradesh believe that swachh bharat mission has not impacted in the state. From the provided indexes, On an average people responded: 51.2% (No impact), 5.5%(Cleaner by more than 30%), 32.8%(0-30% Cleaner), 10.5%(Gotten Worse)
Survey was done in 10 cities of uttar pradesh namely Lucknow, kanpur, Noida, Ghaziabad, Allahabad, Agra, Jhansi, Varansi, Meerut and Moradabad, Over 2.5 Lacs people participated in the survey and depending on their responses it was evident that there is a gap between People and the civic bodies. Local Municipal corporations need to match up fast to keep up with the ongoing cleaning campaigns.
Survey of swachh sarvekshan reveals  that the states apart from Uttar pradesh that felt no impact of swachh bharat mission were Delhi, Punjab and Bihar. Lucknow that stands 28th in the rankings by Swachh sarvekshan 2016 voted maximum for 'No impact felt' index. According to poll 83% people felt no impact of Swachh Bharat Mission in Lucknow. This is the obvious reason for the struggle of the capital against epidemics like Dengue.

The city people are found majorly responsible for the unkempt condition of the city and failing of the Swachh Bharat Mission. In the survey in was found that people lack basic civic sense which in addition to weak municipal implementation causes filth. Though on asking 'whether they have basic civic sense', more than 40% responded 'yes'. This poll can be considered hopeful of bettering conditions in the city.
Looking at the data of Lucknow of www.ballotboxindia.com, the capital has 35.2% sewerage connections and 34.7% covered drains. With population of #4,871,918 and rising, city is immense pressure proper waste management. Open defecation in rural areas of the city and improper drainage facilities in the form kukrail nala and Haider Canal, has put pressure on the ecological balance of the city. Untreated drainage because of the STP failures is delivered in the river Gomti and percolation of such water brings impure silt and unfit groundwater.
Lucknow city is the facilitated city of the Uttar Pradesh. With the metro project and gomti river front development project, city is now regarded as one of the most enabled city of India. With 22% poll, Lucknow still lacks end-to-end Sewerage and drainage system. 12% Dustbin availability states that Waste management is still not practiced to good effect. Different wastes are not segregated. And acting unaware of these critical situation, above basic sewerage and drainage facilities, State government is investing immensely on outer beautification and ecologically fatal projects like Gomti Riverfront development Project.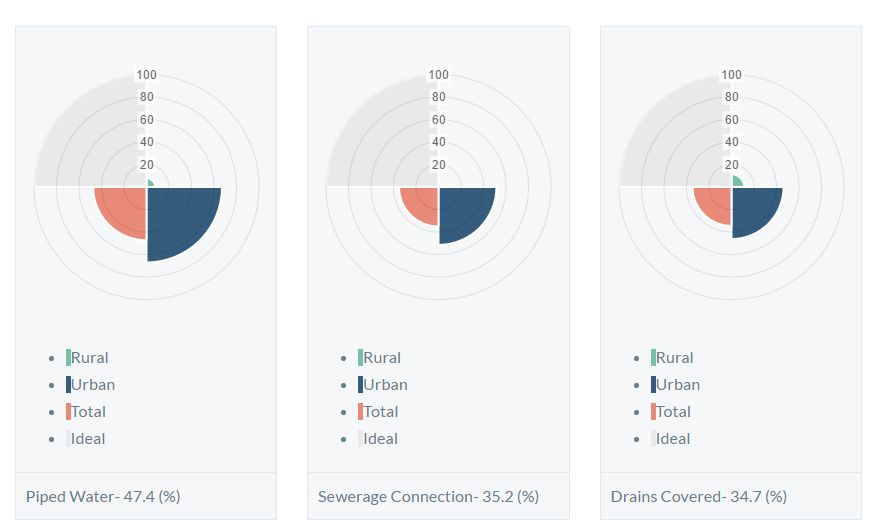 The government authority in response to this survey said that these results would help them strategizing for better conditions. 
Swachh bharat Mission was launched by Prime Minister Narendra Modi on Gandhi Jayanti in 2014. The urban component of Swachch Bharat Mission includes construction of individual household toilets, community and public toilet seats and 100% door-to-door collection of solid waste and its transportation and disposal.
Hope this Gandhi jayanti can sensitise people to become more responsible towards their society.
What are we looking for:
Lucknow City is reeling under the pressure of solid waste mismanagement. With the piled garbage and littered filth, city is the breeding bed for the epidemics like dengue, chickenguniya, malaria, etc. We through this action group track the city's waste management arrangements and the perform research to suggest better strategies to the municipal corporation to keep the city cleaner.  

If you know something :
If you know something about the waste management and as a responsible citizen of the country want to contribute with the information,kindly contact us at: coordinators@ballotboxindia.com 
If you know someone who can contribute:
If you know someone who is either an expert on waste management or knows anything about the mismanagement in their area or can contribute in some form, Kindly inform and ask them to contact us at : coordinators@ballotboxindia.com   or fill "Contact a coordinator" form by clicking the buttons on this page.
If you want to work for us and contribute in your community:

Would my efforts be funded? YES. If you have time, skill, aptitude and expertise in some field, ballotboxindia.com is the right platform. Your work will be funded. To join contact: coordinators@ballotboxindia.com 
 Your efforts and contributions can bring a change.
Show
Edit
Publish
Un-Publish
Alt Title
User Tip: Click for a full screen editor, To insert an image.
Connect & Join.
With more and more connecting, the research starts attracting best of the coordinators and experts.
Build a Team
Coordinators build a team with experts to pick up the execution. Start building a plan.
Fix the issue.
The team works transparently and systematically fixing the issue, building the leaders of tomorrow.
जुड़ें और फॉलो करें
ज्यादा से ज्यादा जुड़े लोग, प्रतिभाशाली समन्वयकों एवं विशेषज्ञों को आकर्षित करेंगे , इस मुद्दे को एक पकड़ मिलेगी और तेज़ी से आगे बढ़ने में मदद ।
संगठित हों
हमारे समन्वयक अपने साथ विशेषज्ञों को ले कर एक कार्य समूह का गठन करेंगे, और एक योज़नाबद्ध तरीके से काम करना सुरु करेंगे
समाधान पायें
कार्य समूह पारदर्शिता एवं कुशलता के साथ समाधान की ओर क़दम बढ़ाएगा, साथ में ही समाज में से ही कुछ भविष्य के अधिनायकों को उभरने में सहायता करेगा।
How can you make a difference?
Do you
care

about this

issue

? Do You think a

concrete action

should be taken?Then

Follow

and

Support

this Research Action Group.Following will not only keep you

updated

on the latest, help voicing your

opinions,

and

inspire

our

Coordinators & Experts.

But will get you

priority

on our

study tours, events, seminars, panels, courses

and a lot more on the subject and beyond.
आप कैसे एक बेहतर समाज के निर्माण में अपना योगदान दे सकते हैं ?
क्या आप इस या इसी जैसे दूसरे
मुद्दे

से जुड़े हुए हैं, या प्रभावित हैं?

क्या

आपको लगता है

इसपर कुछ

कारगर कदम उठाने चाहिए ?तो नीचे

फॉलो

का बटन दबा कर

समर्थन

व्यक्त करें।इससे हम आपको समय पर

अपडेट

कर पाएंगे, और आपके

विचार

जान पाएंगे।

ज्यादा से ज्यादा

लोगों द्वारा फॉलो होने पर

इस मुद्दे पर कार्यरत विशेषज्ञों एवं समन्वयकों का ना सिर्फ़ मनोबल बढ़ेगा,

बल्कि हम आपको, अपने समय समय पर होने वाले शोध यात्राएं, सर्वे, सेमिनार्स, कार्यक्रम, तथा विषय एक्सपर्ट्स कोर्स इत्यादि में सम्मिलित कर पाएंगे।
Communities and Nations where citizens spend time exploring and nurturing their culture, processes, civil liberties and responsibilities. Have a well-researched voice on issues of systemic importance, are the one which flourish to become beacon of light for the world.
समाज एवं राष्ट्र, जहाँ लोग कुछ समय अपनी संस्कृति, सभ्यता, अधिकारों और जिम्मेदारियों को समझने एवं सँवारने में लगाते हैं। एक सोची समझी, जानी बूझी आवाज़ और समझ रखते हैं। वही देश संसार में विशिष्टता और प्रभुत्व स्थापित कर पाते हैं।