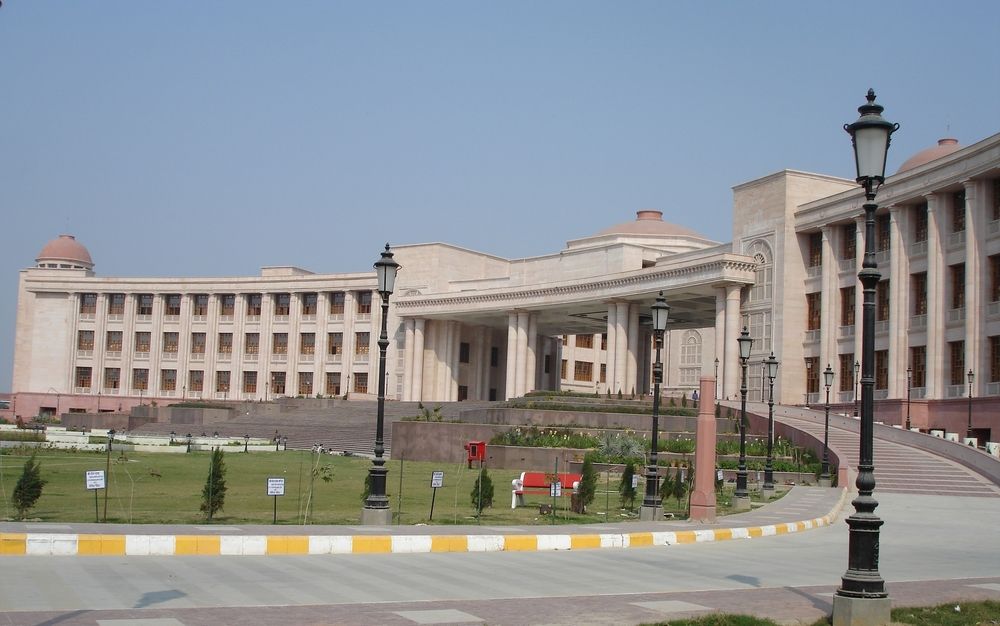 Petitioners Ashok shankaram and Neeraj Pandey have moved to Supreme Court seeking transfer of PIL(Public Interest Litigation) from Allahabad court to National Green Tribunal(NGT). Petitioners have alleged that Lucknow High Court's new building is standing over ponds and as the issue is directly related to HC being the beneficiary, it is not appropriate for HC to handle the issue.
After  Supreme court declared in 2009 that protection and preservation of ponds would substantially mitigate the potable water problem,two petitioners- Ashok Shankaram and Neeraj Pandey filed a petition in Lucknow bench of Allahabad High Court in 2013 with data about land mafia allegedly destroying ponds in collusion with LDA(Lucknow development Authority).  
The petitioners then took RTI route and stumbled upon startling information. 
LDA had provided a site map which showed that pond situated on Khasra no.52 of village vijaipur was shown as low land and which is a part of the land allotted to HC. LDA has not filed its response even after three years.
Petitioners further alleged that it was a well planned conspiracy by LDA to facilitate the ongoing construction and HC has not passed any effective order to subvert the illegal design.  
What are we looking for:
Encroachments in India have become a frequent scenario. Private builders are sold the lands of ponds,lakes,rivulets and other water bodies and are later developed into construction sites. Unfair trade of unsalable land and negligence towards environmental norms have lead to the ecological disturbance. The water table is going down. Now with the bodies like High Court who serve justice are alleged of encroaching ponds. To whom should people lay their faith upon? 
At this point we are researching on the on going case and trying to gather available information through different mediums. We are contacting concerned nodal agencies for the details on the acquired HC land and also citing relevant cases of pond encroachments and their outcomes.  
If you know something about the ongoing case :
If you know anything about the case and as a responsible citizen of the country want to contribute with the information,kindly contact us at: coordinators@ballotboxindia.com 
If you know someone who can contribute:
If you know someone who is either an expert on water body encroachment cases or knows anything on the ongoing case or can contribute in some form, Kindly inform and ask them to contact us at : coordinators@ballotboxindia.com   or fill "Contact a coordinator" form by clicking the buttons on this page.
If you want to work for us and contribute in your community, ballotboxindia.com is the right platform. To join contact: click Follow Button 
 Your efforts and contributions can bring a change.
:Team-BBI
Source: publishment of timesgroup