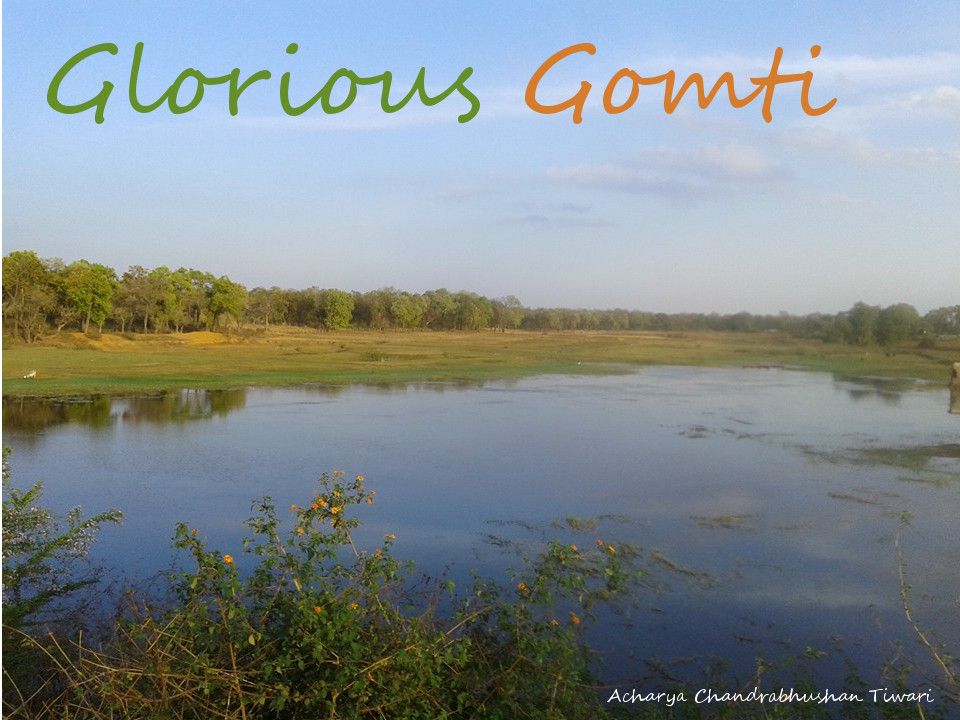 Gomti Reeling under the Water Crisis
At the time when the irrigation department is busy with the Gomti riverfront development project, almost 15 tributaries of Gomti in the upper catchments have dried up this month. The summer has not even started and river is fighting for survival with sluggish flow. At Kudia ghat in Lucknow, the river channel has been stopped and a small escape channel is allowing the water to pass. The ongoing efforts to face-lift the river and its surroundings in Lucknow do not respect the fabrics of a sensible ecosystem design; instead the idea behind this project is arbitrary, populist and scornful. 
Where is Gomti River front development project's DPR?
The detailed project report(DPR) was never shared with the public and design parameters are being changed at will as and when required. Several thousand tons of iron mess are prepared with thick 32 mm bars and placed 15 meters below the riverbed with cement and concrete mix on both sides, that too by confining the river to a small channel. The land between the jacketed wall and the embankment will be used for car parking, roads, theme park and other recreational and commercial activities and some revenue will be generated for the Lucknow Development Authority (LDA).  The LDA in the past allowed several projects that were ecologically destructive – like all other real-estate agencies, it values land and ignores water. 
Results of till date stint of Gomti River Front Development Project:
Several colonies after colonies encroached upon water bodies. The reclaimed land from the riverfront project essentially belongs to the river. The main idea behind this massive project is cosmetic beautification, and it has nothing to do with river restoration. This ecologically fragile piece of land is for the river to store water and recharge the underground aquifers of Lucknow. When the river enters Lucknow, it recharges the local aquifers. Making a deep concrete wall on both sides will definitely affect the recharge. 
Possible Consequences of This Project
It will also destroy the natural resilience of river to absorb change with loosing several critical river-functions such as flood control, habitat protection, biological diversity, natural recharge and so on. But, our longing for king size urban lifestyles and 'marine drive' mentality undermines the very existence of a flourishing river which is the lifeline of millions. Due to constant neglect, the first 55 kilometers of the river is almost completely encroached, the tributaries are drying up, fish population is dwindling down and millions of untreated waste-water is pumped into it.  
Earlier failed unplanned efforts:
A large sewage treatment plant was made with huge amount of money in 2011, but it failed after running for less than a year. The agency, which built this STP, gets away without any accountability. If the government is really serious about Gomti river, it should take up a basin-wide project starting from the origin of the river. Several tributaries are drying, wetlands are in bad shape, ponds are filled, natural drains have been converted into wastewater drains and fishes are disappearing.
Deciphering the problem in few last word:
In a nutshell, our irrigation department seems to be in a war-front mode fighting this 'giant wolf' looming large over our rivers in the form of a magic formula instead of tackling the more mundane but neglected aspects of river basin management and planning. No doubt, such projects have large budgets often coming from hard earned public money or loan, what is the need of such ecologically devastating projects in a poor country like us – we need more hospitals and schools than such avoidable cosmetic land-grab projects at the cost of river's health. India needs Indian solution and not that are borrowed from the west. It is indeed necessary to consider our economic development models of moderation and probity that is ecologically sustainable and shuns conspicuous consumption. 
Please spare our rivers from such projects – a 'no project policy' in such areas will do more good to our collective future. Best use of riversides could be river gardens with minimum disturbances to the ecosystems.
What are we looking for?
Based on empirical evidences and experiences in recent past we are looking at a water catastrophe in India. The country faces drought or deluge, millions moving out of agriculture and then into urban systems without any transition or training. This will not only give to loss of life and land but can be a reason of major unrest in India.
At this point of time we are aiming to build a strong representation to protect water and natural systems at the local level. We want policy interventions and strong implementation at states level to keep natural resources untouched and free to take their own form for generations to come.
If you are someone who knows about local water systems in your community and want to actually work on making them better, send the details on coordinators@ballotboxindia.com
If you know someone who can make a difference, make an introduction with this effort, you can also write to coordinators@ballotboxindia.com, or fill "Contact a coordinator" form by clicking the buttons on this page.
If you have a few hours to work in your community for common good, let us know and join as a coordinator.
Would my efforts be funded? Yes if you have some time, skill and aptitude to make a difference, ballotboxindia is the right platform. Get in touch with coordinators@ballotboxindia.com with your details.