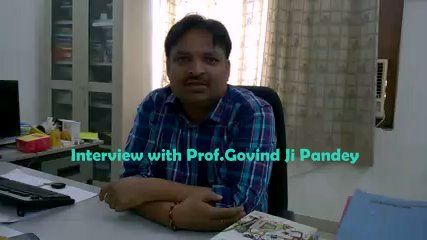 Question: So Prof. Govind Ji Pandey from where and when did you perceive and conceive the idea of starting a campaign like 'Bachpan Bachao Joota Pehnao' ? 
Answer: On one hot sunny day I was travelling in my air conditioned car when a small kid walked up to me and knocked at the glass door. When I looked at him, he was unstable in his stance. After looking carefully I realized he was standing bare feet on burning road. Looking at his misery I realized that something needs to be done. Something should be done for such people who don't even have footwear. That was the moment when i perceived an idea of having something similar to this campaign to support and facilitate such people.       
Question: How did you approach this innovative idea?
Answer: At first I discussed this idea with my students who excitedly supported the thought and gave their valuable inputs. It was after their suggestions, things started materializing and with cumulative efforts of coordinators and contributors we could make this campaign possible.     
Question:  Who were the contributors and what was their reaction towards this campaign?
Answer: Our campaign was majorly driven by our university students who participated with fervor and excitement. They turned in great numbers and one could easily see the brightness on their faces while distributing the shoes. Some donated old/new shoes and some helped with monetary donations. Few who couldn't be a part of this event, either donated shoes and other footwear in their locality and tagged us on social networking websites or mailed us shoe pairs for distribution.
Question: How many children were benefited from this campaign?
Answer: In our first phase, we distributed shoe pairs in local government schools in the vicinity and among the laborers' children(Laborers working in the university premises) in the university. In other phases we reached out for few more schools and communities around the area. We have approximately distributed 150-200 pairs among children till date.
Question: What else apart from shoes have been distributed or done to facilitate needy children?
Answer: Apart from shoes, our team has distributed pen,pencil, eraser,copies and other stationery items. Other than distributing items, we have also raised money for a child who has a severe infection in her only eye and with the money we are aiming her treatment. This campaign is not just to distribute shoes but to reach out less fortunate people. Apart from this we are planning to setup a Legal Aid clinic. Going further, this campaign would focus on their several other plights and 'shoe' would act as a symbol. 
Question: This campaign has been a success. What are your plans for its future?  
Answer: Our Small stints have been a success. We want to spread words about our campaign for which we are using social media as a tool and we have also started a new publication 'Bachpan Express' which aims at empowering students. Bachpan Express is a publication of students and it focuses on students related issues. It will help them raise their voice against the wrong and would empower them to fight the odds.  
:Team-BBI