ALLAHABAD HIGH COURT REALIZED THE NEED OF A SPECIAL LAW TO PROTECT PONDS FROM ENCROACHMENT 

Anant Srivastava 369 {{descmodel.currdesc.readstats }}
ALLAHABAD HIGH COURT REALIZED THE NEED OF A SPECIAL LAW TO PROTECT PONDS FROM ENCROACHMENT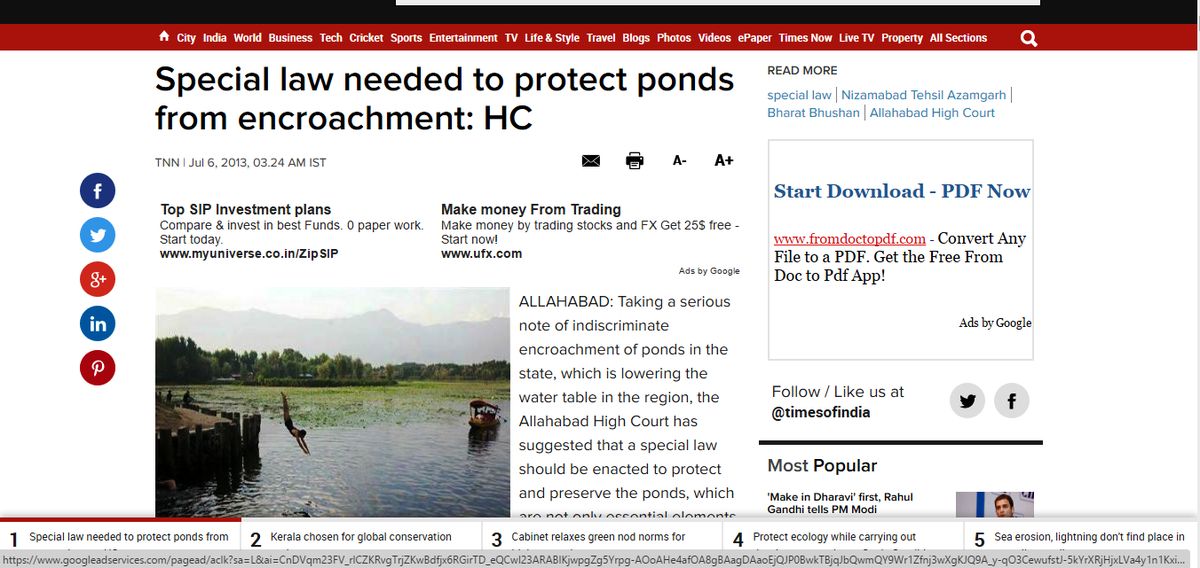 Jul6,2013 ALLAHABAD: Taking a serious note of indiscriminate encroachment of ponds in the state, which is lowering the water table in the region, the Allahabad High Court has suggested that a special law should be enacted to protect and preserve the ponds, which are not only essential elements of village habitat but also valuable assets for the state.
The court observed that a special procedure should be provided in the UP Zamindari Abolition (UPZA) and Land Reforms (LR) Act for removing encroachment on ponds. This is essential as lowering of water table is potentially causing serious environmental damage, it said.
The court said that the special law was necessary as procedure for removing encroachment under section 122B of UP ZA and LR Act has proved to be time-consuming and inadequate. Passing the above observations, a division bench comprising Justice Sunil Ambwani and Justice Bharat Bhushan requested the Advocate General UP to appear and assist the court in this case and to suggest measures which may be necessary for protecting the habitat of the villages/towns and the environment of the state.
While directing to list this case on July 25, 2013, the court directed the state government to file reply (counter affidavit) in this case within two weeks.
Passing these directives, the court observed, "A number of directions have been given by the Supreme Court and this court for protecting the water bodies in the state. It, however, appears that the land covered by water bodies is being indiscriminately encroached. The procedure under section 122B UPZA takes a long time as even if an order of eviction is passed, the rights of revision and thereafter writ petition fielded by such person, who continues with the encroachment takes several years for restoration of ponds."
The court passed the above directives on a writ petition filed by Phoolmati Devi and another person of Azamgarh district. The petitioner had requested the court to direct district magistrate (DM) Azamgarh to remove unauthorized possession of respondent from the pond situated in village Pawai Ladpur, Nizamabad Tehsil, Azamgarh.
As an interim measure, the court directed the DM Azamgarh and sub-divisional officer, Nizamabad Tehsil, Azamgarh to immediately stop further encroachment on the pond.
What are we looking for:
Encroachments in India have become a frequent scenario. Private builders are sold the lands of ponds,lakes,rivulets and other water bodies and are later developed into construction sites. Unfair trade of unsalable land and negligence towards environmental norms have lead to the ecological disturbance. The water table is going down. Now with the bodies like High Court who serve justice are alleged of encroaching ponds. To whom should people lay their faith upon? 
At this point we are researching on the on going case and trying to gather available information through different mediums. We are contacting concerned nodal agencies for the details on the acquired HC land and also citing relevant cases of pond encroachments and their outcomes.  
If you know something about the ongoing case :
If you know anything about the case and as a responsible citizen of the country want to contribute with the information,kindly contact us at: coordinators@ballotboxindia.com 
If you know someone who can contribute:
If you know someone who is either an expert on water body encroachment cases or knows anything on the ongoing case or can contribute in some form, Kindly inform and ask them to contact us at : coordinators@ballotboxindia.com   or fill "Contact a coordinator" form by clicking the buttons on this page.
If you want to work for us and contribute in your community:

Would my efforts be funded? Yes, If you have time, skill, aptitude and expertise in some field, ballotboxindia.com is the right platform. Your work will be funded. To join contact: coordinators@ballotboxindia.com 
 Your efforts and contributions can bring a change.
Show
Edit
Publish
Un-Publish
Alt Title
User Tip: Click for a full screen editor, To insert an image.
Connect & Join.
With more and more connecting, the research starts attracting best of the coordinators and experts.
Build a Team
Coordinators build a team with experts to pick up the execution. Start building a plan.
Fix the issue.
The team works transparently and systematically fixing the issue, building the leaders of tomorrow.
जुड़ें और फॉलो करें
ज्यादा से ज्यादा जुड़े लोग, प्रतिभाशाली समन्वयकों एवं विशेषज्ञों को आकर्षित करेंगे , इस मुद्दे को एक पकड़ मिलेगी और तेज़ी से आगे बढ़ने में मदद ।
संगठित हों
हमारे समन्वयक अपने साथ विशेषज्ञों को ले कर एक कार्य समूह का गठन करेंगे, और एक योज़नाबद्ध तरीके से काम करना सुरु करेंगे
समाधान पायें
कार्य समूह पारदर्शिता एवं कुशलता के साथ समाधान की ओर क़दम बढ़ाएगा, साथ में ही समाज में से ही कुछ भविष्य के अधिनायकों को उभरने में सहायता करेगा।
How can you make a difference?
Do you
care

about this

issue

? Do You think a

concrete action

should be taken?Then

Follow

and

Support

this Research Action Group.Following will not only keep you

updated

on the latest, help voicing your

opinions,

and

inspire

our

Coordinators & Experts.

But will get you

priority

on our

study tours, events, seminars, panels, courses

and a lot more on the subject and beyond.
आप कैसे एक बेहतर समाज के निर्माण में अपना योगदान दे सकते हैं ?
क्या आप इस या इसी जैसे दूसरे
मुद्दे

से जुड़े हुए हैं, या प्रभावित हैं?

क्या

आपको लगता है

इसपर कुछ

कारगर कदम उठाने चाहिए ?तो नीचे

फॉलो

का बटन दबा कर

समर्थन

व्यक्त करें।इससे हम आपको समय पर

अपडेट

कर पाएंगे, और आपके

विचार

जान पाएंगे।

ज्यादा से ज्यादा

लोगों द्वारा फॉलो होने पर

इस मुद्दे पर कार्यरत विशेषज्ञों एवं समन्वयकों का ना सिर्फ़ मनोबल बढ़ेगा,

बल्कि हम आपको, अपने समय समय पर होने वाले शोध यात्राएं, सर्वे, सेमिनार्स, कार्यक्रम, तथा विषय एक्सपर्ट्स कोर्स इत्यादि में सम्मिलित कर पाएंगे।
Communities and Nations where citizens spend time exploring and nurturing their culture, processes, civil liberties and responsibilities. Have a well-researched voice on issues of systemic importance, are the one which flourish to become beacon of light for the world.
समाज एवं राष्ट्र, जहाँ लोग कुछ समय अपनी संस्कृति, सभ्यता, अधिकारों और जिम्मेदारियों को समझने एवं सँवारने में लगाते हैं। एक सोची समझी, जानी बूझी आवाज़ और समझ रखते हैं। वही देश संसार में विशिष्टता और प्रभुत्व स्थापित कर पाते हैं।