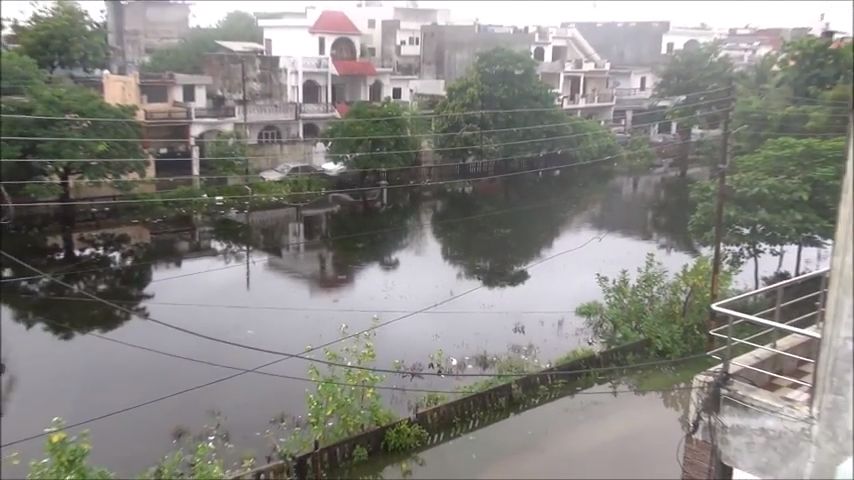 Lucknow received the first heavy downpour of this year's monsoon on Monday 30th July. Just little over 100 mm of rainfall in 24 hours wrecked havoc in the city! The railing over the Gomti riverfront over Kukrail drain (it is actually a river – tributary of Gomti) broke due to excessive flows of water. The low lying areas experienced up to the neck flooding with their drawing rooms converted into a temporary swimming pool – only with filthy and smelly water.
Several colonies like Lalplace, Gomti Nagar, Sector 8 and Sector 14 of Indira Nagar, Model House, Mahanagar, Nishatganj, Aliganj, Lalbagh, Aashyiana witnessed waterlogging and flooding. The road from Engineering College crossing to Jankipuram Extension was under two-feet water. Roads caved in several foot, developed cracks and were converted into cesspools exposing the use of substandard materials and poor engineering. Many cars were stuck midway on roads in areas like Aashiyana, Alambagh, Daliganj, Lalbagh and Jankipuram due to severe water logging.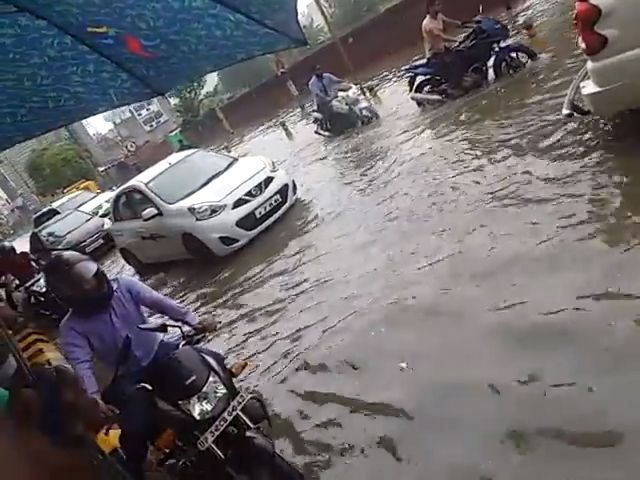 Haider Canal : Victim of Encroachment :  
The three major drainage of Lucknow are Gomti River, Kukrail River and Haider Canal – all of them are under great development onslaught. While the floodplains of Gomti were encroached and  huge diaphragm walls were erected reducing the water carrying capacity of the river. Yesterday even the water was spilling over the wall, indicating how vulnerable are the areas across the river. Haider canal  was actually a link canal, the most ambitious project of Ghaziuddin Haider which was excavated to connect the river Ganga in Kanpur with the river Gomti in Lucknow. The canal was constructed across the heart of the city, but later had to be abandoned due to defective slope, beating the purpose for which it was intended. However, it became a major arterial drain of Lucknow running through several settlements and falling into Gomti River.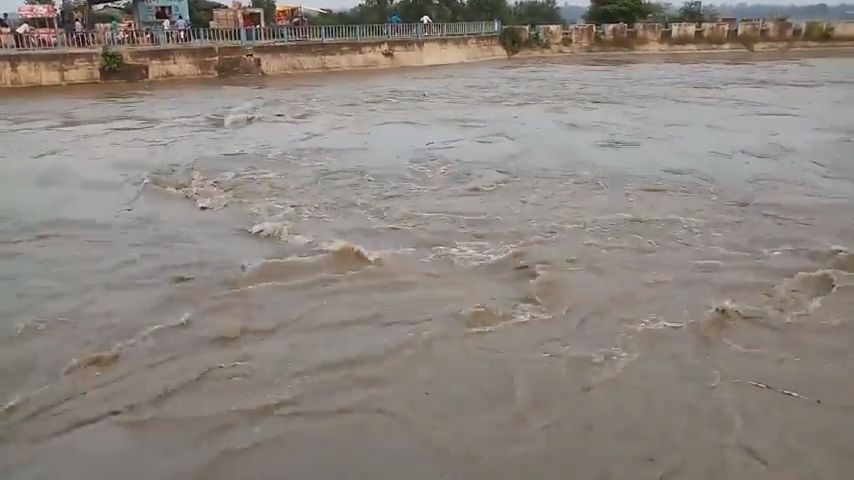 Over the years, several colonies came up and they connected their drains to this canal emptying their sewage and solid wastes into it. Britishers were so thrilled with this canal that they shifted cantonment to this area from Madiyaon – the earlier settlements in the north of Lucknow, and Charbagh railway station also came up. Now the Haider canal lost its glory due to its stinking water, slums infested banksides and several unauthorized buildings right over it. Even a flyover choked a major portion of this canal along  the back of Mall Avenue before the Raj Bhawan.  Due to loss of carrying capacity and encroachment it no longer drains sufficient water leading to waterlogging. There are two underground pipes at Charbagh, one of which is connected to Haider Canal. It takes the rainwater to Gomti River. However, the pipeline is chocked and the canal is ailing, resulting in waterlogging at Charbagh. The outfall of the canal was further tapped during the construction of Ambedkar Park, thus a major portion of the canal was lost to a concrete park.  As if this was not enough, during the construction of riverfront, massive diaphragm walls on both the sides of the river promised tapping of the canal and drains to an underground interceptor drain, whose design hasalready been proved wrong. The flooding will become a perennial problem in days to come – thanks to our planners! In a drive to beautify the riverbank, we stole the very land where excessive water used to recharge our groundwater and save our colonies from flooding. These mistakes will always make the city flooded during heavy rainfall.
Kukrail Drain : Dying tributary of Gomti  :
Another blunder was closing the mouth of Kukrail drain and converting it into a filthy nala. Once it said to be a major natural drainage system and lifeline for Gomti river, also it used to drain a major portion of Lucknow right up to Jankipuram having a length of about 24 kilometers and covering several colonies. After the plan to connect it to Bharwara STP through pumping station opposite Bhainsakund and pumping water through heavy pumps, the natural drainage was severely affected.  Most of the time, one or the other pump remains dysfunctional and takes months to get repaired.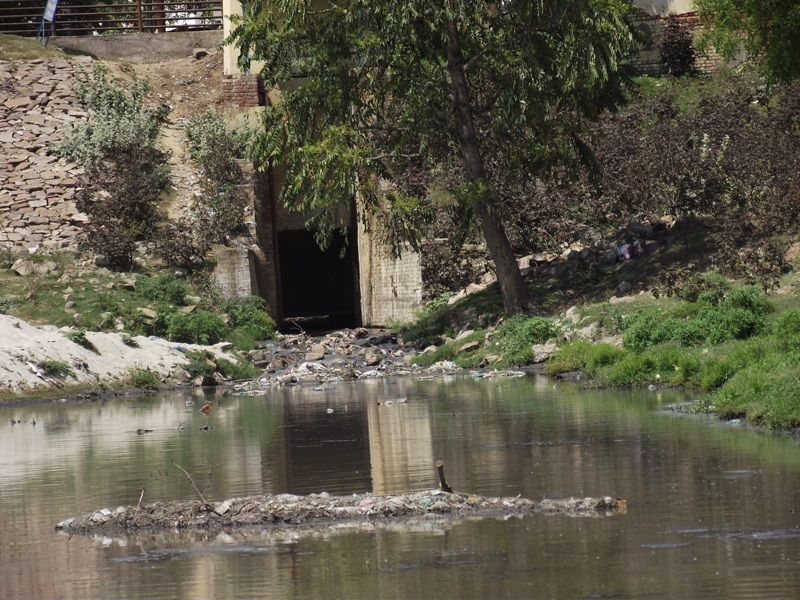 It's high time to restore these natural drains : 
Year after year we encroached upon ponds, lakes, taals and jheels of Lucknow that numbered around 1200 five decades back. Now hardly three hundred of them exist bearing heavy trauma of urban wastes. They used to store water and were excellent natural draining systems – storing water and recharging groundwater at the same time.  Now we get flooded during rains, and our aquifers go down during summer. The solution lies in restoring these water bodies and restoring our natural drains and canals. The basic idea behind restoring these natural bodies lies in proper rehabilitation. The municipal corporation needs to remove all unauthorized structures on drains with regular cleaning to improve their natural flow capacity and avoid silting. Rainwater harvesting tactics can also be used for the better recharge in Ground water table.