Sustainable water and Sanitation : Best management practices - "Potential and Challenges"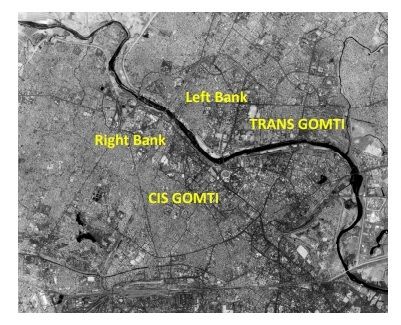 Around 85% of the land area of Lucknow City is situated on the Central Ganga alluvial plain and stretches across both banks of the Gomti River.
1. Gomti River flows from NW to SE through the heart of the city.
2. Cis-Gomti side are comparatively lower than the areas on Trans-Gomti side.
3. 26 drains join the river, 14 drains from cis-Gomti and 12 drains from trans-Gomti side.
4. Out of 14 cis-Gomti side drains, 12 drains are located in the upstream and 2 are located into downstream of Barrage.
5. All of the 12 Trans-Gomti drains merge into river Gomti in the upstream of Barrage.
Gross available water supply of about 490 MLD - of which around 240 MLD is derived from up to 500 tube wells and 250 MLD from river Gomti.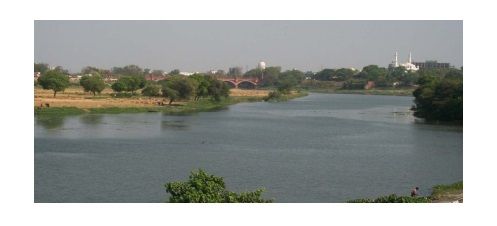 Private groundwater use 
There is no inventory or systematic assessment of the scale of private residential groundwater use -
It has been estimated that around 1500 tube wells are in operational across Lucknow District by commercial, industrial and institutional water users (although only a few extract more than 10 MLD).
Wastewater generation
1. The combined discharge of the 26 drains was estimated for the year 2004 as 390 MLD
2. Currently it is estimated to be in the range of 425 - 450 MLD.
3. This does not include areas which are not connected by sewerage systems.
Approach in the past
1. 1930s – 1980s: collect the sullage / sewage through branch and trunk sewers and carry it through pumping mains to a sewage farm outskirts of Trans-Gomti Area in D/S of the town.
2. Sewage farm has been converted into housing colonies (Gomti Nagar).
2001 - 2010: 1:10
• The river is hardly able to dilute the incoming sewage/sullage of the city by 10 times resulting in a steep rise in bacterial count (about 2.5 x 107/ 100 ml against the maximum prescribed limits of 5000 counts per 100 ml). 25000000.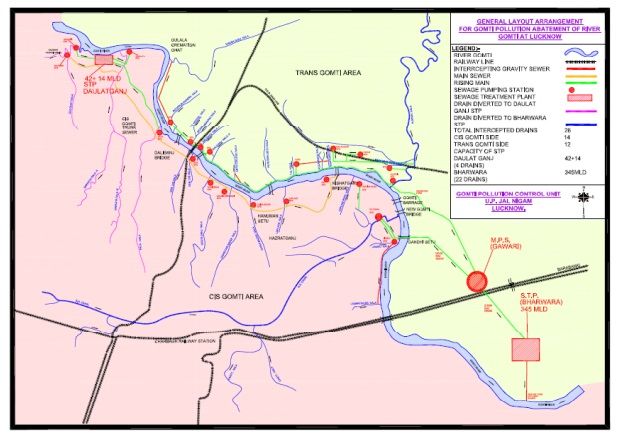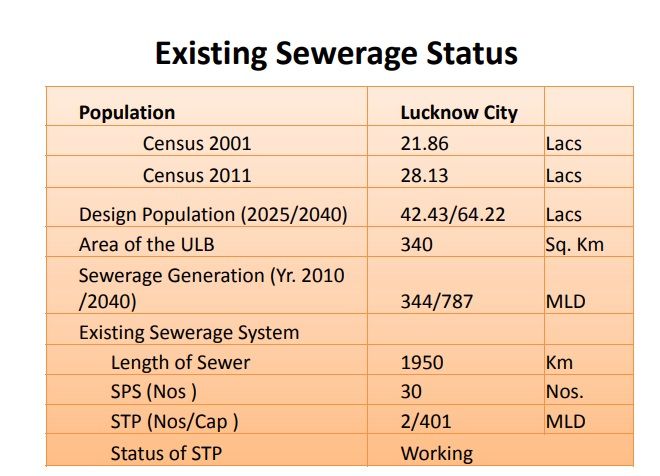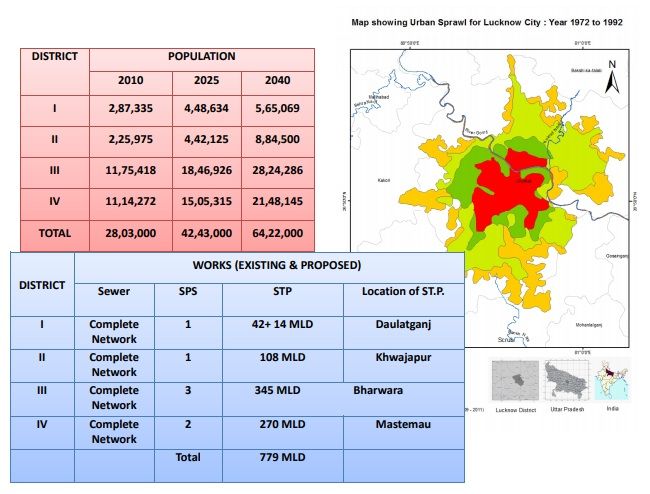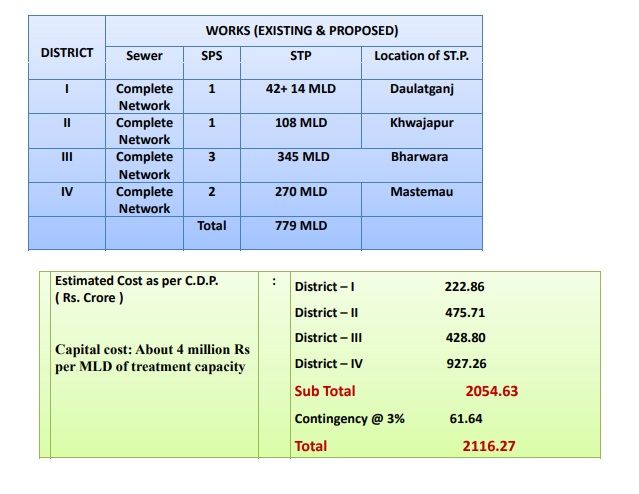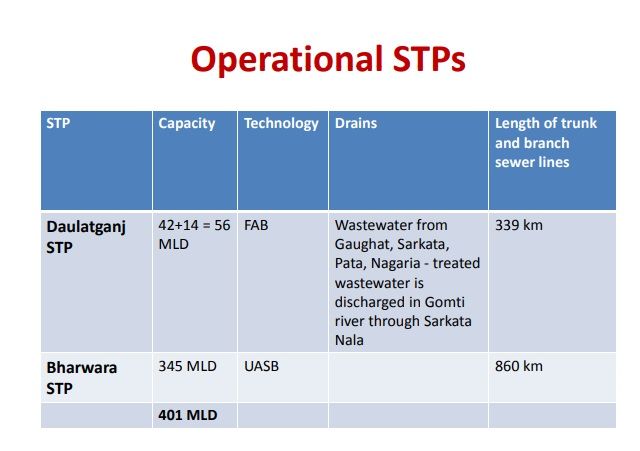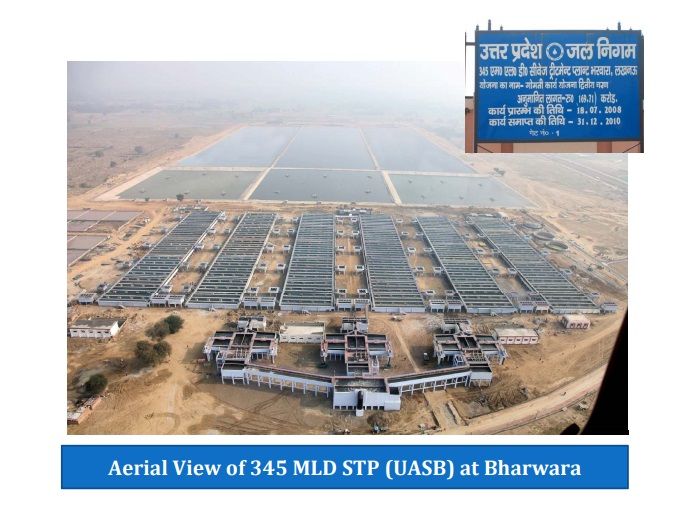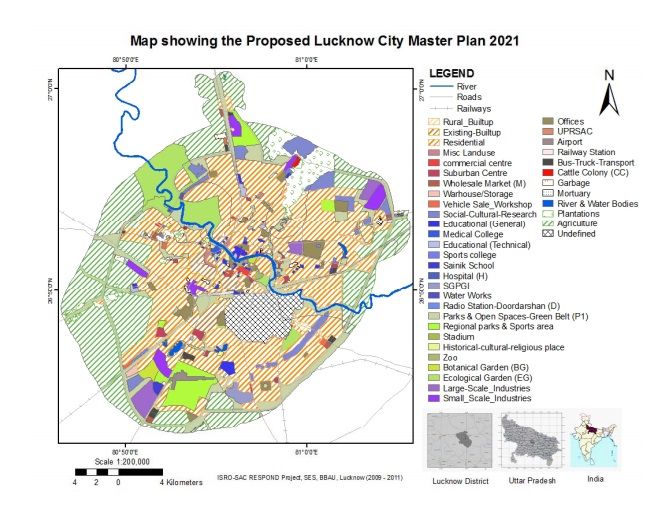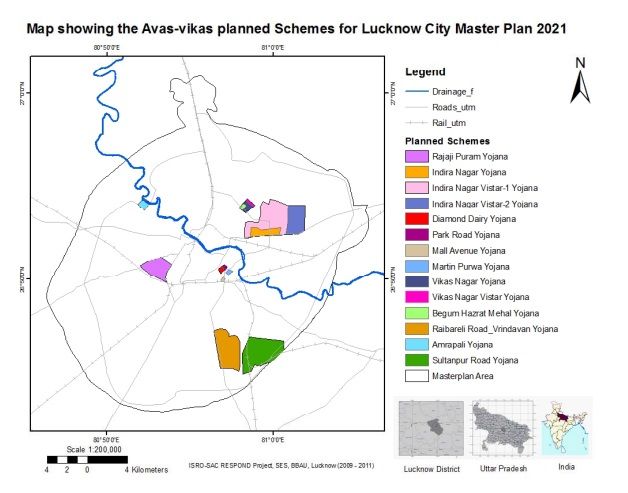 Sewerage Districts 
The overall sewerage scheme consists of 4 separate Sewerage Districts each with its own (planned) treatment plant:
1.  District : Chowk, Hardoi Road, Cambell Road and Dubagga etc. area conveying sewage to existing Daulatganj STP.
2.  District II : Amausi area and Sarojini Nagar area conveying sewage to proposed Khwajapur STP.
3.  District III : Total Trans-Gomti side including Indira Nagar, Gomti Nagar and Sitapur road areas conveying sewage to Bharwara STP which is sanctioned under Gomti Action Plan Phase-Il and in process of construction.
4.  District IV : Cis Gomti side conveying sewage to proposed Mastemau STP.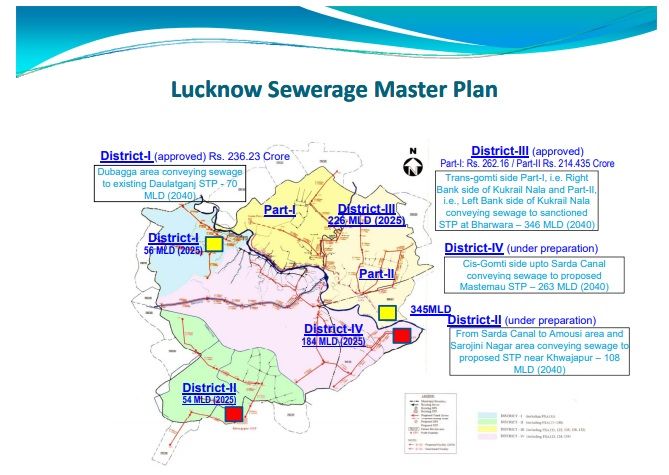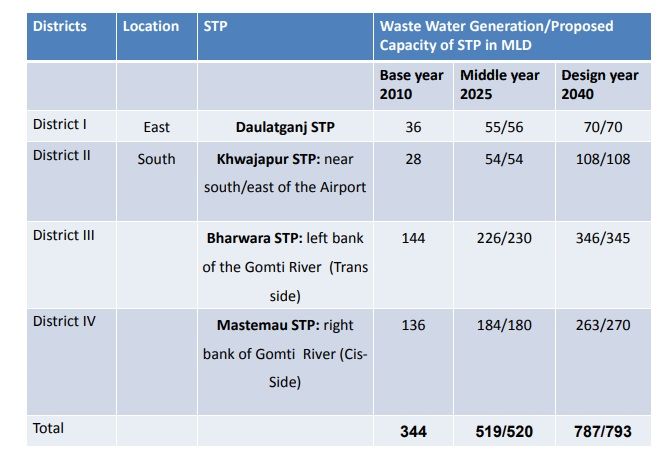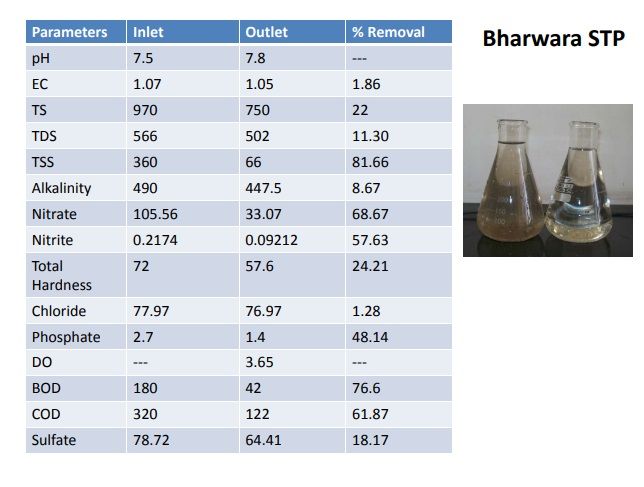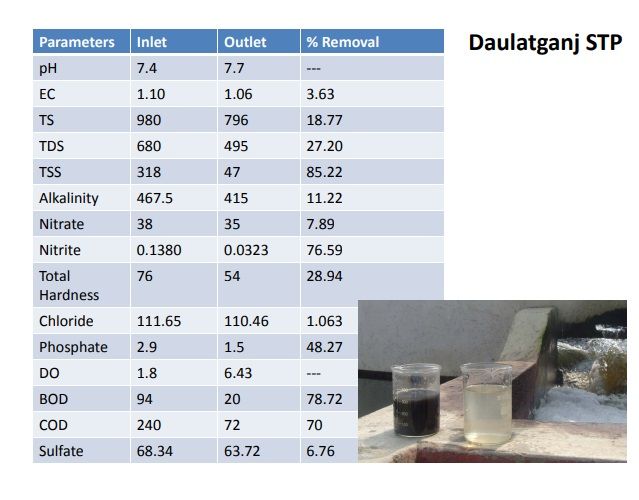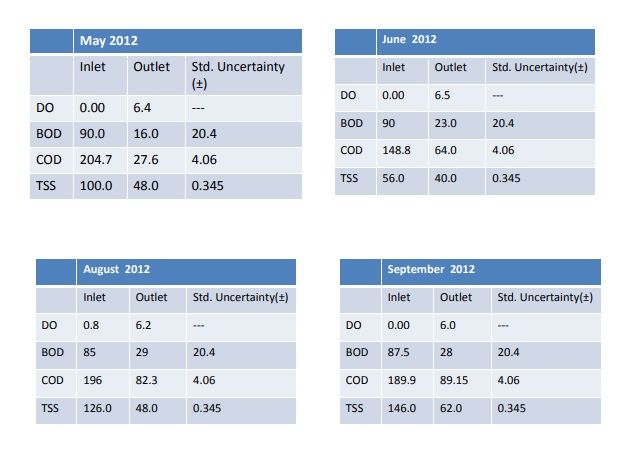 Some issues...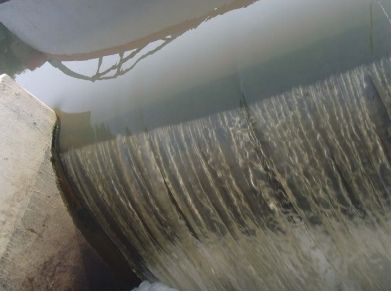 Location of the barrage
The Gomti barrage constructed at downstream end of the town impounds most of the sewage entering the river. This also stops the river from flowing.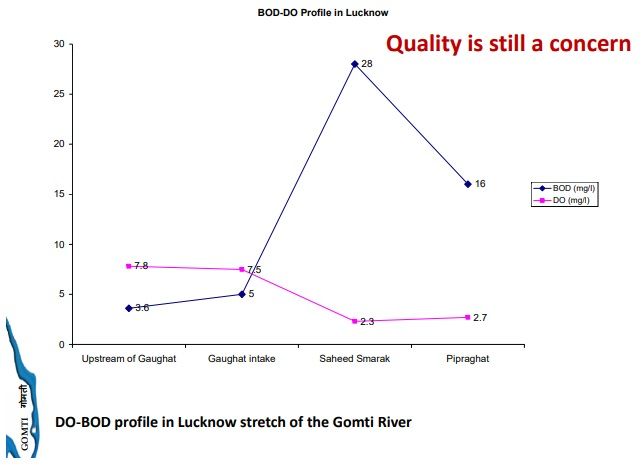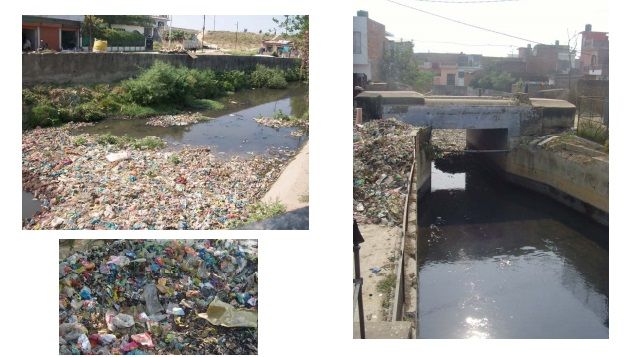 1. No feasible mechanism of stopping wastes going to the drains.
2. A lot of silt and debris go into the sewer system which is detrimental to its life and proper function.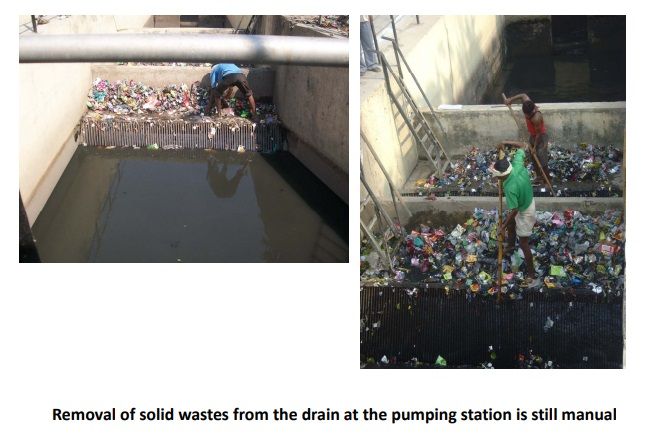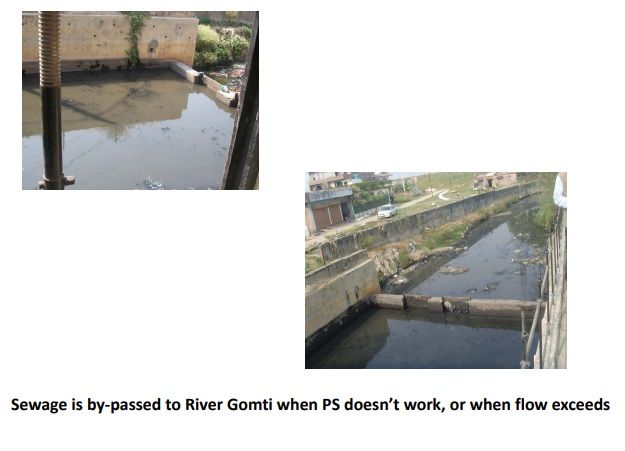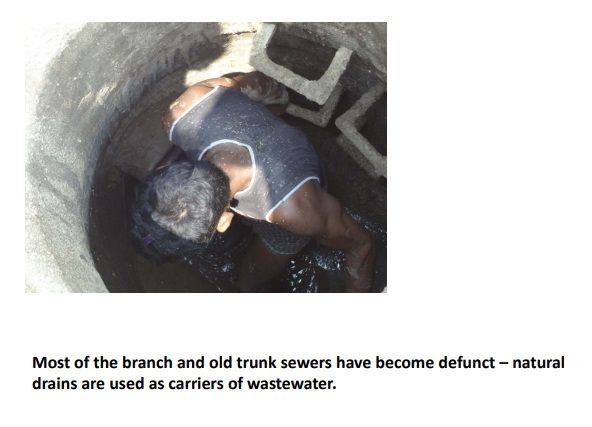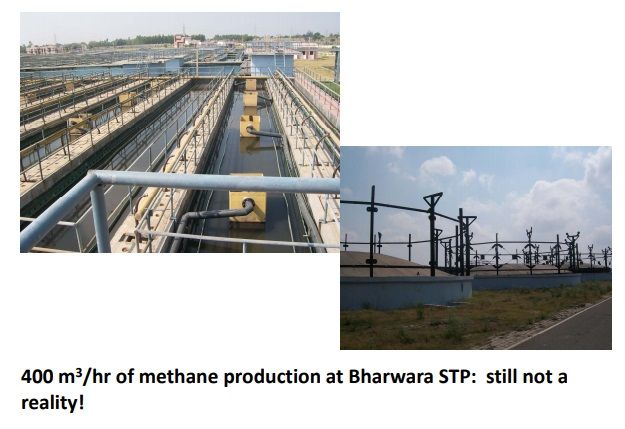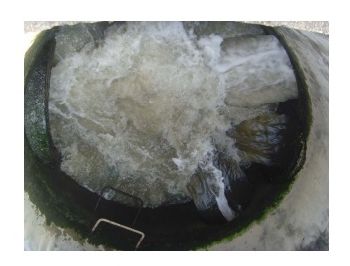 Treated wastewater from Bharwara STP is disposed into river Gomti. It can be disposed into Indira canal for Irrigation.
Large quantities of storm water causes flooding and hydraulic overloads at treatment plants.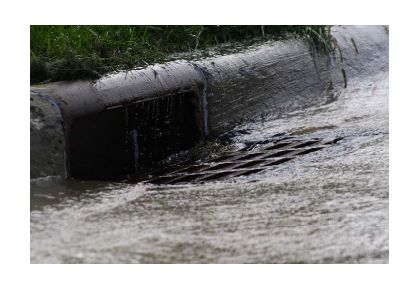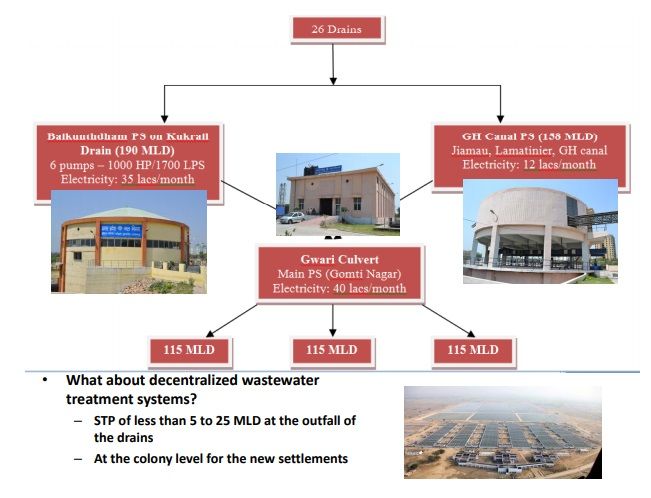 • The total project cost for the overall projects is estimated at Rs. 2054.63 crore with the bulk of investments proposed in Phase 2 of the JNNURM.
• There is a provision of Rs. 625.97 Crores in Phase-I (2006-11) and Rs. 1428.67 Crores in Phase-II (2012-2031) of City Development Plan of Lucknow.