Kukrail Nala: Scope for development-A conceptual study
Plans like these can be arable as well as helpful in restoring downtrodden tributaries like Kukrail Nala.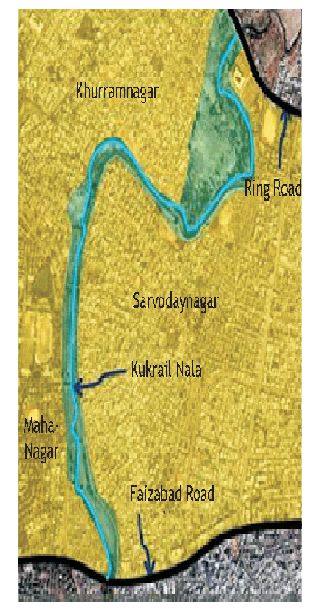 What does the Research Study say:

According to a research study, partial stretch of land form running along the kukrail nala has a potential for development. The total site area available for development is 125 acres.The area lacks major commercial space for the residents, except for one unplanned road which results in traffic congestion and creates pollution. The area is highly cluttered and there is no breathing space for the residents.
The Key issues to be considered:
The key issues to be considered while developing the site are:
• Retaining the land use pattern as per Lucknow Master Plan, 2021;
• To develop the site as a breathing space for highly dense residential zone;
• Proposing environment friendly landscape, which makes the scheme more viable;
• Maintaining the existing topography and natural environment of the site; and
• To harvest rainwater and use the same for landscaping.
Plans like these can be arable as well as helpful in restoring downtrodden tributaries like Kukrail Nala.
Based on research work-'A Conceptual Approach for Development of Kukrail Nala, Lucknow 'by Akanchha Jain, Tabish Ahmed Abdullah, Khurram Ashraf and Zeba Nisar
Want to contribute in the research?
To carry this effort with good momentum we are looking for coordinators in Lucknow, who can work towards representing the river and its drainage systems, work with local experts to raise awareness and intervene as required. Kindly contact us at: Coordinators@ballotboxindia.com
Who can be a coordinator -
Any one with a zeal to improve communities using a non confrontational approach, ready to collaborate with multiple entities and is systematic and patient. A working professional, an activist, a politician, a researcher, a housewife, a student. All he/she needs is an inclination for scientific ways, curiosity, respect and honor, and of course a few hours a week.
Are Coordinators Funded for their efforts?
YES. BallotboxIndia is about bringing back the culture of detailed deliberations and research. We follow a tedious systematic approach and our actions are output based. To sustain such efforts, the time and efforts spent has to be valued and incentivized.
I can't add value for this particular effort but been active for common good or want to work for better communities ?
Send in your details to innovators@ballotboxindia.com and we will get back to you as soon as possible.
Thanks 
Team @BallotboxIndia