Kukrail Nala: Scope for development-A conceptual study

Anant Srivastava 369 {{descmodel.currdesc.readstats }} {{descmodel.attruser || 'Attribute'}}
Kukrail Nala: Scope for development-A conceptual study
Plans like these can be arable as well as helpful in restoring downtrodden tributaries like Kukrail Nala.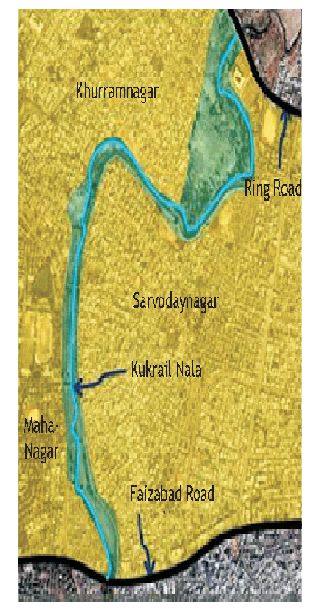 What does the Research Study say:

According to a research study, partial stretch of land form running along the kukrail nala has a potential for development. The total site area available for development is 125 acres.The area lacks major commercial space for the residents, except for one unplanned road which results in traffic congestion and creates pollution. The area is highly cluttered and there is no breathing space for the residents.
The Key issues to be considered:
The key issues to be considered while developing the site are:
• Retaining the land use pattern as per Lucknow Master Plan, 2021;
• To develop the site as a breathing space for highly dense residential zone;
• Proposing environment friendly landscape, which makes the scheme more viable;
• Maintaining the existing topography and natural environment of the site; and
• To harvest rainwater and use the same for landscaping.
Plans like these can be arable as well as helpful in restoring downtrodden tributaries like Kukrail Nala.
Based on research work-'A Conceptual Approach for Development of Kukrail Nala, Lucknow 'by Akanchha Jain, Tabish Ahmed Abdullah, Khurram Ashraf and Zeba Nisar
Want to contribute in the research?
To carry this effort with good momentum we are looking for coordinators in Lucknow, who can work towards representing the river and its drainage systems, work with local experts to raise awareness and intervene as required. Kindly contact us at: Coordinators@ballotboxindia.com
Who can be a coordinator -
Any one with a zeal to improve communities using a non confrontational approach, ready to collaborate with multiple entities and is systematic and patient. A working professional, an activist, a politician, a researcher, a housewife, a student. All he/she needs is an inclination for scientific ways, curiosity, respect and honor, and of course a few hours a week.
Are Coordinators Funded for their efforts?
YES. BallotboxIndia is about bringing back the culture of detailed deliberations and research. We follow a tedious systematic approach and our actions are output based. To sustain such efforts, the time and efforts spent has to be valued and incentivized.
I can't add value for this particular effort but been active for common good or want to work for better communities ?
Send in your details to innovators@ballotboxindia.com and we will get back to you as soon as possible.
Thanks 
Team @BallotboxIndia
Show
Edit
Publish
Un-Publish
Alt Title
User Tip: Click for a full screen editor, To insert an image.
Follow & Join.
With more and more following, the research starts attracting best of the coordinators and experts.
Build a Team
Coordinators build a team with experts to pick up the execution. Start building a plan.
Fix the issue.
The team works transparently and systematically fixing the issue, building the leaders of tomorrow.
जुड़ें और फॉलो करें
ज्यादा से ज्यादा जुड़े लोग, प्रतिभाशाली समन्वयकों एवं विशेषज्ञों को आकर्षित करेंगे , इस मुद्दे को एक पकड़ मिलेगी और तेज़ी से आगे बढ़ने में मदद ।
संगठित हों
हमारे समन्वयक अपने साथ विशेषज्ञों को ले कर एक कार्य समूह का गठन करेंगे, और एक योज़नाबद्ध तरीके से काम करना सुरु करेंगे
समाधान पायें
कार्य समूह पारदर्शिता एवं कुशलता के साथ समाधान की ओर क़दम बढ़ाएगा, साथ में ही समाज में से ही कुछ भविष्य के अधिनायकों को उभरने में सहायता करेगा।
How can you make a difference?
Do you
care

about this

issue

? Do You think a

concrete action

should be taken?Then

Follow

and

Support

this Research Action Group.Following will not only keep you

updated

on the latest, help voicing your

opinions,

and

inspire

our

Coordinators & Experts.

But will get you

priority

on our

study tours, events, seminars, panels, courses

and a lot more on the subject and beyond.
आप कैसे एक बेहतर समाज के निर्माण में अपना योगदान दे सकते हैं ?
क्या आप इस या इसी जैसे दूसरे
मुद्दे

से जुड़े हुए हैं, या प्रभावित हैं?

क्या

आपको लगता है

इसपर कुछ

कारगर कदम उठाने चाहिए ?तो नीचे

फॉलो

का बटन दबा कर

समर्थन

व्यक्त करें।इससे हम आपको समय पर

अपडेट

कर पाएंगे, और आपके

विचार

जान पाएंगे।

ज्यादा से ज्यादा

लोगों द्वारा फॉलो होने पर

इस मुद्दे पर कार्यरत विशेषज्ञों एवं समन्वयकों का ना सिर्फ़ मनोबल बढ़ेगा,

बल्कि हम आपको, अपने समय समय पर होने वाले शोध यात्राएं, सर्वे, सेमिनार्स, कार्यक्रम, तथा विषय एक्सपर्ट्स कोर्स इत्यादि में सम्मिलित कर पाएंगे।
Communities and Nations where citizens spend time exploring and nurturing their culture, processes, civil liberties and responsibilities. Have a well-researched voice on issues of systemic importance, are the one which flourish to become beacon of light for the world.
समाज एवं राष्ट्र, जहाँ लोग कुछ समय अपनी संस्कृति, सभ्यता, अधिकारों और जिम्मेदारियों को समझने एवं सँवारने में लगाते हैं। एक सोची समझी, जानी बूझी आवाज़ और समझ रखते हैं। वही देश संसार में विशिष्टता और प्रभुत्व स्थापित कर पाते हैं।