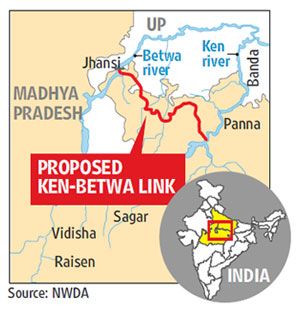 Ken-Betwa River linking project finally got clearance from the ministries of environment and tribal affairs. The Ken betwa ILR project would construct concrete canal to carry water between Ken and Betwa river. The concrete canal will pass through Jhansi, Banda, and Mahoba districts of UP and Chattarpur, Panna and Tikamgarh districts of MP.
The country's first river linking project envisages at linking the ken river of Madhya Pradesh and Betwa river of Uttar Pradesh to fight water problems in Betwa basin. This link will provide irrigation to water short areas of upper Betwa basin of Madhya Pradesh and also to enroute areas of Madhya Pradesh and Uttar Pradesh.
However, the clearance has finally come with certain conditions which include integration of nearby sanctuaries including Rani Durgavati and Ranipur with the Panna Tiger Reserve to compensate loss of tiger habitat and complete ban of fresh mining lease in the area. The Board also wants the National Tiger Conservation Authority (NTCA) to take care of the landscape plan for the area with the help of state forest department and Wildlife Institute of India (WII).The Rs 10000 crores project requires diversion of 5258 hectares of forest land including 4141 hectares of Panna tiger reserve.
Work on the project can't be launched until the funding pattern is finalized. Speaking to media, minister of Water resources Uma Bharti said that after getting the clearances they would now pursue NITI Ayog to change its funding pattern to 90:10(sharing between center and State) from 60:40 as it is a special project.
The phase 1 of this project had received clearance from the standing committee of National board of wildlife in august last year. The phase 1 of the project of linking ken and Betwa Rivers of Madhya Pradesh and Uttar Pradesh at a cost of Rs 9500 crores will help to irrigate the area of 6.35 lakhs hectares and would provide drinking water to 13.42 lakh people annually.
Out of 6.35 lakh hectares, 3.69 lakh hectares will be covered in Madhya Pradesh's Chattarpur, Tikamgarh, and Panna districts. The remaining 2.65 lakh hectares of area fall Uttar Pradesh's Mahoba, Banda and Jhansi districts.
This project is estimated to provide 49 million cubic meters of drinking water to a population 13.42 lakhs and besides the project will also generate 78 megawatt of power.