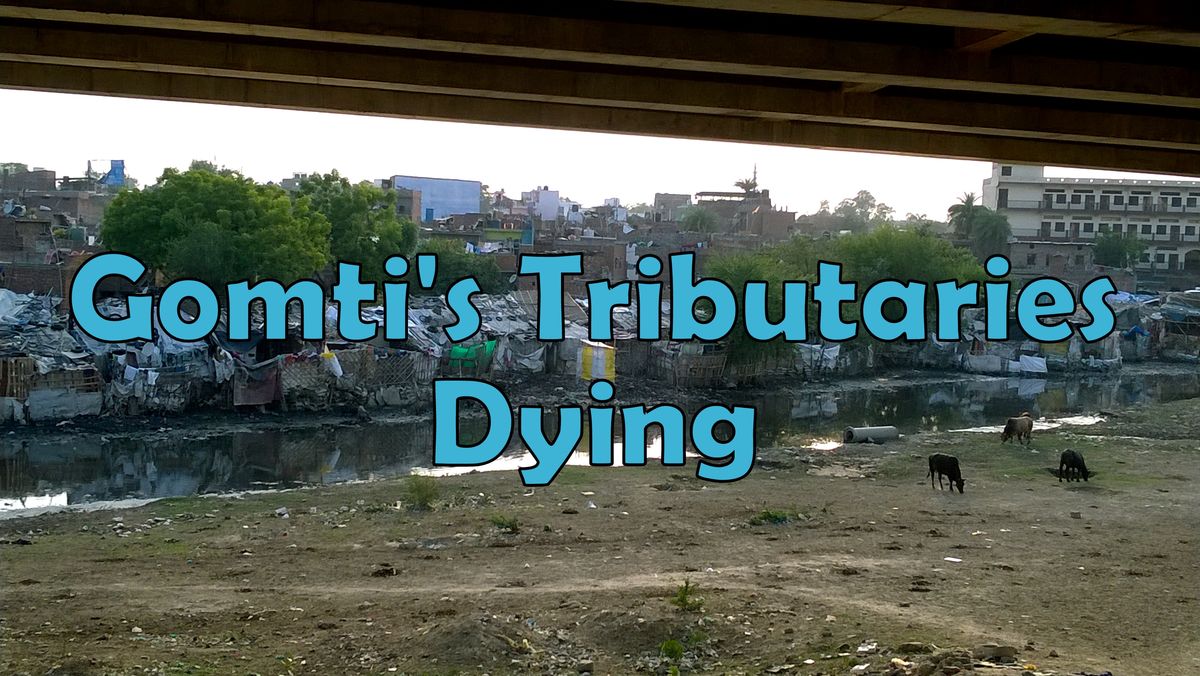 As both the state and Central governments work hard to revive the Gomti river, there is worrisome news from its upper catchment. The river has lost its tributaries in all the districts through which it flows, except in Sitapur where Sarayan and Gon supplement it.
In Lucknow, Behta, which augmented Gomti, has shrunk considerably and needs urgent conservation. Flowing 150km from its origin in Sandila, Hardoi, till its drainage in Gomti at Kakori, the tributary is heavily encroached upon and has little water left. It has also fragmented into smaller `kund' or ponds.
An expedition-`Gomti Alakh Yatra'-taken out by a group of academicians, activists, lawyers and volunteers in April all along the length of the river from its origin in Pilibhit till its drainage in the Ganga at Kaithi between Ghazipur and Varanasi has prepared a report on Gomti's drying water sources. The expedition is an extension of a similar yatra which was taken out in March-April 2011 to study the problems faced by the river. The recent one is aimed at preparing a working plan for conservation of the Gomti.
"We will submit the report to the government like we did in 2011," said Brajendra Pal Singh, who coordinated the expedition. river's origin-Gomat taal (lake), at Madho Tanda in Pilibhit is fragmented into five patches and has no water. A solar pump installed at the place keeps recharging the lake but not to an optimum level.The 47-km stretch of the river in Pilibhit is heavily encroached and dry . "A jheel (wetland) at Ekkottarnath is the only source that adds to the river in Pilibhit," said Singh.
In Shahjahanpur, 80% area fed by Bhainsi and Tareuna (Gomti's tributaries) has gone dry . "In the 16-km stretch in Shahjahanpur, the river is not visible. There is a small tributary that contributes good volume of water to Gomti and needs to be conserved," he said.At Lakhimpur, two of its tributaries-Chhoha and Andhra Chhoha, are sluggish and have little water. "Be sides, the variety of crops grown by farmers here, like China rice, require more water and that is leading to higher extraction of groundwater," said assistant professor at the school for environmental sciences in Babasaheb Bhimrao Ambedkar University Venkatesh Dutta.
At Hardoi, the main tributary of Gomti-Sai-is in bad shape. The report also makes mention of a 20-hectare forest patch at `dhobia ghat' in Hardoi and recommends its conservation. Creation of 500 meter long green belts along the river, said the report, will keep encroaches at bay .
Based on empirical evidences and experiences in recent past we are looking at a water catastrophe in India. The country faces drought or deluge, millions moving out of agriculture and then into urban systems without any transition or training. This will not only give to loss of life and land but can be a reason of major unrest in India.
At this point of time we are aiming to build a strong representation to protect water and natural systems at the local level. We want policy interventions and strong implementation at states level to keep natural resources untouched and free to take their own form for generations to come.
If you are someone who knows about local water systems

 in your community and want to actually work on making them better, send the details on 
coordinators@ballotboxindia.com
If you know someone who can make a difference

, make an introduction with this effort, you can also write to 
coordinators@ballotboxindia.com
, or fill "Contact a coordinator" form by clicking the buttons on this page.
If you have a few hours to work in your community for common good

, let us know and join as a coordinator.
Would my efforts be funded? Yes if you have some time, skill and aptitude to make a difference, ballotboxindia is the right platform. Get in touch with 
coordinators@ballotboxindia.com
 with your details.
coordinators@ballotboxindia.com
Jun 11 2015 : The Times of India (Lucknow)