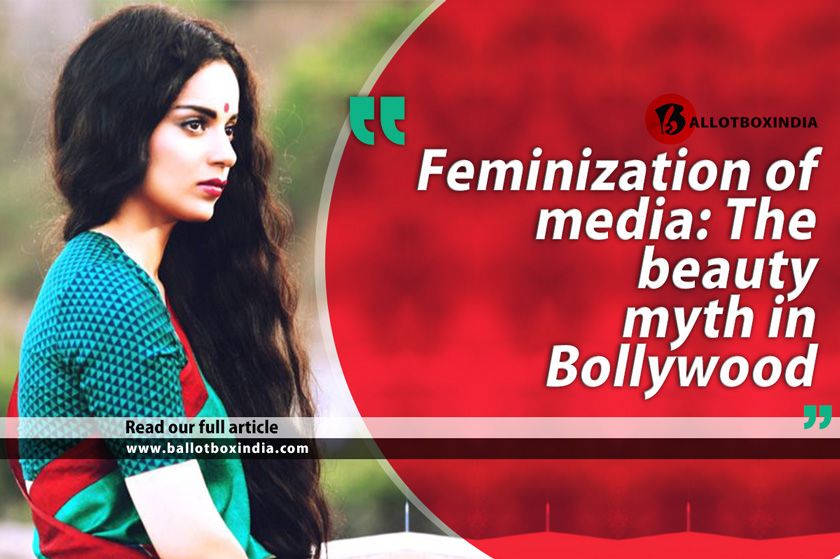 Bollywood is the term or rather the sobriquet used for the Hindi language film industry that runs from Mumbai. In India several film industries from different languages are also well-known like Tollywood for Telugu and Bengali films, Kollywood for Tamil films and so on. However it is Bollywood which has attracted attention of many for a long time to come. It is also known to be a potent cultural and promotional tool for India's culture abroad. It has a long past that dates back to 1913 when Dada Saheb Phalke made Raja Harishchandra. Since then the film industry has grown in terms of scripts, dialogues, representation of cultures and technology.
This paper seeks to address only one aspect of Bollywood- its feminization and the changing representations of women through Indian cinema. Feminization of media refers to the shift in gender roles and sex roles in a society, group or organization towards a focus upon the feminine. As opposed to the focus on the masculine, femininity is a set of attributes, behaviours and roles generally associated with girls and women. Femininity is often perceived as a social construct which is made up of both socially defined and biologically created factors (Van Den Wijngaard, 1997; Martin & Finn, 2010; Dunphy, 2000).
Research questions
Few research questions this paper seeks to address are:
·         What is meant by feminization of media within Bollywood?
·         What has been the changing role of gender in Bollywood?
·         What has been the role of various women-centric films in changing gender stereotypes?
·         Is there a renewed sense of 'beauty' redefining beauty or creating a new 'postfeminist' generation of women elating in their new found freedom?
Feminist movements across the world
The feminist movement refers to various campaigns for reforms on issues such as reproductive rights, domestic violence, maternity leave, equal pay, women's suffrage, sexual harassment and sexual violence all of which fall under the label of feminism. The movement's priorities vary among nations and communities and range from opposition to female genital mutilation in one country to opposition to the glass ceiling in another. Feminism in parts of the western world have been divided into three waves- first wave, second wave, third wave.
First wave feminism refers to a period of feminist activity during the 19th and early 20th century throughout the world, particularly in the United Kingdom, United States, Canada and the Netherlands. It focused on legal issues, primarily on gaining women's suffrage (right to vote). Although women had started raising their voices against injustices being faced by them it was not until the 1850s that something like an organized feminist movement evolved in Britain (First Wave Feminism, online). Their major achievements were the opening of higher education for women, reform of the girls' secondary school system including participation in formal national examinations, the widening of access to the professions, especially medicine, married women's property rights recognized in the Married Women's Property Act of 1870, some improvement in divorced and separated women's child custody rights. Active until the end of First World War, first-wave feminists failed in securing the women's vote.
Second-wave feminism refers to the term 'second wave' coined by Marsha Lear that came up in the late sixties in America, Britain and Europe (ibid). Second wave feminists did varying amounts of work that included raising a protest against Miss America beauty contest in 1968 to the establishment of small consciousness-raising groups. Similarly second wave feminism in Britain was based more strongly in working- class socialism as demonstrated by the strike of women workers at the Ford car plant for equal pay in 1968. They had their slogan 'personal is political' which meant that they did not just strive to extend the range of social opportunities open to women but also through intervention within the spheres of reproduction, sexuality and cultural representation.
Third wave feminism roughly started in 1990 and continues till date. Rebecca Walker coined the term 'third wave' and this movement focusses on queer theory and abolishing gender role expectations and stereotypes. It seeks to challenge a universal definition of femininity. In the introduction of To Be Real: Telling the Truth and Changing the Face of Feminism, the Third Wave Foundation founder and leader Rebecca Walker writes:
Whether the young women who refuse the feminist label realize it or not, on some level they recognize that an ideal woman born of prevalent notions of how empowered women look, act, or think is simply another impossible contrivance of perfect womanhood, another scripted role to perform in the name of biology and virtue (Walker, 1995).
It is these labels that get promoted by the media around us and this is what is studied in this paper vis-à-vis Bollywood.
Feminization, changing role of gender and third wave feminism
In the Indian film industry for the longest time roles of female characters were played by male actors. However in the first Indian talkie movie Alam Ara (1931) Zubeida Begum Dhanrajgir acted and this was a major commercial success. Devika Rani was yet another legendary actress who acted in Karma (1933) which received much critical acclaim. Most Bollywood movies had roles for women where they served to play a secondary role in movies after the male actor. Infact in most movies women were shown as subjects often subjugated by men in power. In the 1957 Nargis-starrer Mother India, for example, the story of a poverty-stricken village woman named Radha (Nargis) is described who, in the absence of her husband, struggles to raise her sons and survive against a cunning money-lender amidst many troubles. Despite her hardship, she sets a goddess-like moral example of an ideal Indian woman facing the odds to feed her sons. Aandhi (1957) was yet another film with Suchitra Sen and Sanjeev Kumar playing the lead roles. Loosely based on the life of the first female Prime Minister of India, Indira, this is an all-time classic. However Suchitra Sen's portrayal of a woman politician whose personal life is almost out of her control in a negative way is yet a representation of a woman as 'victim of circumstances'. Then Bhumika (1977) was yet another film by director Shyam Benegal which showed the life of an actress played by Smita Patil in the film. The movie showcases her life and its ups and downs as she leads a flamboyant and an unconventional life only to become a recluse at the end. This film is broadly based on the Marathi-language memoirs, Sangtye Aika of the well-known Marathi stage and screen actress of the 1940s 'Hansa Wadkar', who led a colorful life, and focuses on an individual's search for identity and self-fulfilment. The movie once again showed the life of a woman caught up in the exigencies of life.
Several other women-oriented films in Bollywood include Arth (1982). This film is all about a woman's struggle to get back on track and fight against all odds to lead an independent and successful life. It also touches upon the issues of domestic violence and adultery in the lower strata of the Indian society. Then one movie that shows women in a powerful role is in Mirch Masala (1987). The plot begins with an arrogant Naseeruddin Shah (local tax collector in colonial India) and his henchmen rampaging through a village. The subedar has an eye for women and soon spots Sonbai (Smita Patil) on the riverbank. Sonbai is an intelligent, beautiful and strong woman. Her confidence intrigues the subedar who now starts chasing her. Sonbai saves herself by hiding in a spice mill and the famous climax scene is unforgettable, in which the women in the spice mill throw fists full of spice on the subedar (Naseerudin Shah) as an act of defiance. In the 1990s Damini (1993) was a film that portrayed a woman as very strong. Meenakshi Sheshadri portrays the story of a woman who fights against her own wealthy family, to give justice to a maid gang raped by her brother-in-law and his friends. She is proved unstable, but yet later emerges to be someone who fights her way out for justice. Yet another tragic story of a woman was showcased in the film Chandni Bar (2001) film directed by Madhur Bhandarkar. It was the story of a sex worker played by Tabu and how she struggles to provide a better lifestyle to her kids, keeping them away from the gritty world of prostitution. Yet she fails to provide a smooth life to her kids which was implied in the end by showing that her daughter takes to prostitution for money and son becomes a criminal. So the woman here, too, was shown as one who has struggled and failed. No One Killed Jessica (2011) was yet another film portraying a strong character of a woman directed by Rajkumar Gupta. The character of Jessica's older sister, Sabrina Lal, is played by Vidya Balan, and the character of the news reporter following the story is played by Rani Mukerji. It is the story of two women fighting for justice for a woman who was killed for no fault of hers. This received four nominations at the 57th Filmfare Awards including the Filmfare Award for Best Film and Filmfare Award for Best Actress. Another film Dirty Picture (2011) was based on the real life of a South Indian actress Silk Smitha. The role of Silk Smitha was played by Vidya Balan. Vidya (Silk) is blatant about her sexuality, which almost borders into arrogance. In a country of repressed sexuality, Vidya's role was a breath of fresh air and her cheeky lines were an instant hit. However it shows the actresses' tragic life. And then you have Kahaani (2012) directed and co-produced by Sujoy Ghosh. It stars Vidya Balan as Vidya Bagchi, a pregnant woman searching for her missing husband in Kolkata during the festival of Durga Puja, assisted by Satyoki "Rana" Sinha (Parambrata Chatterjee) and Khan (Nawazuddin Siddiqui) and how she successfully catches a rogue IB agent responsible for a poison-gas attack. There are several other feature films like Lajja (2001) by Rajkumar Santoshi and Queen (2014) by Vikas Bahl. While Lajja showcased the lives of different women embroiled in different bitter personal struggles, Queen shows the story of a young girl who decides to go alone to travel on her pre-booked honeymoon after her fiance tells her that he no longer wishes to marry her. Queen actually showed a woman becoming strong and confident and projected her in a positive light.
There have thus been a gamut of movies where women have adopted strong and weak roles in films projecting and portraying different characters. There was one such movie called Matrubhoomi (2003) directed by Manish Jha which depicted the pitiable condition of a woman in Bihar where she is sold to a family of five sons where fraternal polyandry is practised. When the woman tries to escape she is then put in a barn with cows where she is again exploited by the different brothers and the father-in-law of the family. There are certain movies which show how a woman is expected to don different roles within the society that can sometimes be exploitative, for example in this movie where the character played by Tulip Joshi is a victim of her circumstances as she is married off into a family where there is rampant female infanticide and female foeticide.
Bollywood also seems to be seeing this third wave of feminism where through different character roles, women are trying to break stereotypes and roles typically associated with women. Mary Kom (2014) directed by Omung Kumar was again one such film which showed the strength of a woman. The film depicts Kom's journey of becoming a boxer to her victory at the 2008 World Boxing Championships in Ningbo City.
The beauty myth in Bollywood
Yet amidst all such portrayals it may be said that the actresses in Bollywood have undergone a major change. While the actresses of yesteryears were rarely seen to undergo cosmetic surgeries to look good and beautiful today's actresses seem to all go under the knife to look more beautiful for the camera. Wolf argues that women were under assault by the 'beauty myth' in five areas- work, religion, sex, violence and hunger and that there should be a relaxation of normative standards of beauty (Wolf, 2013). She offered the following analysis:
The more legal and material hindrances women have broken through, the more strictly and heavily and cruelly images of female beauty have come to weigh upon us. During the past decade, women breached the power structure; meanwhile, eating disorders rose exponentially and cosmetic surgery became the fastest-growing specialty..(Wolf, 2013).
In Bollywood there has been a flood of incidents where actresses have gone under the knife- starting with Priyanka Chopra to Shilpa Shetty to Kangana Ranaut and Madhuri Dixit and Anushka Sharma. In fact cosmetic surgeries have become very common even among the rich and those who can afford it with botox being done by the rich and famous middle-aged women. It was said that Telugu actress Arathi Aggarwal died due to cardiac arrest following one such liposuction surgery (Daily Mail, online). There is a certain culture of what it means to be beautiful which has trickled down from Bollywood and from television down to the society we live in. Fashion comes down to us from them and with it the sense of what it means to look good. It may be said that this culture around fashion and beauty picked up after 1994 when Aishwarya Rai was crowned Miss World and even new imported cosmetics started flooding the Indian markets. Naomi further adds:
This problem of the beauty myth, however, as she points out, is not limited to females, since advertisers now seek to claim a market based on the male ego as well. Wolf calls for men to help in the fight against media manipulation, since, as she says, "their turn is next."(ibid)
Beauty, media manipulation, fashion and business
It may be said that through Bollywood beauty and fashion as industries are getting a big boost than anything else. Peiss (2000) suggests that the word beauty requires a closer look at traditions that have defined its meaning. She adds:
Beauty is an aesthetic category, applied to art and objects, faces and bodies, nature and souls. In the Western tradition of aesthetics, at least since the eighteenth century, beauty has been understood as a quality apart, dissociated from history and social contingencies. For philosophers, poets, and artists, the aesthetic was an autonomous and transcendent realm outside the ordinary, the mundane, and the utilitarian. The contemplation of beauty—whether the sublimity of Niagara Falls, the sensuousness of a Rubens painting, or the charm of a young girl's face —took one out of the self, into a higher realm of appreciation and discernment (2000: 487).
Beauty added exchange value to women, whether in the market in slaves, in prostitutes or in wives (ibid). And as feminists from Mary Wollstonecraft to Emma Gold man charged, marriage was a market in which beauty, not brains, found the highest bidder (ibid). Selling beauty became much more prominent after 1920 in the US. Scholars have delineated the role of beauty and fashion in furthering the development of national and mass markets. In terms of Bollywood if Madhuri Dikshit had worn a blue choli-type blouse in Hum Aapke Hain Kaun's Didi Tera Dewar Deewana, the regular middle-class women were running to their tailors to get such lehenga-cholis stitched; or if Dimple Kapadia had worn a short skirt in Hum Tum Ik Kamra Mein Band Hon song of the film Bobby then the young college girls were rushing to find such skirts for their parties or day out with friends. These examples suggest how much beauty businesses have shaped the social definitions and physical attributes of femininity and mas culinity, as well as race and ethnicity, age and generation, and class. They have done so not only through advertising, but through product design, sales strategies, and in the daily operations and practices that underlie brand and company identity.
The perception that 'beauty sells' has become commonplace in business today. The beauty appeal extended well beyond the fashion and cosmetic industries to sell virtually any product that could be connected in some way to the body, self-presentation and self-identity. As Peiss says:
Nor is this only an American story: the face of global capitalism is not so much streaked with sweat as it is carefully "made-up". In China, India and even Amazon rainforests, women sell Avon, Mary Kay and other beauty products ..these "micro-businesses" have given some women a foothold in the developing market economy (Peiss, 2000: 502).
So this booming industry is something to think twice about as it has changed the notions of what was considered good 'natural' beauty years ago.
Conclusion
It may thus be said that beauty and its notions have changed over the years for men and women due to sales, marketing and media manipulation by the cosmetics industry. In Bollywood which is considered to be a potent tool for India's cultural brand overseas this change seems to become more clear. Women becoming more conscious of their looks, actresses and more and more of them succumbing to the pressure of 'looking good' and undergoing cosmetic surgeries shows how such notions of beauty have changed down the years since its inception in 1913.
Feminization of Bollywood over the years has made things a lot easy for women and female actors with actresses walking away with good roles where instead of being mere props they are playing dominant character roles in films. However women-oriented roles in certain other movies have also put more pressures on actresses for looking good for the camera. Such pressures lead to actresses doing cosmetic jobs which have potently long-term health problems inherent in it.
This paper argues that while standards of beauty seem to have been raised within the society by such 'feminization of Bollywood' from where fashion and culture seeps down to the society such notions of beauty are also creating a dangerously ill society ridden with potent health problems. It also raises questions as to whether we need to rethink what beauty has come to mean today for all of us as a society with changing value systems. The paper raises the question whether such changed notions of femininity recreated new standards of beauty, made things easier for women or do women still fall under one or the other label defined by society.