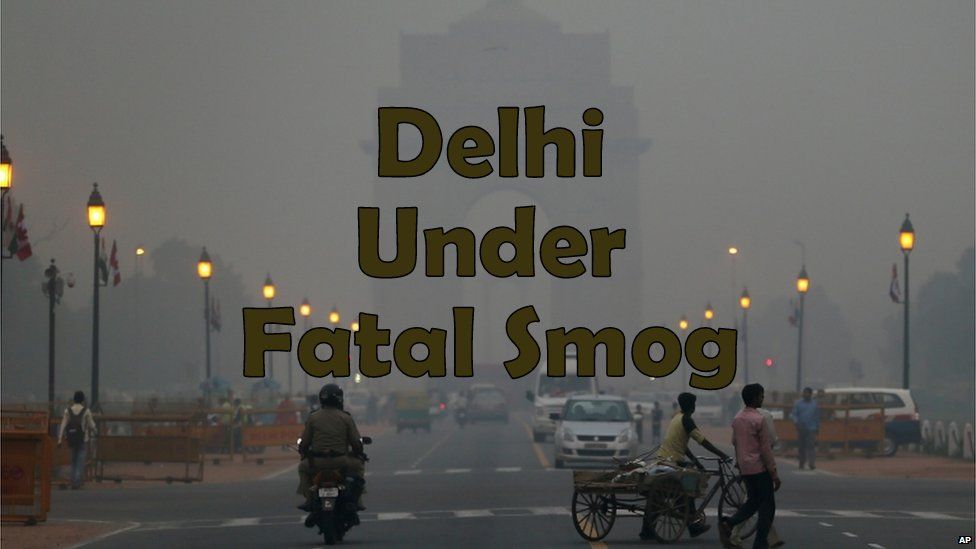 Rising pollutant levels in air is making life of Delhites complicated. Rampant rise in smog over Delhi region has put the capital at top in the list of most polluted cities of the country. People are under constant threat of non-receding smog clouds, smothering and pushing people towards death everyday.  
Diwali celebrations have added to the prevailing conditions and city is under persistent cloud cover of smog since then. In a comparative statistics study, it is found that at some places breathing is more hazardous than smoking 10 cigarettes a day. Government have tried several ways to curb the pollution but hasn't succeeded much looking at the pollution levels.
Smog is portmanteau for smoke and fog. Smog basically describes the fog that has smoke. Smog is of dark yellowish and black color, formed by mixing of pollutants in the atmosphere with the ground level ozone layer. It is a mixture of various gases with vapors and particles of different pollutants. Smog is heavy and hazy air that makes breathing difficult.
The capital is witnessing low visibility levels due to high particulate levels, more than multiple times higher than their safe levels. Other than high air pollution from vehicle discharge, Husk burning in paddy fields of Haryana is believed to be the other main cause of the persistent smog cloud over Delhi region.    
For more than 4 years NGT(National Green Tribunal) has imposed ban over burning of the waste of the paddy fields. They stated Husk Burning causes smoke clouds that travel long distances, causing pollution. Haryana farmers these days are facing problem in dumping husk, waste product of paddy fields as burning it can take them behind jail or levy heavy fines and cleaning them twig by twig would take away their time.
In recent cases more than 360 FIRs were lodged against the helpless farmers for burning husk. Their misery goes unheard and they are punished for the offence they can't avoid. With the lack of laborers in the field, farmers use threshers for threshing their grains. Remains of their paddy fields need cleaning as the field can be reused for wheat sowing.
Farmers want to use the natural moisture of the field to sow wheat, as re-irrigating and sowing would take extra 15-25 days. Threshing of fields would not leave husk behind but labor in not available. So the easiest and the economical way to dump the waste is to burn them. 
Burning husk causes smoke and pollution but has other dire consequences. It devalues the land's nutrient value and destroys the essential compounds required to keep the soil fertile.
Government, instead of finding better resolution to keep the problem at bay, is levying fine from the helpless farmers who lack facilities. Looking the resolute NGT, government is taking such steps. As the elections are not around, they will collect fines until election comes keeping political benefits in mind. From this fickle approach it is clearly evident how resolute is the government to keep the pollution in control.