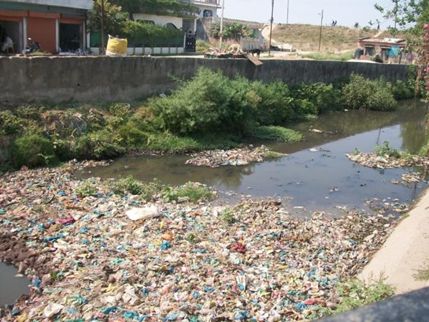 A very common site in pretty much every city in India. Clogged Nala's or Drainages. What is the reason, it's definitely not okay, but to what degree its wrong?
Let's take a look.
There are supposed to be two types of drains in every urban or rural community, one to carry sewerage, another to carry excess stormwater into the nearest water body or river. 
Sewerage Drains are used to connect city and industrial waste water or gray water to an STP or sewerage treatment plant. The water is cleaned and then discharged into a natural water body, same as storm water drainage. These drainages are man made with concrete structures so waste water doesn't seep into the ground water table polluting it.
Sewerage Treatment Plants are built specifically to clean waste water with the high amount of impurities and can lay defunct when clean or storm water is fed into it.
Stormwater drainages are natural drainages, channels, and tributaries created by nature over time, sometimes over thousands of years. In Ideal conditions storm water drainage doesn't need any filtering, it's mostly rain water which flows naturally into underground water channels recharging water table, and the excess goes into ponds, lakes or rivers so they are sustained in a healthy manner. The storm water drains are supposed to be surrounded by natural barriers so topsoil and minerals, solid waste etc don't mix and flow into these types of drainages.
So why in India pretty much all the drains look the same?
Well because they are the same.
In India since ages, there is been no concept of separate sewerage and storm water drainage systems. So every storm water drainage is mixed with sewerage, many times also double up as the dumping yard of city garbage. All this sewerage and garbage pushing their way into the closest water body and then into our rivers.
Does that solve the riddle of why Ganga is in such a bad state? Yes mechanical and very expensive dredging trying to clean up spots directly into the river will definitely fill up pockets with clean profits, but clean a river? nopes.
But why we can't separate our Drainage? It's not that difficult since it been a common know-how and pretty basic technical know-how of regional planning.
Wrong, let's go over the reasons.
In Current scenario:
Planners since decades have ignored the natural flow of water from high to lowland. The land is allocated to haphazard construction, with roads, infrastructure built right on the natural flow of water.
Resources allocated to any study, future pressure on infra etc, research around the subjects have been insufficient. 
-Urban local bodies have largely failed to provide capacity in terms of sewerage carrying drains and Sewerage Treatment Plants. 
-Techniques and solutions are not practical and have not evolved with the area and around local parameters including speed or urbanization, population migration, unauthorized settlements etc.
-Too expensive and energy intensive and simply unsystematic. Floods call for pumps, draughts call for water tankers. Planners lack a cohesive approach in between.
-Peri-urban, semi-urban and rural settlements are still outside the network.
-Unable to treat waste waters. Monitoring is weak if the STPs are working or not, what is the water quality maintained? Many times private operator to save operating cost will shut down the STP and dump waste water directly.
-Centralized systems are costly, and keep failing. But repeated across cities without evolving the model.
-Requires huge operation and maintenance infrastructure. Public apathy in understanding these numbers and evolve an understanding on the issue.
-Doesn't makes sense for peri-urban, smaller settlements! But local more appropriate methods are not developed. Leaving haphazard waste water management.
Status of Municipal Wastewater Generation and Treatment Capacity in Metropolitan Cities and Class II Towns of India:
-Out of 35 metropolitan cities (million plus cities), The sewage treatment capacity exists for only 51% of total sewage generated.
-Total Treatment Capacity in Class II Towns: Only 8% of the total sewage generation
-A significant volume of wastewater is not subjected to any treatment and is ultimately discharged into surface water bodies (mostly rivers) leading to deterioration of water quality.
-No feasible mechanism of stopping wastes going to the drains
-A lot of silt and debris go into the sewer system which is detrimental to its life and proper function.
-Removal of solid wastes from the drain at the pumping station is still manual
-Sewage is by-passed to River Gomti when Pumping Stations don't work, or when flow exceeds
-Most of the branch and old trunk sewers have become defunct – natural drains are used as carriers of wastewater.
What are we looking for:
Our research around the sewerage systems in India has indicated that decentralized interventions, right at the source of these mixes and dumpages are the first step and most important one to make any difference to the situation.
Our current approach of political patronages and profiteering on public tyranny has led to mega projects around sewerage treatment. We first have made sure the problem becomes huge, so mix storm water with sewerage to make up a big number to clean. And then build mega STPs with massive energy profiles. Most of these Mega STPs either fail to work, leading to polluted water going directly into water bodies, and require heavy use of pumping in flood situation. Floods which are created due to faulty planning with huge silt and garbage flowing into these natural storm water drainages, now intercepted unnaturally to clean up, are man-made disasters.
Another thing now coming into the picture is a concretization of these drains, since now they carry sewerage, there is now an excuse to start concretizing them. Which has led to falling of water tables, since now these channels can't recharge the aquifers and flow directly into the larger water bodies.
The situation is grim, As documented in this report in Gurgaon and agencies are always on firefighting mode, building more patch works over earlier patch works. New man-made drains, mega pumps at locations, shifting flood areas around, saving higher profile areas at the cost of lower profile areas. It's getting grimmer with every passing season.
If you know something:
If you know something about the waste water management and its techniques, you can contact us at coordinators@ballotboxindia.com 
If you know someone who can contribute:
If you know someone who is either an expert on waste water management contact us at: coordinators@ballotboxindia.com   or fill "Contact a coordinator" form by clicking the buttons on this page.
If you want to work for us and contribute in your community:
If you have time, skill, aptitude and expertise in the field of waste water management, ballotboxindia.com is the right platform to not only take your research forward but also build a trusted brand that is you. Click Connect button below or write to coordinators@ballotboxindia.com