Deepawali is a festival of lights and has great cultural significance for every Indian. The lights, celebrations (firecrackers "in moderation"), meeting loved once and everything around the food and our great food culture.
Festivities start with Navratris (celebration of Indian Goddesses and symbol of power, knowledge and prosperity) and go all the way till New Year, with Diwali a major focal point. This is the season when there is one festival or another of huge significance in every part of India.
We all know the feeling when kids rejoice and look at the lights coming out of lamps, candles and firecrackers, all different colors right there in front of them. We did that when we were kids, will lay out our firecrackers in sun for days so they work better than everyone in the colony. Don't really have a face to take it away from our kids,  might do in moderation but can't really take that fun away.
But as much we love  the diwali nights (the lights part, amazing energy especially in kids, and some noise pollution ;)), we dread the day with all the suspended particles as one form of air pollution ready to get into our lungs.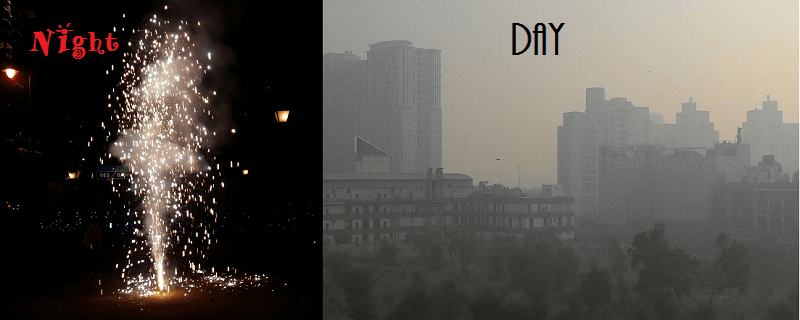 So is there a way to be mesmerized by amazingly bright random medley of lights on auspicious deepawali,  and also keep healthy air quality around us.
At least we have to try, for the same kids we love to see every diwali with a fuljhari in hand, or the awe they have on the face when daddy lights a rocket. Keeping it short lets try below,  so next year we
earn
every speck of light and be sure that our kids can breath healthy may be 100 years from now.
1.
Be responsible in consumption
. The age when massive consumption of low quality goods is pushed by high pitch advertisements, with black magic accounting of GMV, be very aware of
        Are you getting same quality product as Europeans and Americans are getting.

       Does company selling you on billion dollars sale  day, pays enough taxes to cleanup the discards. Or are you the one going to pay a huge cost of cleanup in the end.

       Or do you know if your community has a plan to clean up the billion dollar mess and discards.

         

Are products coming with warranty or guarantee, do we have a tax system where low quality products are pushed out with

           

high cleanup taxes.




       Do you know the holdings pattern of the e-tail companies. Are investors the same, producing goods in china and selling, reselling, and then selling returns in our markets,  

so

they never have to be in profit (GMV). The profit is made at first transaction itself. Treating us as a profitable dumping ground, with no taxes. 
Deepawali is one major festival which should be preserved and celebrated in its traditional glory for generations to come, associating it with pollution, consumerism and its ills in an hyperbolic way is unfair where there are so many avenues to maintain the balance.
Western cultures celebrate holiday seasons with the same flavor as grandparents used to celebrate, not much tempering done, so on Halloween its the same Jack'o Lantern carved with turnips and pumpkins, same traditional pumpkin pies and apple ciders, neighborhood parades going on for hundred years. The same tradition of visiting local farmers' pumpkin patches to buy pumpkins and apples.
Grandma recipes with cranberries and gravy for turkey on thanks giving and the same tradition of celebrating with family and friends, gifting them, as the way back in the day.
Christmas trees and Santa Clause taking children wishes come up at neighborhood spots every year with same enthusiasm and color that can be found on a grandfather's photo album or diary. Shops are decorating their windows for Christmas the same way they have been doing for centuries.
And that's what festivals are, a celebration of old, a tradition which binds generations and communities. Tempering with it for short term political gains and massive consumerism led by big foreign corporations using new age marketing tricks can dilute this core which holds the society together.
Diwali is such a festival, which is been celebrated across religion, class and cast barriers in our communities, lights, sweats, firecrackers(in moderation) are integral part of it and the economics around it is amazing with all the religions, regions, casts and classes of India participating.
Before the flood of foreign low quality merchandise and tremendous commercialization - It used to amaze checking where your pack of phuljhari came from or who made your diyas or where ghee and mustard oil came from or who is making your sweets, who is stitching your clothes, Laxmi-Ganesh Idols? even the most important ingredient Kheel. It was heartening and assuring to understand how important the festival is for everyone in our community and country. There was real prosperity for everyone.
The festival of Deepawali has been the reason of rejoice for every Indian and have been binding all. Restoring and keeping it the traditional way will go a long way.
Celebrate and be fair, have fun! Happy Deepawali!
Coordinator @ballotboxIndia