Ghaghra - The sorrow river of Uttar Pradesh 
About Ghaghra
Ghaghara, also called Karnali (Nepali: कर्णाली); (Hindi: घाघरा) Ghaghra  is a perennial trans-boundary river originating on the Tibetan Plateau near Lake Mansarovar. It cuts through the Himalayas in Nepal and joins the Sharda River at Brahmaghat in India. Together they form the Ghaghra River, a major left bank tributary of the Ganges. With a length of 507 kilometres (315 mi) it is the longest river in Nepal. The total length of Ghaghara River up to its confluence with the Ganges at Doriganj in Bihar is 1,080 kilometres (670 mi). It is the largest tributary of the Ganges by volume and the second longest tributary of the Ganges by length after Yamuna.
It rises in the southern slopes of the Himalayas in Tibet, in the glaciers of Mapchachungo, at an elevation of about 3,962 metres (12,999 ft) above sea level. The river flows south through one of the most remote and least explored areas of Nepal as the Karnali River. The 202-kilometre (126 mi) Seti River drains the western part of the catchment and joins the Karnali River in Doti District north of Dundras hill. Another tributary, the 264-kilometre (164 mi) long Bheri, rises in the western part of Dhaulagiri Himalaya and drains the eastern part of the catchment, meeting the Karnali near Kuineghat in Surkhet.
Cutting southward across the Siwalik Hills, it splits into two branches, the Geruwa on the left and Kauriala on the right near Chisapani to rejoin south of the Indian border and form the proper Ghaghara. Other tributaries originating in Nepal are the West Rapti, the Kali (or Mahakali) and the little Gandak. It flows southeast through Uttar Pradesh and Bihar states to join the Ganges downstream of the town of Chhapra, after a course of 1,080 kilometres (670 mi). Sarayu river is stated to be synonymous with the modern Ghaghara river or as a tributary of it.
The Ghaghra River basin
The Karnali River Basin lies between the mountain ranges of Dhaulagiri in Nepal and Nanda Devi in Uttarakhand. Dhaulagiri II, elevation 7,751 meters (25,430 ft), is the highest point of the entire basin. In the north, it lies in the rain shadow of the Himalayas. The basin formed by the river has a total catchment area of 127,950 square kilometers (49,400 sq mi), of which 45 percent is in India.
The population of the Basin districts in Nepal increased from 1.9 million in 1971 to 4.7 million people in 2001, almost a 250% increase over three decades. The average population density of the Basin area increased from 53 persons/sq.km in 1981 to 87 persons/sq.km in 2001. There is a steady growth in the economically active population in the basin districts. The average literacy rate has increased from a mere 7.5% in 1971 to 45% in 2001. The social status of the permanent households increased from 24% in 1991 to 31% in 2001. The basin has a total road length of 2,640 kilometers (1,640 mi), but the pace of road development is slow.
Towns and districts near Ghaghra
In India, the administrative districts in the Ghaghra catchment are  Ambedkarnagar,  Azamgarh,  Barabanki, Basti, Ballia, Bahraich, Deoria, Faizabad, Gonda, Gorakhpur, Sant Kabir Nagar, Jaunpur, Kheri Lakhimpur, Sitapur of Uttar Pradesh and Siwan district in Bihar.
Important towns in India include Akabarpur, Ayodhya Faizabad, Bahraich, Barabanki, Basti, Deoria,Barhalganj, Gonda, Gorakhpur, Khaililabad, Sitapur, Siddharthnagar, Saint Kabir Nagar, Kamhariya,Rajesultanpur and Tanda in Uttar Pradesh and Chapra, Siwan, and Sonepur in Bihar.
Ghaghra River water in India
In India, water is diverted from the Karnali River at the Girija Barrage into the Sarda Sahayak Irrigation Scheme and the Saryu Nahar Irrigation Scheme, which have command areas of 20,000 square kilometers (7,700 sq mi) and 12,000 square kilometers (4,600 sq mi) respectively. The combined annual irrigation demand of these two schemes is approximately 10,000 million cubic meters (8,100,000 acre·ft).
The Sharda sahayak Irrigation Project uses the combined flows from the rivers Ghaghara and Sarda in the Girija Barrage built across the Ghaghara river below a catchment area of 45,500 square kilometers (17,600 sq mi). This barrage is situated about 9 kilometers (6 mi) downstream of Khatria Ghat Railway station and 16 kilometers (10 mi) from the international border to Nepal in Bahraich district. It is linked to the Lower Sarda Barrage (built across the Sarda river, with a catchment area of 17,818 square kilometers (6,880 sq mi), about 28 kilometres (17 mi) northeast of Lakhimpur Kheri Rly station in Lakhimpur Kheri district) via a link canal from Girija Barrage to the Lower Sarda Barrage which is 28 kilometres (17 mi) long and is designed to divert a discharge of 480 cubic metres per second (17,000 cu ft/s) from Gandak to Sarda river.
The feeder channel taking off from the Lower Sarda Barrage is 258.8 kilometres (160.8 mi) long, feeds the five branches of Dariyabad, Barabani, Haideganj, RaeBareil and Purva, and is designed to carry a discharge of 765 cubic metres per second (27,000 cu ft/s). The Sarda Sahayak feeder channel meets the Haidergarh branch at 171 kilometres (106 mi) and Raibareli branch at 187 kilometres (116 mi). The entire canal system is considered the largest in Asia and designed to provide irrigation to a Culturalable Command Area (CCA) of 20,000 square kilometres (7,700 sq mi) covering 14 districts in 168 blocks with a gross command area of 40,000 square kilometres (15,000 sq mi).
On account of high silt flows during the flood season, Sarda Sahayak supplies (from Karnali) are suspended for 100 days between June and October, when the Lower Sarda Canal (feeder canal) draws water from the Sarda River, which is then flooded.
Ghaghara, a significant river of the Ganga Plain, is one of the largest affluent of Ganga. It rises from the Matsatung glacier in the Himalaya near Mansarowar Lake in Tibet at an elevation of about 3,962 m. Travelling a distance of about 1,080 km and flowing into NW– SE direction, it joins the Ganga River near Maharajganj, Chhapra district of Bihar state. The main tributaries of Ghaghara are Sharda, Sarju, Chauka, Kuwana, Rapti, Chhoti Gandak, Jharahi, and Daha. Rapti and Chhoti Gandak rivers join with Ghaghara near Barhaj in Deoria district of Uttar Pradesh and Gothani in Siwan district of Bihar state, respectively. Ghaghara is very notorious and is prone to fluvial hazards between these two confluences, Barhaj and Gothani.
Rage of Ghaghra
Ghaghara is a unique river with respect to fluctuation of discharge (Very high discharge during monsoon and very low discharge during dry season), high sediment load, and channel instability. It has higher discharge than the Ganga before its confluence near Maharajganj, Chhapra district of Bihar. Every year, in the time of monsoons, Ghaghra river floods adjacent areas causing severe destruction to mankind, crops, and livestock. The Ghaghra flood plains come in highly flood-prone areas of the country that receive frequent and destructive flood. Dams, encroachments on embankments, deforestation can be reasoned for frequent floods.   
Floods in 2016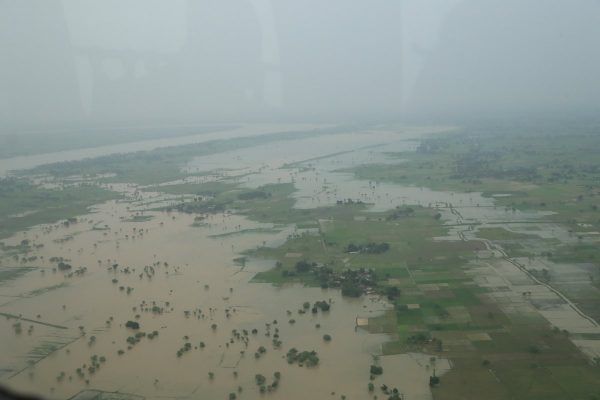 UP Floods in 2016 -source (MoD)
Floods affect almost 27 lakh hectares of land every year. In 2016 the floods affected around 900,000 people in 987 villages in 28 districts. 43 fatalities were reported during 2016 floods and destruction caused by Ganga was maximum as it ran at alarming levels in Ballia, Allahabad and Varanasi at 60.39 m, 85.33 m and 72.56 m respectively.
But the rage of Ghaghra was ferocious. It flew at 106.44 m at Elginbridge, Barabanki. Danger level is 106.07 metres. And the river showed a rising trend some successive days. 
What are we looking for:
Recurring natural disasters in the State over the years have been causing severe damage and adversely affecting human, plant and animal life, property and environment. 
Natural disasters that are of significance in Uttar Pradesh are – Floods, Droughts, Fires and Earthquakes. Loss of life and property from these disasters, especially the former three, are in terms of hundreds of crores of rupees annually.
Out of the listed 4 disasters, Floods are most destructive and frequent in the state, affecting almost every year some part of the state or the other. Important rivers, which create floods in the State, are the Ganga, the Yamuna, the Ramganga, the Gomti, the Sharda, the Ghaghra, the Rapti and the Gandak. Out of the 240.93 lakh hectares geographical area of the State about 73.06 lakh hectares is flood prone.
According to a report of National disaster management authority (NDMA) of India, 
Approximately 27 lakh hectares of land is affected annually due to Floods.
Annual estimated loss due to floods is Rs 432 crores
Apart from these, loss of human life also occurs.
As per the Irrigation Department's estimate, only 58.72 lakh can actually be protected. Up to March 2004, only 16.01 lakh hectares has been protected. The eastern districts as well as those situated in the Terai region bordering Nepal are the most affected.
Every year flood happens in Ghaghra river causing severe destruction and turmoil to the lives of people living around. Frequent floods and destruction have been a concern to the administration.
Though  government has made efforts to monitor the floods using technologies. Recognizing the importance of vulnerability mapping, as a critical tool for disaster preparedness, the State Irrigation Department has , with the help of UP Remote Sensing Application Centre (RSAC-UP), has started using satellite data for mapping and monitoring flood inundated areas, bank erosions, alignment of embankments, status of water bodies, course of flow of major rivers etc; in short, flood hazard zoning, post-flood survey of river configuration, flood routing and protection works and damage assessment. The services of RSAC-UP have been engaged for preparing detailed digitized maps of all the flood prone eastern districts.
This action group aims at analyzing the destruction caused by river Ghaghra and if any adaptive management strategies can be deployed. If you are someone with interests in water systems in India, and want to be a part of this initiative. Please click "Connect"  button on this page, or write to coordinators@ballotboxindia.com 
If you have a few hours to work in your community for common good, let us know and join as a coordinator.
If you have some time, skill and aptitude to make a difference, 
ballotboxindia.com
 is the right platform. Get in touch with your details.
Thanks
coordinators@ballotboxindia.com