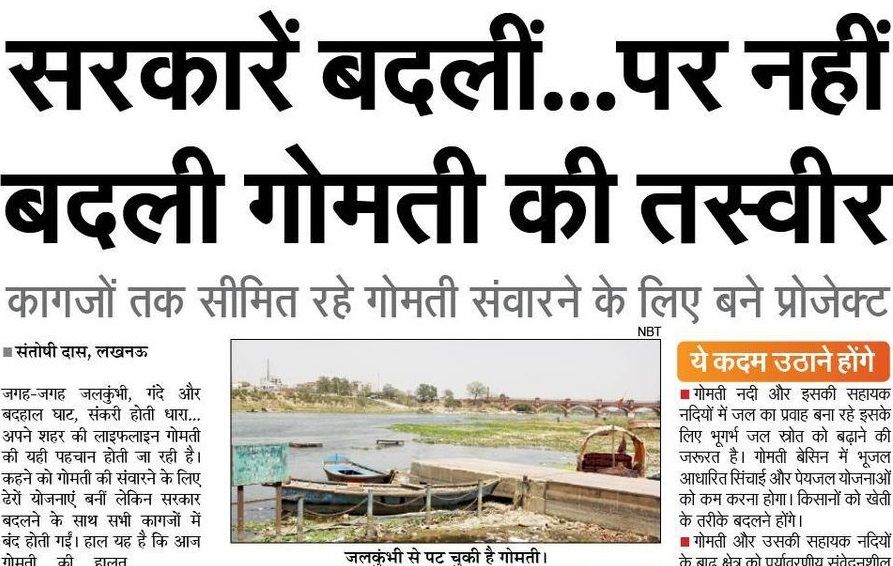 Governments after governments have proposed projects ranging from conservation societies, plans to protect gomti from pollution are discussed with every aspect sketched out in detail. But all of this remained on papers.
With plans and money allocated to beautify the banks, stop encroachments, afforestation drives couldn't either see the light of the day, or failed to create any impact. Authorities were assigned to work on marked areas to maintain bio-diversity and check pollution, but still situation is grim.
Now why all these efforts are failing is definitely a sad state of affair, with no reason or case study published by any researcher or government on these failures yet, it presents a very complex problem Indian rivers face.
Now the hope is being projected in a fancy river front development.  A very expensive cosmetic make up, essentially mummifying the river under concrete. 
Lucknow historically is been a place of great ideas, grand men with brilliant minds have roamed the streets of avadh. There was a reason pretty much every era has seen a power center here, so why all the efforts to save their own rivers are failing.
Why the society has resigned to subject the river to a concretization project, which might try to strangulate the river and prove to be a very costly mistake for millions dependent and living around here. That too without transparency or anybody really talking about it.
Future is parched, Gomti could have saved us, only if we had really respected her, than chasing some foreign concepts of prosperity, draining our natural resources and changing their structures built over thousands of years.
How will the river reacts is visible in monsoons and drought seasons. How other authorities are reacting is visible across states with similar river fronts planned and floated, rather than actually working or fixing the problems with catchment areas, tributaries, drainage one by one with a plan. 
Its not fair to only blame politicians, most of the politicians are there to sell their brands and will promote the shortest, easiest, shiniest way to get into the minds of voter. Do voter understand whats happening is the biggest concern, when they go out and take selfies around neon lights and fountains do they understand the cost of each of their selfies ? Will they every understand? yes sooner or later. Better sooner than later. 
Based on empirical evidences and experiences in recent past we are looking at a water catastrophe in India. The country faces drought or deluge, millions moving out of agriculture and then into urban systems without any transition or training. This will not only give to loss of life and land but can be a reason of major unrest in India.
At this point of time we are aiming to build a strong representation to protect water and natural systems at the local level. We want policy interventions and strong implementation at states level to keep natural resources untouched and free to take their own form for generations to come.
If you are someone who knows about local water systems

 in your community and want to actually work on making them better, send the details on 
coordinators@ballotboxindia.com
If you know someone who can make a difference

, make an introduction with this effort, you can also write to 
coordinators@ballotboxindia.com
, or fill "Contact a coordinator" form by clicking the buttons on this page.
If you have a few hours to work in your community for common good

, let us know and join as a coordinator.
Would my efforts be funded? Yes if you have some time, skill and aptitude to make a difference, ballotboxindia is the right platform. Get in touch with 
coordinators@ballotboxindia.com
 with your details.
coordinators@ballotboxindia.com