Gomti's beautification is expected of Mr. Rajnath Singh after becoming member of parliament from Lucknow.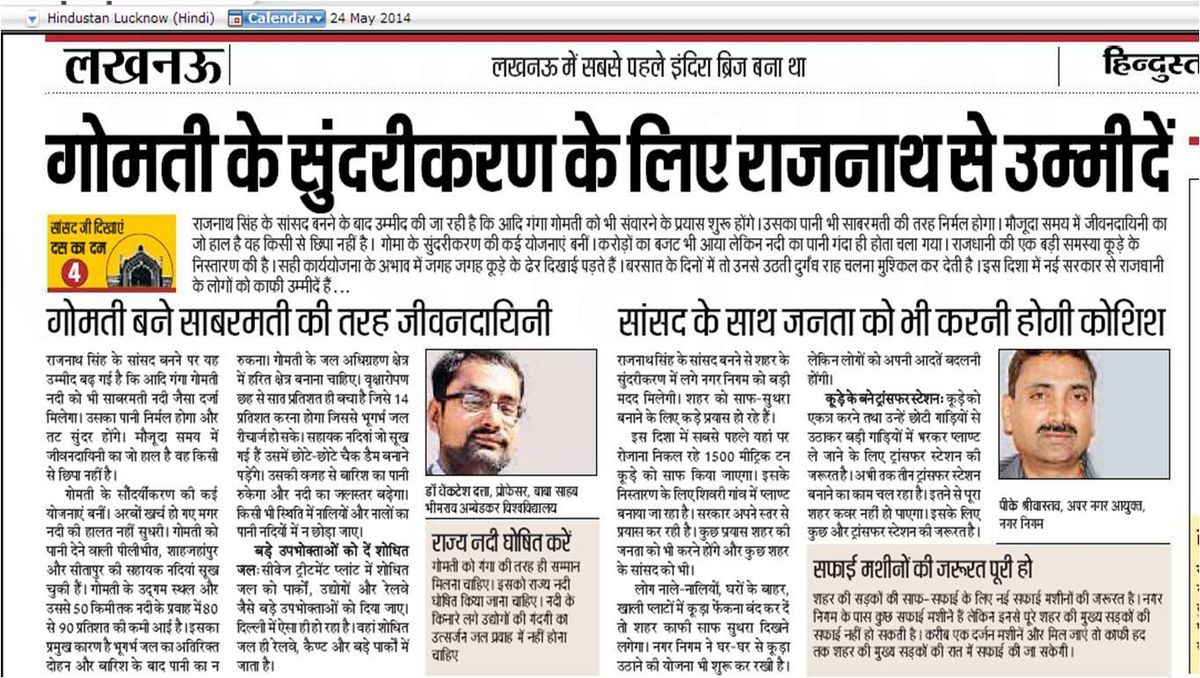 Rajnath singh's election as the member of parliament from Lucknow has brought hopes to the city people that it would do some good to the city's lifeline, Gomti. They are hoping Gomti to be developed alike Sabarmati river of Gujarat. Its water will be clearer and embankments beautiful. The present bad condition of river Gomti is not hidden from anyone and it needs immediate addressal.
Governments brought umpteen projects for the betterment of the river non of them benefited Gomti. Billions have been spent but it hasn't changed Gomti a little. Gomti's water has receded by 80-90% due to drying of its associate rivers and other water sources. There are other reasons contributing to the receded water level. Encroachment of flood plains, over extraction of ground water, less practise of rain water harvesting, mis management of rain water in recharging ground water, deforestation etc are few. 
To control the situation we ought to do these:
1)Increase the green cover to 14%, which is presently 6-7% to increase the ground water level.
2)Build check dams on associate rivers of Gomti to keep a check on water levels
3)Avoid disposing drain water in the river. 
The treated water of sewage treatment plants should be given to giant consumers like to parks, industries, and railways. System should be made similar to that of delhi where treated water is given to railways, cantt and parks.
Dr. Venkatesh Dutta, assistant professor Environmental Science department of Babasaheb Bhimrao Ambedkar University is requesting same status to Gomti as that of Ganga and has also requested to declared Gomti as state's river.
The expensive schemes till date have proven futile and there is a need to come up with innovative solutions. Civil society has to come forward and work with Government Authorities, legislative on this.

One such and foremost step is to declare Gomti as state river of Uttar Pradesh and bring a holistic plan in place including gomti's tributaries. - May-24-2014
Based on empirical evidences and experiences in recent past we are looking at a water catastrophe in India. The country faces drought or deluge, millions moving out of agriculture and then into urban systems without any transition or training. This will not only give to loss of life and land but can be a reason of major unrest in India.
At this point of time we are aiming to build a strong representation to protect water and natural systems at the local level. We want policy interventions and strong implementation at states level to keep natural resources untouched and free to take their own form for generations to come.
If you are someone who knows about local water systems

 in your community and want to actually work on making them better, send the details on 
coordinators@ballotboxindia.com
If you know someone who can make a difference

, make an introduction with this effort, you can also write to 
coordinators@ballotboxindia.com
, or fill "Contact a coordinator" form by clicking the buttons on this page.
If you have a few hours to work in your community for common good

, let us know and join as a coordinator.
Would my efforts be funded? Yes if you have some time, skill and aptitude to make a difference, ballotboxindia is the right platform. Get in touch with 
coordinators@ballotboxindia.com
 with your details.
coordinators@ballotboxindia.com